Welcome to week 18 of my Pinspiration series!

This week I am going to share with you one of my very first pins. The one idea that I have incorporated into my life on a weekly basis. Dare I say it changed my life?
Friends, I give to you the Messy Bun.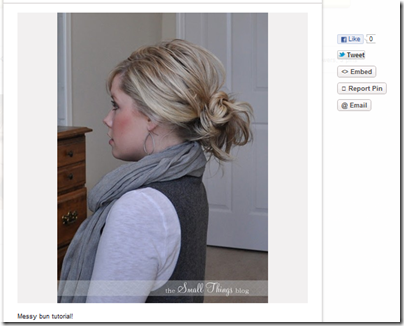 First of all, let me just say that if you have not ever been to this blog, do yourself a favor right now and check it out. Kate has so much great stuff on her blog – hair tutorials, craft projects, style tips. Plus she is just cute as can be.
Seriously. Go check it out – http://www.thesmallthingsblog.com/ – I'll wait.

OK. So let's talk about the messy bun. I probably wear my hair like this at least once or twice a week. It's the perfect hairstyle for the days I don't wash my hair. Plus it's a fun little updo that embraces my hair's unruliness. It's great too for whenever we got to OKC and the wind is blowing 40 mph.
I can't follow Kate's tutorial to the letter because my hair is too thick, curly, and heavy. Plus I like my updo a little less messy so I use a few bobby pins and wrap the main sections around my ponytail.
Big thanks to my wonderful husband for letting me micro-manage him and for taking 47 pictures of the back of my head before getting a couple that were just right.

Have you tried any new Pinterest-inspired hairstyles? Feel free to share a link in the comments. Now if you'll excuse me I need to make an appointment to my split-ends trimmed.

Peace, Kelly