My irises bloomed a few weeks ago and they were beautiful.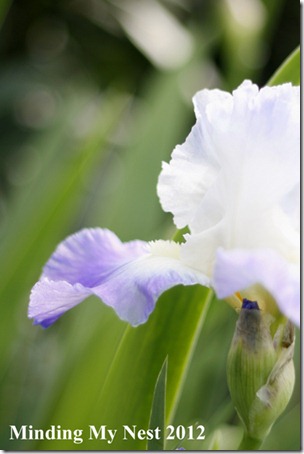 But I didn't have as many blossoms as in previous years because they were overcrowded and needed dividing. It was something that I had intended to do last year, but yeah…we were a little busy.

Finally though, this past Saturday I finally got my irises divided and I thought I'd share with you how I do it.
You can see below what a giant clump I have. So the first thing I do is grab my pitchfork and get underneath the clump and lift up the whole big mass.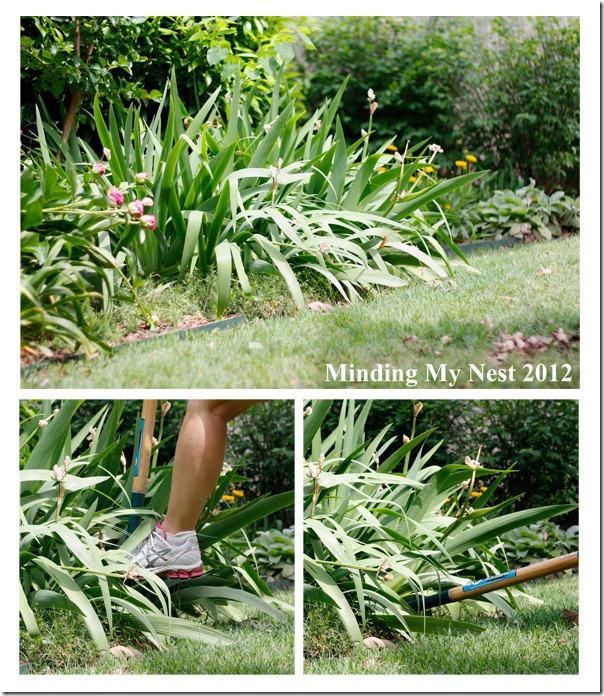 (Pretty proud of my action shots that got with my self-timer.)

So after you get them all dug up and the dirt cleaned off, what you'll end up with is something that looks this.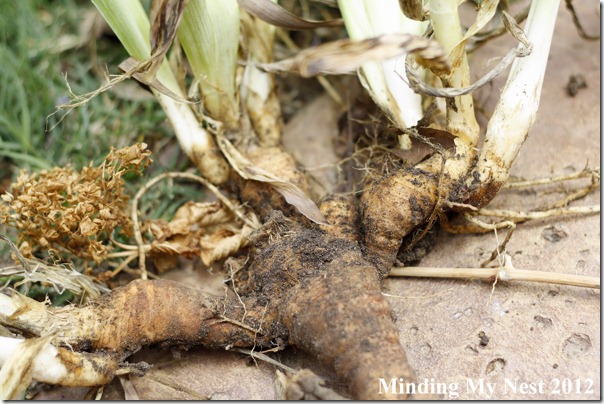 Irises only bloom on the new side shoots, so what you need to do is snap those off the main rhizome.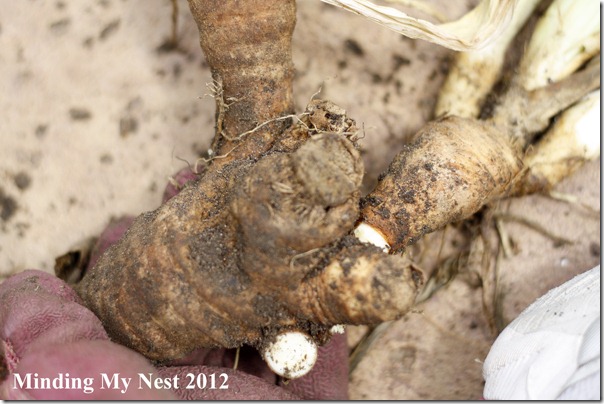 Then you'll be left with a heap of new transplants! (You can discard all the old rhizomes.)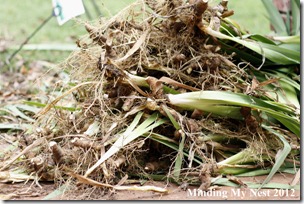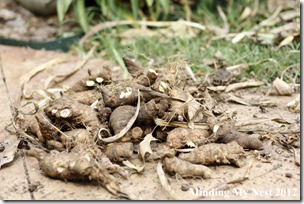 Now comes the fun part! Not.
For each of those new transplants, you'll need to trim the leaves back to 10 inches or so. I once saw Martha Stewart trim hers in a fan shape so of course that's how I like to do mine. A perfect 90 degree angle is optional.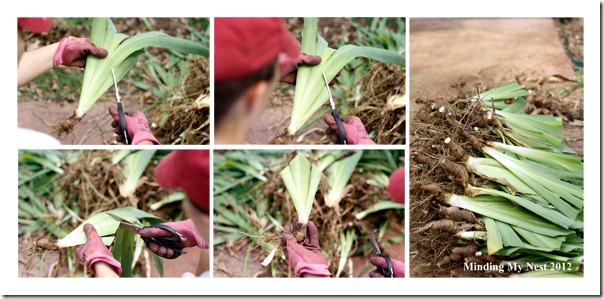 Twelve. Years. Later
As you can see by the pile, I have a lot of transplants. I replanted half of them in their original spot. And then I had a sunny spot where I lost a bunch of stuff last summer, so I decided to plant the other half there.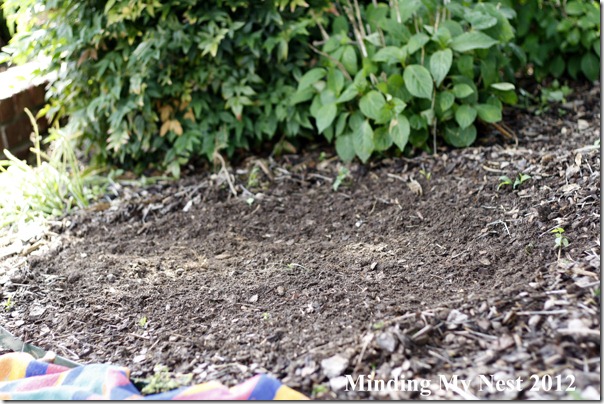 What I like to do is loosen the top inch or soil where I'm going to plant. Then for each plant, I make a shallow trench and set the rhizome inside.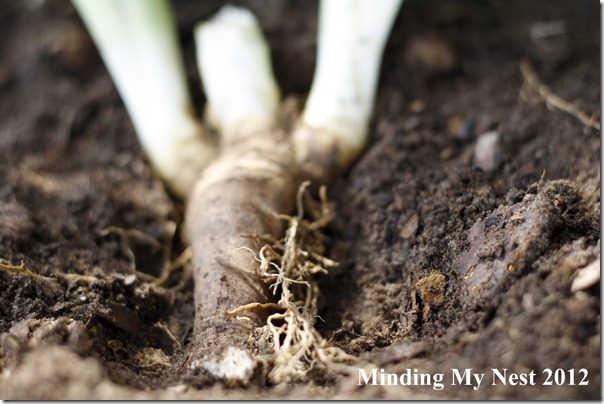 Quick botany lesson! A rhizome is not a root, but rather a horizontal, underground stem used for storing nutrients. The roots grown from the rhizome.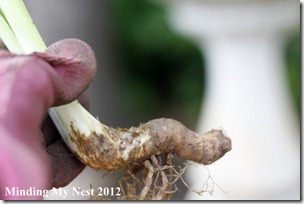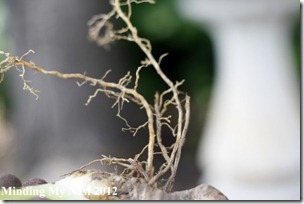 Ok. So back to planting.

After you have set your rhizome into the shallow trench, spread the roots around and then cover the roots with soil. Bring the soil up to the top of the the rhizome, but cover the rhizome with more than an inch or so of soil. This is important – the main reason irises don't bloom is because they have been planted too deeply.
I usually plant the individual transplants about 2-3 inches apart. And then water them in well. You'll have to watch this time of year though. Because they are planted somewhat shallowly, if by chance you get a huge storm the night you plant them, the rain could wash some of the soil away and you might have to set your transplants back into the soil. Or so I've heard.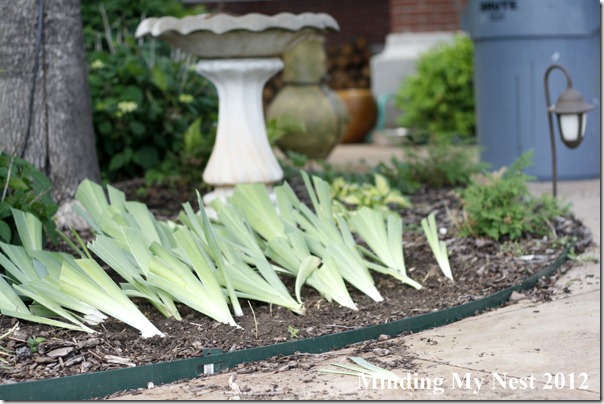 It's a little bit of trouble doing all this, I know, but next year you'll be reward with big, beautiful iris blossoms. And that's soooooo worth it.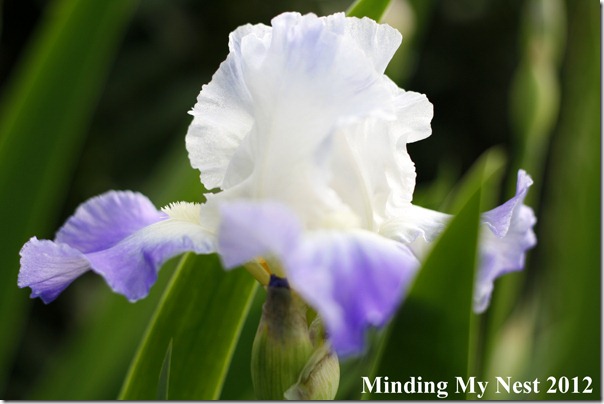 Peace, Kelly