Earlier this year, we received the sweetest and most unexpected wedding invitation from Alex's youngest brother and his fiancé. And since the wedding was being held in the beautiful state of Montana (where Alex is from), Tripp and I decided to plan our vacation time around the wedding and spend some time in paradise…
Paradise Valley to be precise.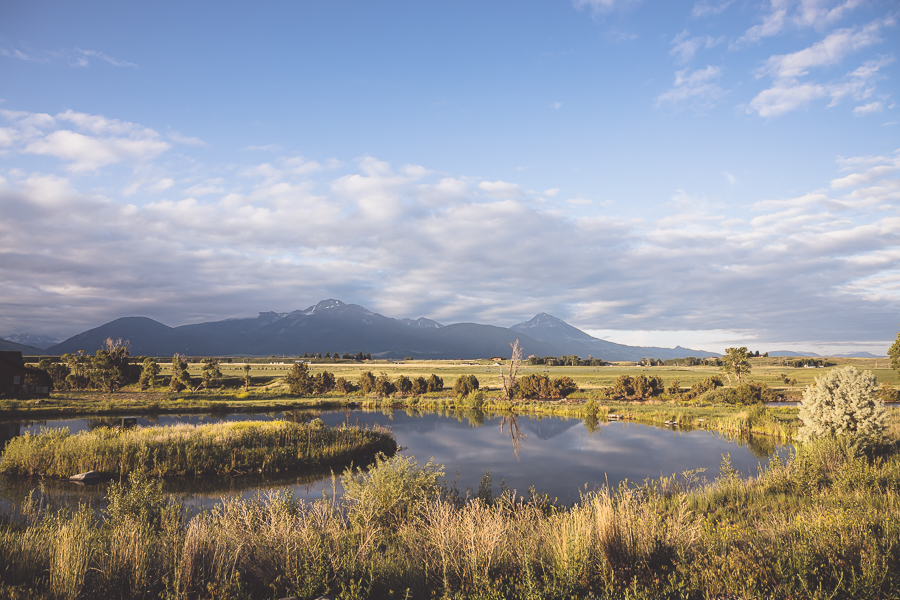 Paradise Valley is a major river valley of the Yellowstone River in southwestern Montana just north of Yellowstone National Park in Park County, Montana. The valley is flanked by the Absaroka Range on the east and the Gallatin Range on the west.

destinationmontana.com
For a little over a week, Tripp and I explored this special part of the state and enjoyed all its natural beauty and wonder. And today I thought I would share some of the highlights of our trip with you. Now I realize that looking through other people's vacation pictures can be about as exciting as peeling wallpaper or organizing your junk drawer, so feel free to breeze through for some pretty photos or just skip it altogether.
Sidenote #1: This is actually our second time to visit Montana. You can read more about our first trip in this series of posts from 2019:
Sidenote #2: If you are looking for photo inspiration for your next vacation, I shared some my best travel photography tips in this post.
HOME AWAY FROM HOME
While we were in Montana, we stayed at a cutie little VRBO cabin about 10 miles north of the community of Emigrant (seen below on the left.)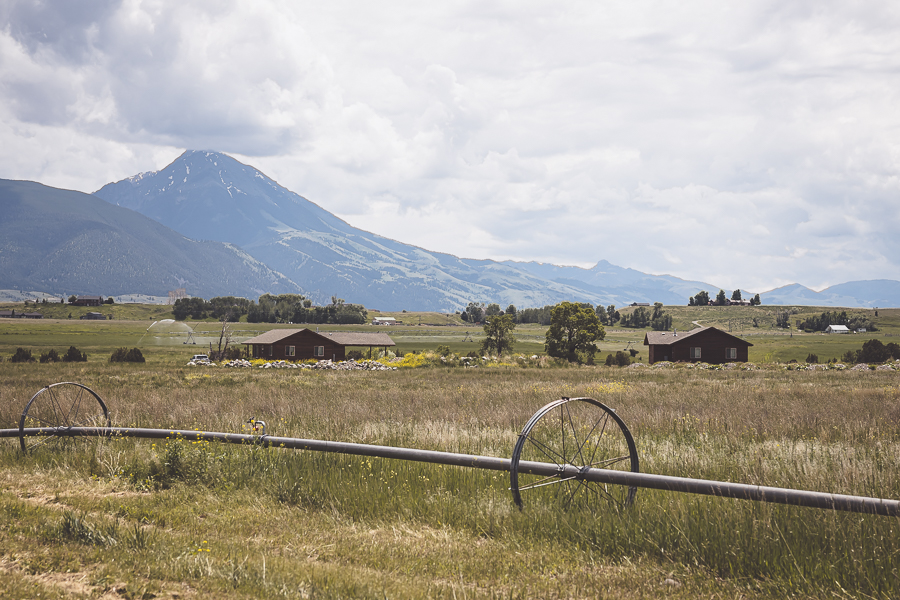 The cabin itself was a pretty basic rental with a couple of bedrooms and small kitchenette. But the real highlight of the property was the pond that was situated right off our front porch with a view of the Absaroka Mountain Range in the distance.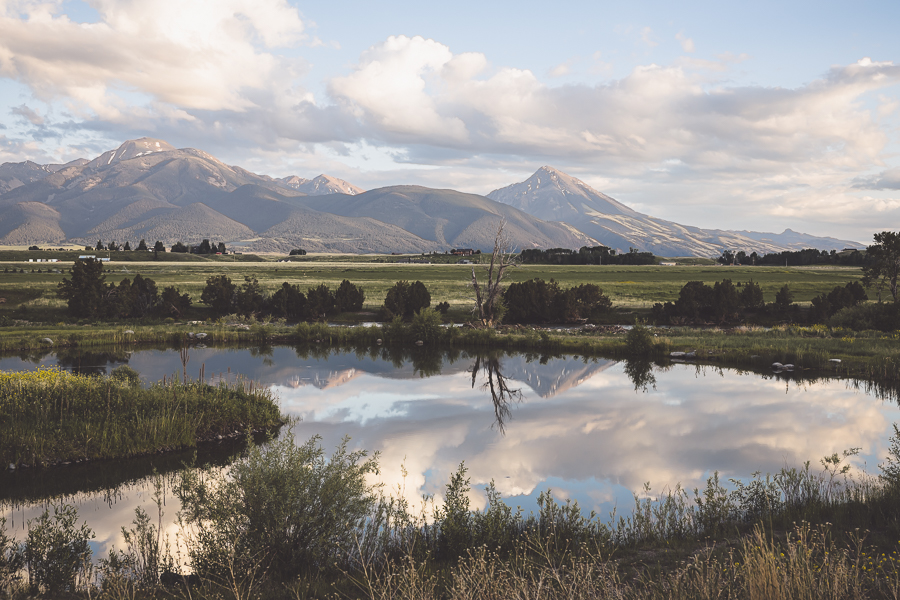 I loved sitting at the picnic table with my morning coffee and taking in this view. I loved starting my day with the feeling of openness and space.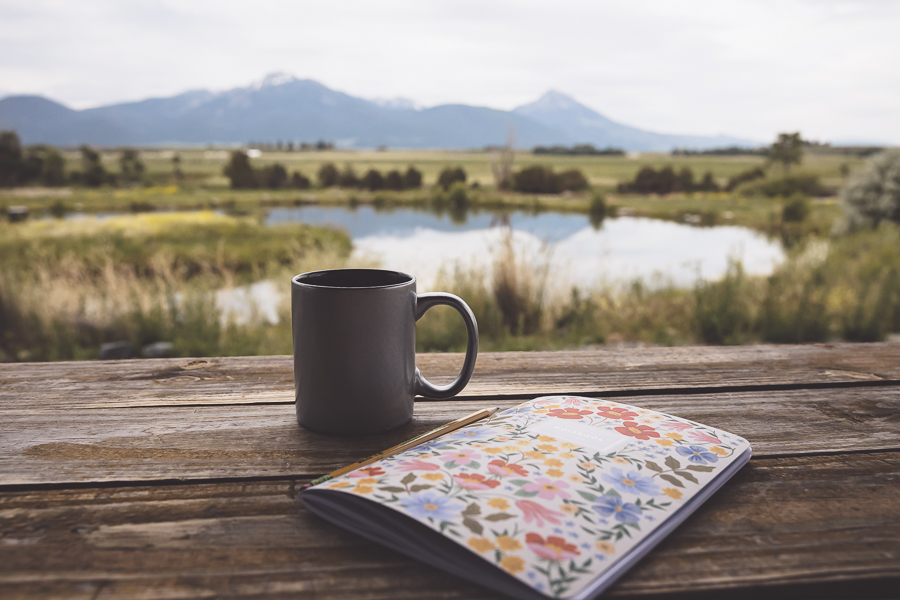 Tripp had fun trying his hand at fly fishing.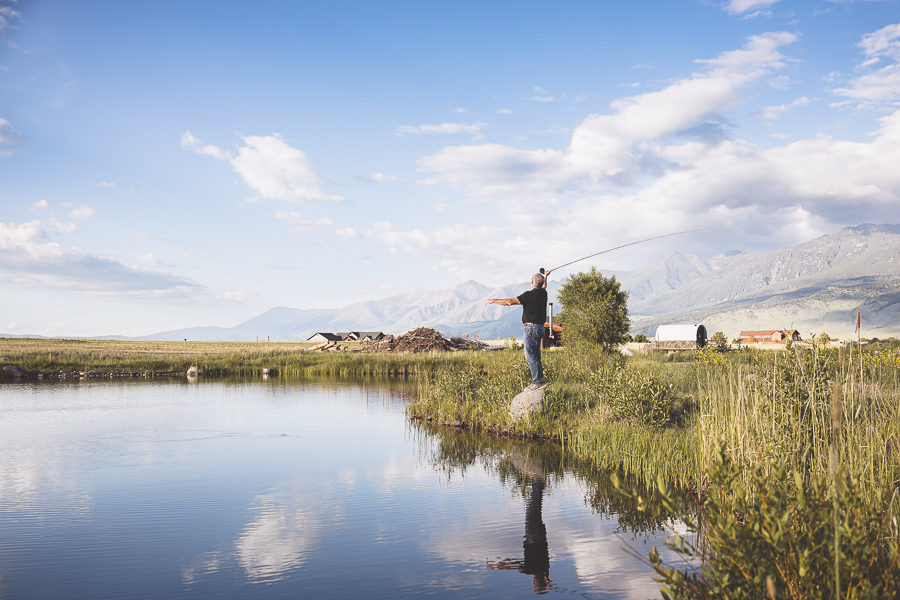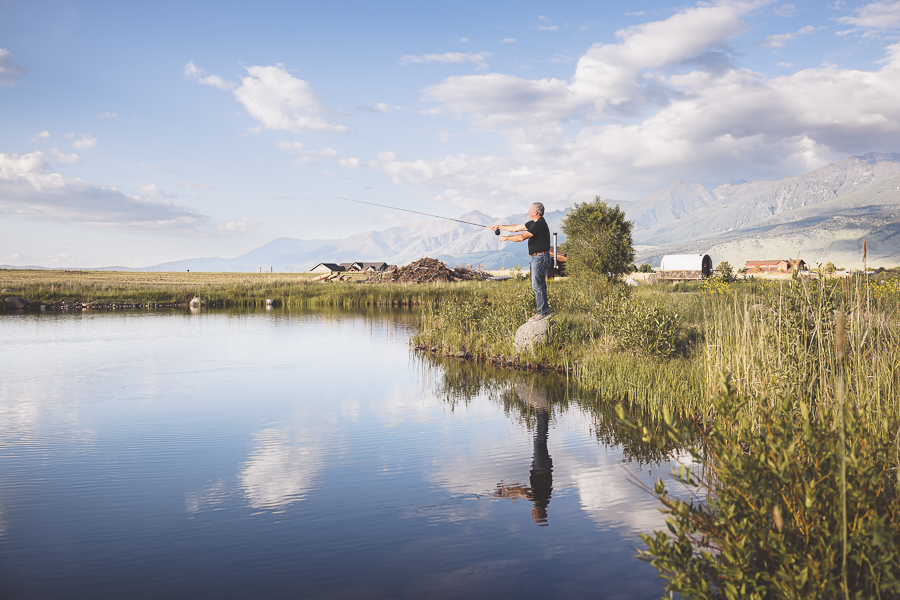 Not surprisingly, I took about a million pictures of this scene during our stay.
We weren't the only ones who loved the pond though, and I loved getting a glimpse of some of the wildlife in the area. Please enjoy these unexceptional photos of a beaver (that little brown spot on the edge of the island in the pond), a deer, and an osprey.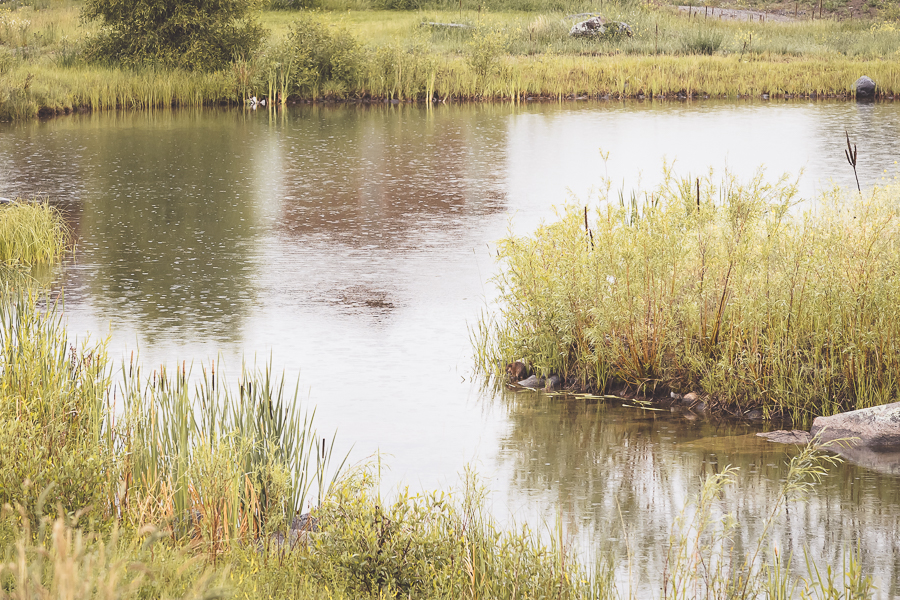 Dear Kelly, next time you go on vacation to the Montana, please take your zoom lens.
We happened to be in Montana over Father's Day, so it was extra special to be able to spend a little time with Kelsey and Alex at the cabin too.
PASSAGE FALLS HIKE
Hiking is one of the most popular things to do in Paradise Valley, so on Monday Tripp and I ventured into the Gallatin National Forest to the Wallace Creek Trail. This hike is a 4.2 mile round-trip and labeled as "easy" in difficulty level which was perfect for a little morning outdoors time.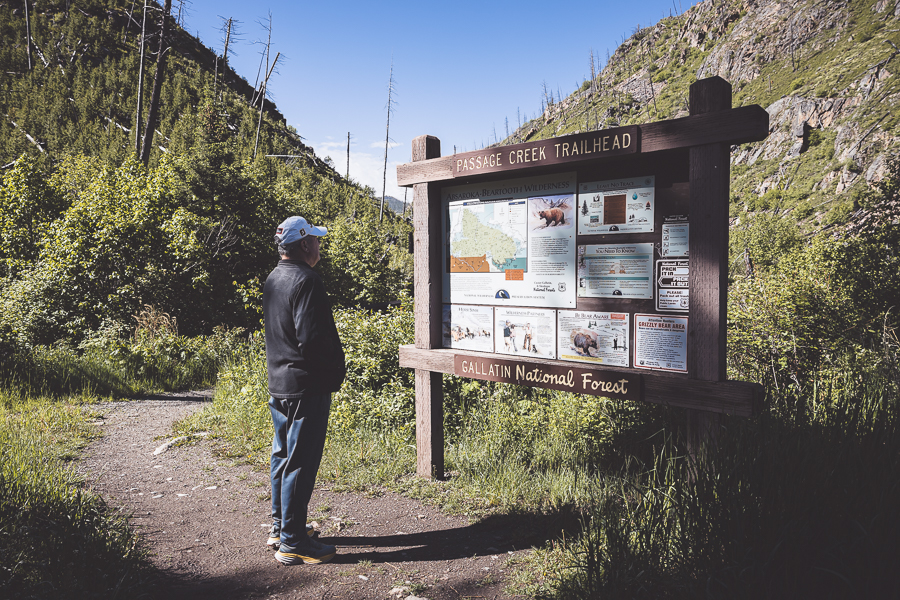 The trail followed alongside Passage Creek and wound its way through a meadow and lightly forested area. This part of the trail used to be quite dense, but a devastating fire in 2007 burned thousands of acres in the forest leaving behind a graveyard of lodgepole pine trees. But in the years since, the forest has started to recover somewhat and new growth could be seen all along the trail.
Also, as you might imagine, me stopping every 20 steps to oooh and ahhh and take photos of wildflowers was a regular occurrence along the way. Here is a small sample of the delightful flowers I saw that day.
As we got closer to the waterfall, the trail got much steeper with a lot of switchbacks (about this time I was feeling super grateful for the awesome walking stick that my beloved found for me), but at the bottom we were greeted by the sound of rushing water and the most spectacular view of the Passage Creek Falls.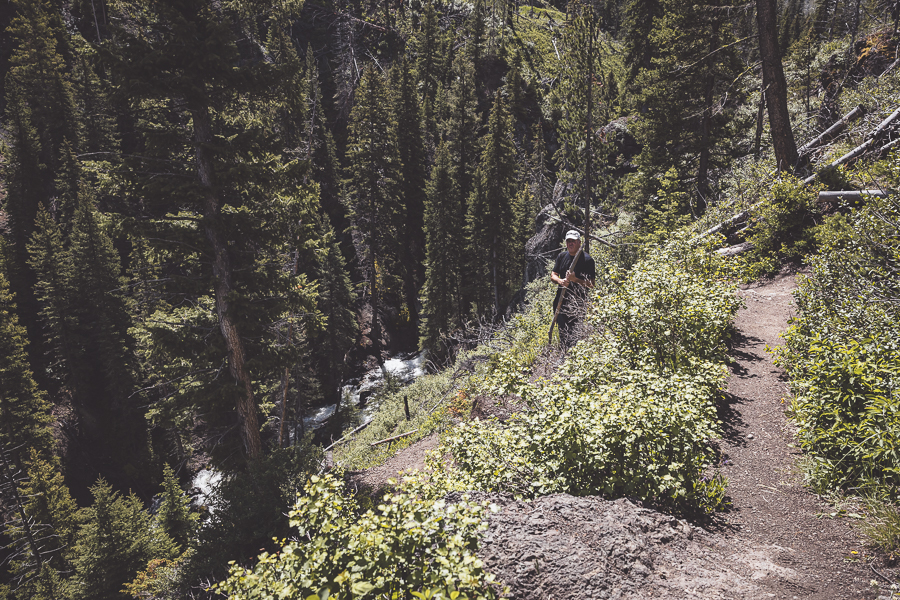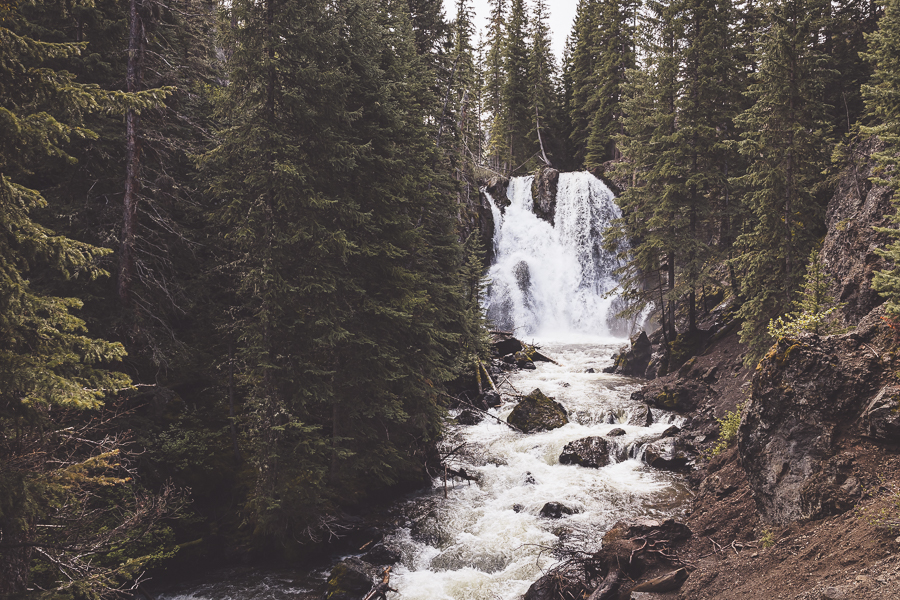 Hiking back was much easier, plus the fact that a thunderstorm was bearing down on us the whole way made the return trip a little faster.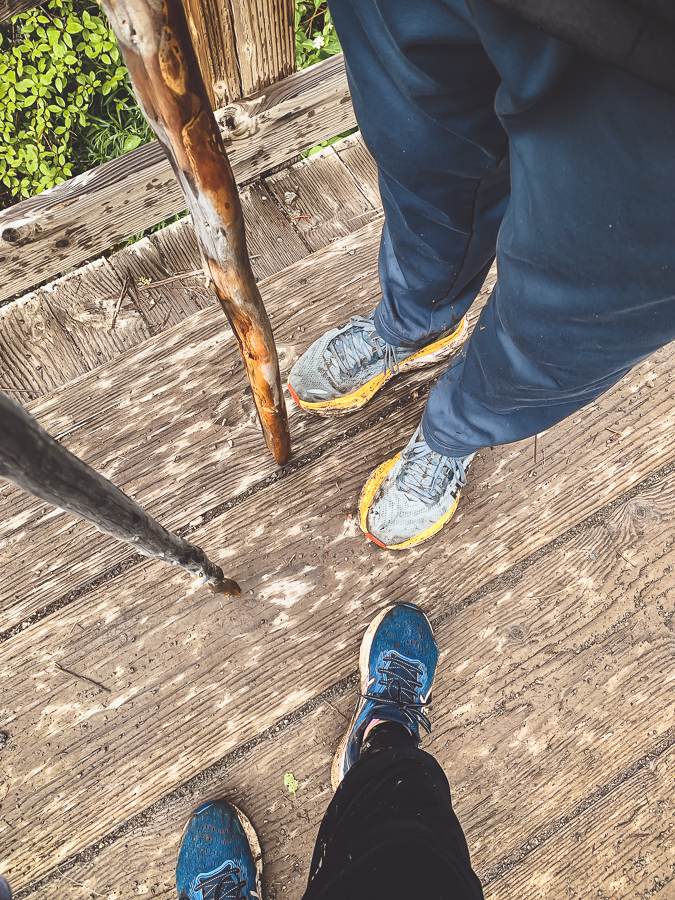 We made it back to the car covered in mud and a little bit wet and it was 10000% worth it.
MAMMOTH HOT SPRINGS
Our cabin was about an hour away from Yellowstone National Park, and one of the things on my vacation wish list was to explore the park a little more. So on Wednesday we drove through to the North Gate of park and made our way to Mammoth Hot Springs.
Mammoth Hot Springs is home to one of largest geothermal features on the planet which also makes it one of the most popular tourist destinations in the park.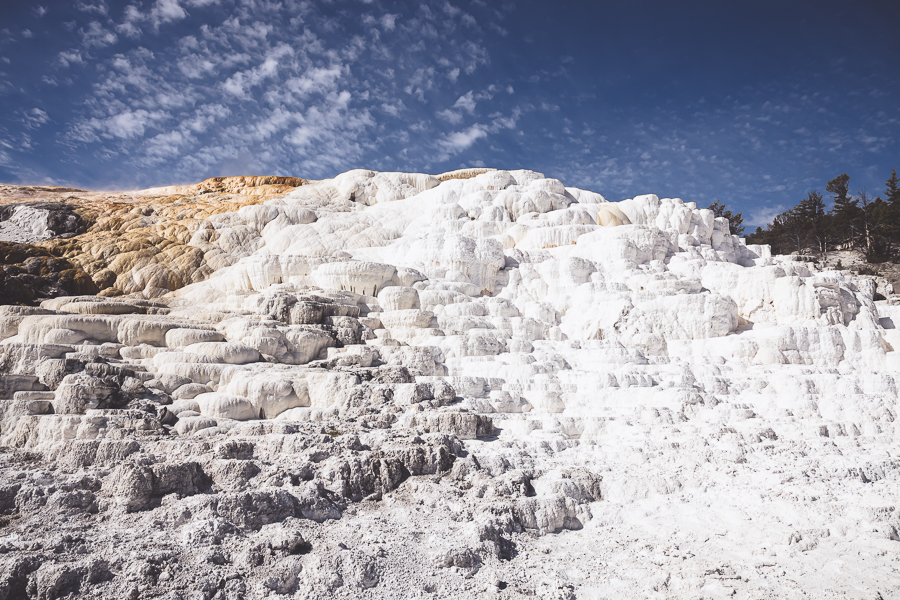 Throughout the area, there are bubbling hot springs and steaming volcanic vents known as "fumaroles" dotting the landscape. And even more impressive are the massive travertine terraces that are continually being formed out of chalky, white limestone mineral deposits.
If you'd like to learn more about these amazing features, you can geek out here.
I loved walking along the boardwalks and getting up-close and personal with these wonders of nature. And the view of the mountains off in the distance was an added bonus.
LOCAL FLAVOR
During our stay, Tripp and I enjoyed checking out all the small towns and communities in the area. Closest to us was the tiny community of Emigrant which originated in the mid-1800's as a railroad stop for the local mining and agriculture activities. The Old Saloon and Follow Yer Nose BBQ are two of our favorite places to eat.
Just up the road from Emigrant is the iconic Sage Lodge with its incredible views of Emigrant Peak and the Absoroka mountain range. We went to their Fireside Grill for dinner on Father's Day and had a wonderful experience.
Also on my wish list this trip was to visit Chico Hot Springs, a beloved Montana resort located in the heart of Paradise Valley. The main attraction here are the two open-air natural mineral hot springs pools, not to mention with a pick-up window for the bar (mid-morning mimosas? yes please!) It was so fun to go with Kelsey and Alex and a perfect way to spend a chilly, rainy afternoon.
Gardiner, Montana is a charming town and the gateway to Yellowstone National Park. It sits as the North Entrance of the park which happens to be the original entrance and is signified by the historic Roosevelt Arch. I love all the little shops in the downtown area and the funky bar/restaurant along the river.
Livingston, Montana is about a 30 minute drive from the cabin. They have nice grocery store as well as a Dairy Queen that we made sure to stop at whenever we came town. It also has a charming downtown area with eclectic antique and vintage shops as well as a some great restaurants.
NATURE
As someone who lives in the middle of the city, one of my favorite things about our trip was just being outside, surrounded by the natural beauty of this special place.
Now if Tripp was writing this blog post, he would probably tell you that he loved getting to see so much wildlife on this trip.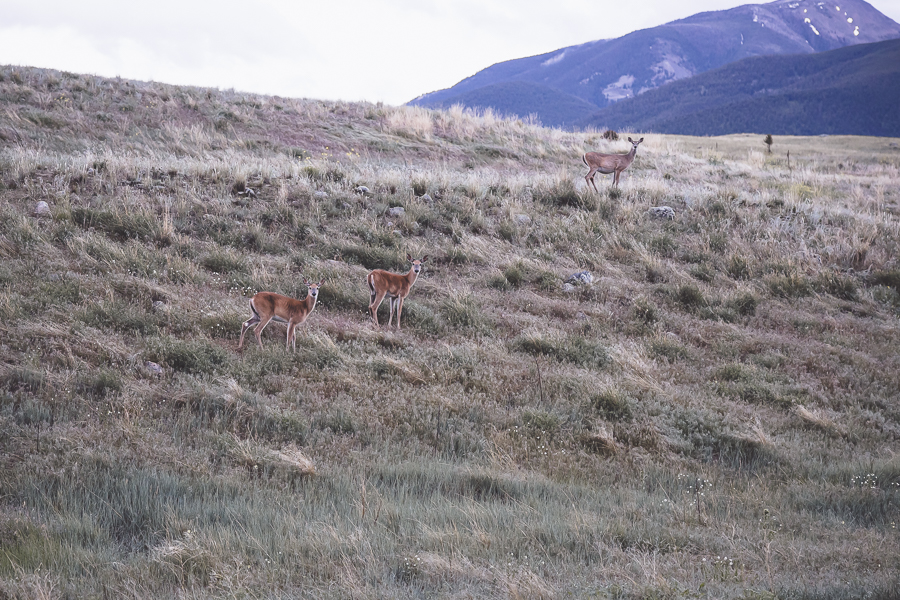 We saw elk everywhere – even grazing along the side of the road by the entrance to Yellowstone!
We also saw several herds of pronghorn along the highway that runs between Gardiner and Emigrant. And in case you were curious, a pronghorn (though colloquially referred to as an American Antelope) is in fact, not an antelope and is actually in more closely related to a giraffe. Another fun fact is that the pronghorn is the fastest land mammal in the Western Hemisphere.
One day we were taking the backroad from Emigrant to our cabin and noticed these tall platforms standing alongside the power lines. Upon consulting the interwebs, we discovered that these are set up by the power company as nesting sites for the area's osprey population. It's a program that was started several years ago to prevent damage to the power lines as well as protect the osprey fledglings from being harmed.
Once again, reeeallllyyyy wishing I had brought my zoom lens with me on vacation.
If you have followed along this whole post, thank you for hanging out with me and letting me share my memories and photos with you. And if you are considering a trip to Montana, I hope I have provided you with some ideas for your list of things to see and do. It's truly a special part of our country and totally worth spending some time to take it all in.
Love, Kelly