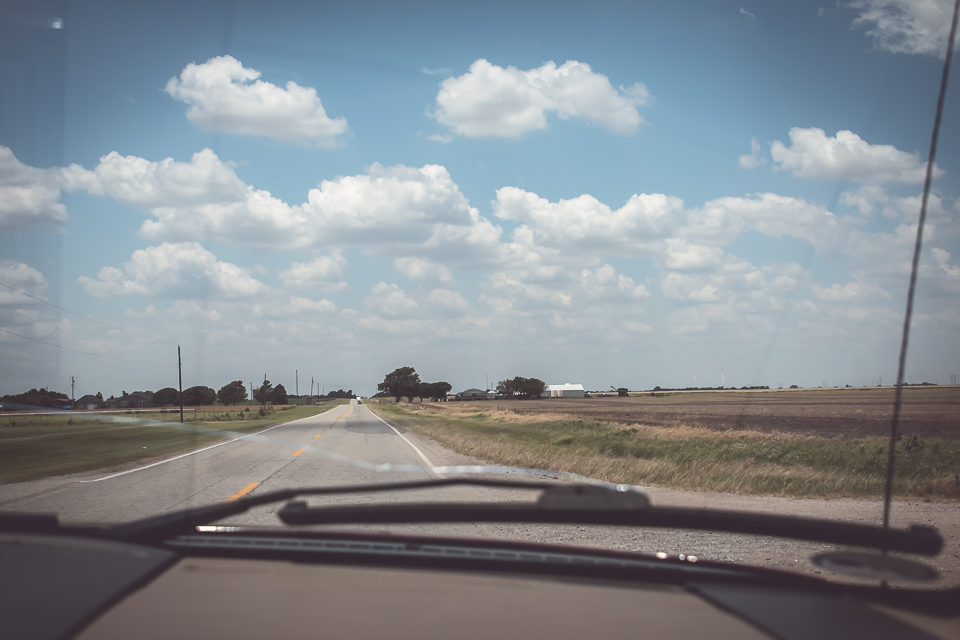 "what would you think about taking a little road trip up to medford?"
this was tripp's question to me as he walked upstairs from the basement with his laptop in his hands.  he had found a farm with some hunting land near there and wanted to know if i wanted to join him on the two hour drive to north-central oklahoma to go check it out.
i guess i should back up here to let you know that, for the past few years, tripp has been enjoying a renewed interest in hunting…upland game birds to be more specific.  it's something he did a fair bit of before he and i met, but between the demands of his work and obligations of raising a family, tripp put it on the back burner for many years.
i knew that tripp was on the lookout for hunting leases and/or land in preparation for quail and pheasant season this fall.  but i have to admit that i was a little bit surprised to learn that he had been scoping out actual farms to purchase.  and even more shocked to learn that he had actually contacted a realtor in the area to actually go look at one!
so with his laptop in hand, he sat down next to me at the kitchen bar and proceeded to show me the listing for the 80 acre farm, pointing out all the of the amenities that came with it. and by "amenities" he meant a giant barn/shed/structure with an ATV and an active, running creek that traversed the property.  it also included a couple of plots of tillable land that could be leased out.  oh, and it also came with an abandoned farmhouse.
say no more dear…you had me at abandoned farmhouse.
so this past friday, tripp and i set out on our little adventure to medford oklahoma.  about 30 minutes outside of the city, the landscape starts to change from the verdant rolling hills of green county to the wide open grasslands of the oklahoma prairie.
those lyrics from the musical, oklahoma?  "where the wind comes sweeping' down the plain"….this is it.  this is where it comes from….this is the real deal.
the town of medford is about 20 miles west of interstate 35 and about 15 miles south of the oklahoma/kansas border.  located in the heart of the wheat belt of the central plains of the united states, medford is a mostly agricultural community.
our first stop in medford was smrcka's…the local cafe/burger joint where i had the most delicious onion rings i think i've ever tasted.  next we drove around town to kill some time before meeting with tim, the realtor that tripp had talked to on the phone.
we followed tim down the dusty county roads to the farm for sale.  we walked around the main homestead area before loading up on the ATV for a personal tour of the property.
with a little planning and a lot of work, tim assured tripp that this farm could be a great hunting property.  but while they talked about field crops and game birds, all i could think about was this sad, abandoned farm house.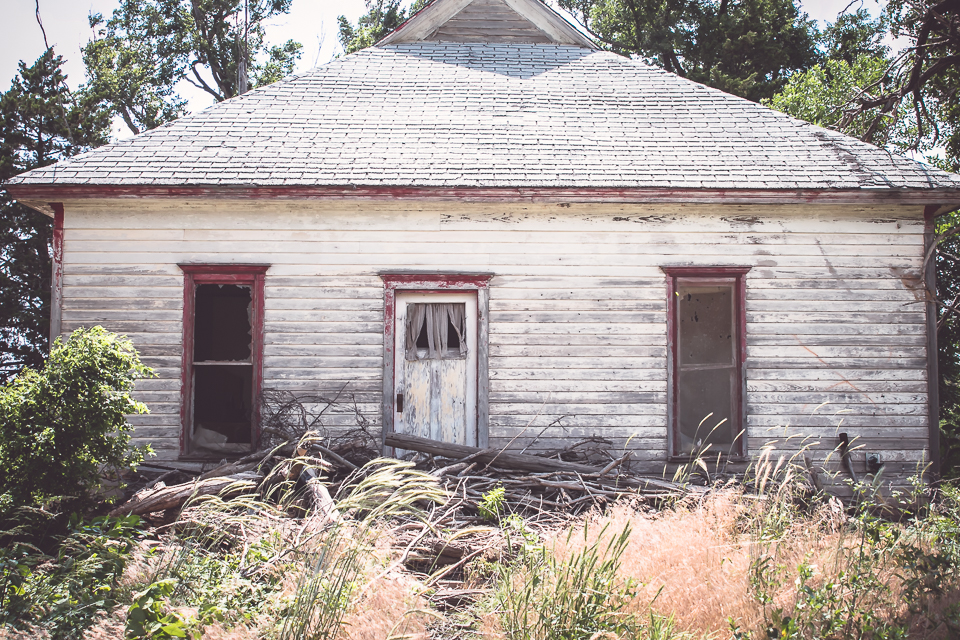 first i was wondering how close could i get to the windows to look inside, and secondly i was wishing i hadn't worn flip-flops.  #citygirlprobsalso, i found myself asking, WWJD?
as in…what would joanna (gaines) do?
anyway, after our tour of the farm, tim took us to a couple of other pieces of land for sale.  both of those where quite a bit larger acreages with no structures on them.  neither of them were quite right for our purposes (or pocketbooks), so after that we parted ways with tim.  then tripp and i took the opportunity to take some time exploring the area.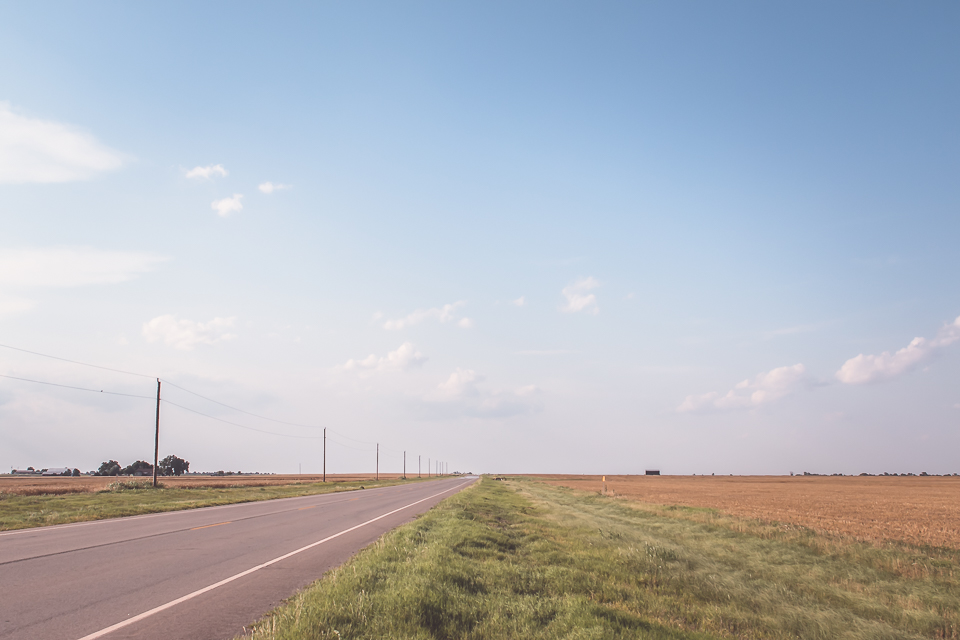 around medford, there are wheat fields as far as the eye can see and wheat harvest was well underway.  in every direction, combine harvesters were carving out wide swaths of the field and leaving trails of dust and dried up stems.  in one pass, the combine performs the actions of reaping, threshing, and winnowing the wheat and then unloads the seed heads into the grain trucks waiting nearby.  apparently this year's harvest is a bumper crop!
'waving wheat'….'amber waves of grain'…once again, not just just catchy song and show tune lyrics.  this is the livelihood of these proud farmers.  this is their life.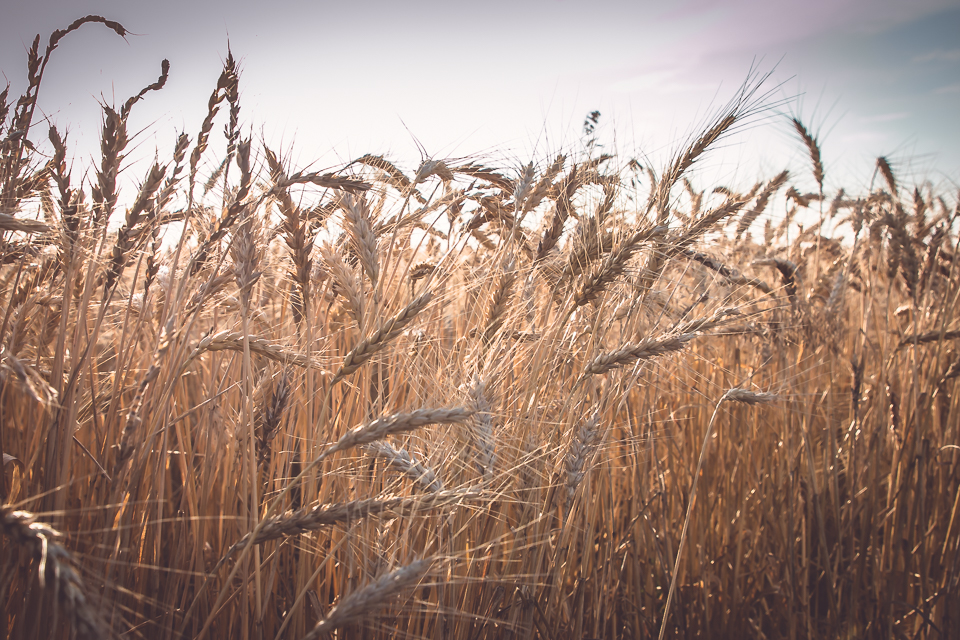 and thanks to the agriculture, there is abundant wildlife in the area as well.  deer, quail, pheasant, turkey, owls, jack rabbits (!)…we saw them all that day.  standing on the dirt roads taking pictures, i loved hearing the symphony of birdsong – the soulful coo of the doves, melodic tune of the meadowlarks, and the lively 'bob white' retorts of the quail.
oh i do so love the country.
being out in medford, i felt connected, in a very real way, to the memories of being a small child on my granny's farm.  the thrill of getting to sit right up beside my uncle charlie and take a ride is his combine.  the sound of the meadowlarks.  the smell of the hay fields.
yes indeed….i love the country.
on our way home tripp and i stopped at the local mexican restaurant and ate chips & salsa and drank cold beer from giant, ice-cold mugs.  we talked about the day and how, as much as both love it here, we don't have the resources (time, energy, or money) to devote to having a farm – at least as a second home/weekend getaway.  maybe some day…but not right now.
over fajitas, tripp apologized for the wild-goose chase…for a 'wasted day'.  and stopped him right there because it was anything but that.  it was a day of time spent together – just the two of us.  a day spent outside in the warm, summer sun in a place we both love.
our state…our oklahoma.
can't wait until next time.