Welcome to Week 17 of my Pinspiration series!

It's cocktail time!

Friday night Tripp and I had a little date night at the Stonehorse Café.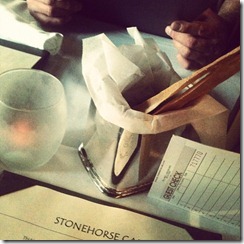 It had been a really stressful week at work for me, so I decided that a cocktail before dinner was just the thing to shake it all off and unwind. Near the top of the cocktails menu was a drink called the "Maui 75 (aka the Jenny)" made with strawberries, gin, and basil. The combination sounded intriguing, plus I've been on a bit of strawberry kick lately (they are soooo good right now in season), so I figured what the hell and decided to give it a try.
And it was GOOD. Really, really GOOD. If you like gin. Or basil. Or Strawberries.
Well it just so happened that I saw some gorgeous strawberries at the Farmers' Market on Saturday, so I thought I might see about trying to make this deliciously, interesting cocktail at home.
I did a quick search of Pinterest but didn't come up with much, so I ventured out onto the world wide web to see what was out there. And sure enough, I found what looked like the perfect recipe for a Strawberry Gin Cocktail. And then I promptly pinned it to my "Momma Needs a Drink" pinboard.

The recipe came together really easy and of course it all started with the star of the show, Strawberries!
And the rest of the ingredients were pretty standard.
The Allrecipes version of the cocktail started with whole strawberries, but I had a little bit of strawberry puree left over from my strawberry cupcakes (I promise to share that recipe this week) so to the base of my cocktail shaker I added a couple of tablespoons of puree instead. And because I like my cocktails on the less-sweet side, I reduced the sugar in the recipe by about half as well. Then using my fancy, hi-tech gear, I muddled the ingredients as directed.
Next I added the gin and shook the tar out of it until it was completely chilled and turned this lovely rosy-pink color.
The last step was adding the club soda (oh a pretty garnish of course!). Then a little taste and ahhhhhhh.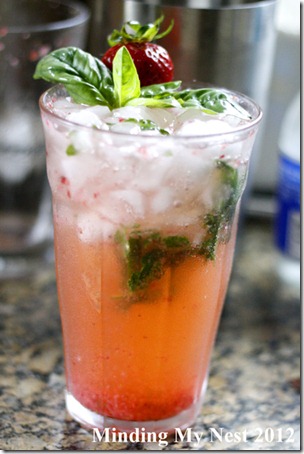 I know that the combination of gin, strawberry, and basil might sound a little weird, but it's actually so delightfully refreshing. Really!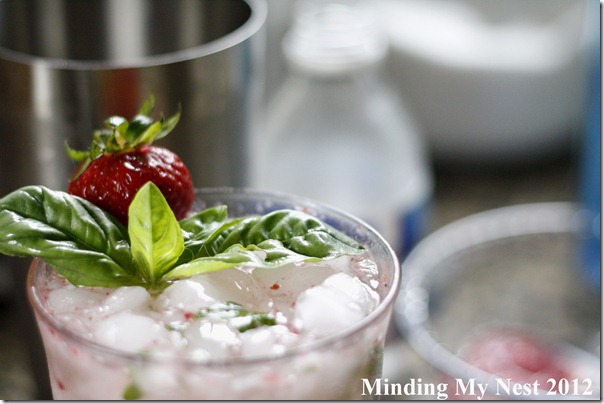 I hope you'll give this a try. But if funky cocktails aren't your cup of tea, check out my friend Tonya's Pinterest inspired cupcakes!
And my friend Carrie's candle arrangement made with cut wine bottles she saw on Pinterest.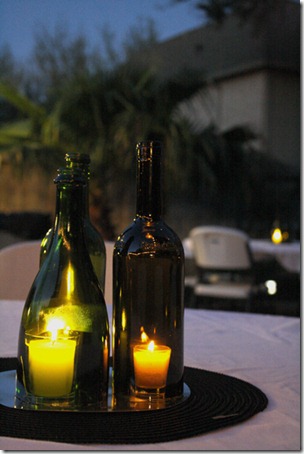 So glad to see my friends are enjoying Pinterest as much as I am! Feel free to share what you've been enjoying too!!

Peace, Kelly