Welcome to Week 23 of my Pinspiration series!

Perhaps you recall, long before the days of Pinterest, there used to be these monthly periodicals called magazines. You could always find them in the grocery store next to the check-outs or you could even have them delivered to your house. And in these magazines, one could find all sorts of inspiration whether it be recipes, craft ideas, or home décor. And the cool thing about magazines is that they were full of photographs – big, beautiful, often full-page photographs!
Obviously, I'm being kinda sassy. But just for record, I would like to state that I love magazines. I still subscribe to Southern Living and Traditional Home and have no intention of dropping my subscriptions. I look forward to their arrival every month, and for me, one of my very favorite things to do is take my magazine (and perhaps a glass of wine depending on the week) outside to the side porch and spend a few blissful minutes flipping through the pages and being transported to place where there are no clean clothes that need to be folded and no cat hairballs in the middle of my bedroom floor.
The only problem with the above scenario is that lately my side porch has been a little neglected. So for the past couple of weeks I have been trying to spruce it up and make it a little more homey.
Now in the past, magazines have always been my go-to source whenever I need a little design inspiration. Even as recently as last year, when we renovated our bathroom, I started the process with a collection of magazine clippings that I liked. But this time around I decided to consult Pinterest and see what kind of inspiration I could find. And the great thing about Pinterest is that instead of having a pile of torn-out magazine pages to keep shuffling around the house, all my favorite designs reside in one, tidy place.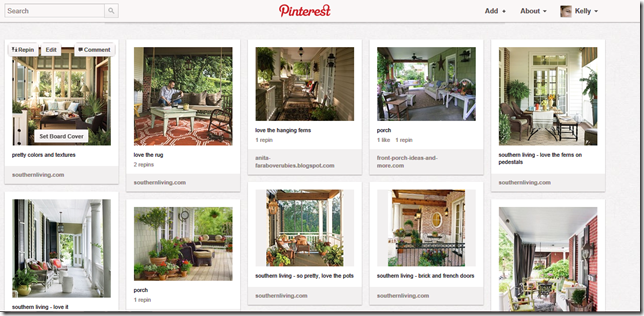 After seeing these beautiful porch ideas, I started my side porch makeover from the ground up. Literally. The who-knows-how-old-it-is floor is beyond repair, but new tile is not a fiscal priority this year. So I channeled my inner BFF Carrie and decided to powerwash it. And you know – it helped. Clean isn't new, but it's better than grody.
When in doubt, powerwash it! (I'm thinking of having bumper stickers made with that slogan.)

And then with just a few relatively inexpensive additions and some "shopping" from other rooms in my house, my side porch went from this…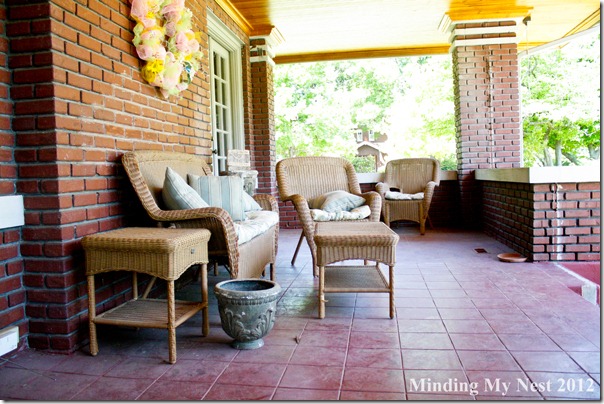 …to this!
The one thing I noticed in my inspiration photos was that they all had lots of potted plants. So the next I filled my empty planters with colorful geraniums and other plants with pretty foliage.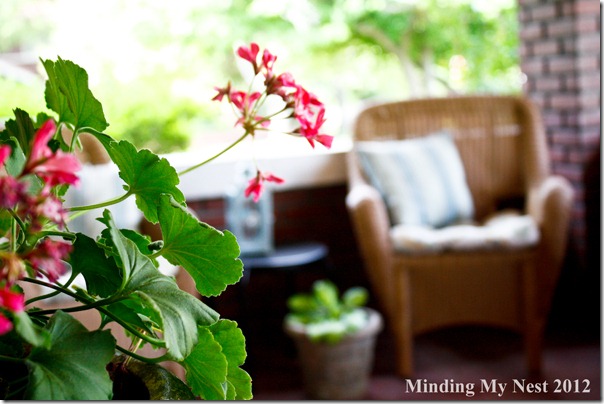 Then the other thing I added was an outdoor rug that I got at Home Depot.
I really like the addition of the rug – it seems to anchor the furniture and makes it feel more like an outdoor living room. The round wall decoration I took out of the basement and I think it looks great over the little loveseat.
On this side found a little side table from Target, and then I brought over a potted Hosta that I had in another part of the yard.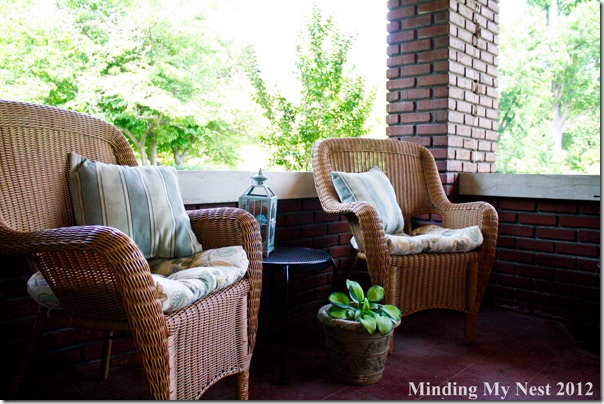 I also bought this cute little lantern from Pier 1. A nice little accent piece for just $10.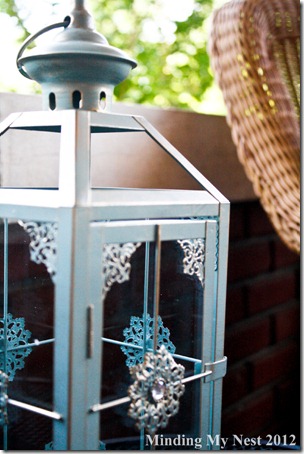 And now my I'm so happy how side porch feels like part of the house. Not just an after thought. And a perfect place for a little afternoon relaxation.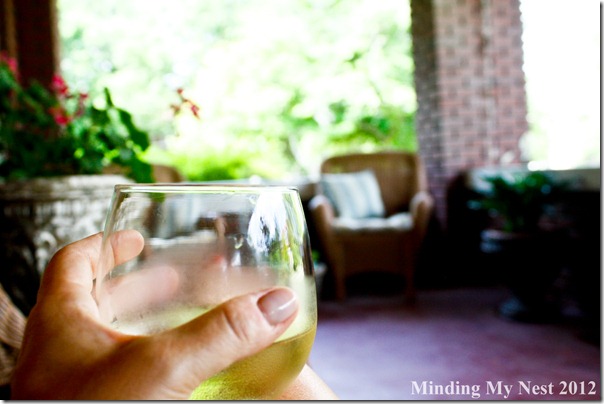 Now if you'll excuse me, my new copy of Southern Living is calling my name.

Peace, Kelly