Welcome to week 26 of my Pinspiration series! Can you believe we are half way through the year?!

I have to tell you…this might be my favorite project yet.
So if you are a regular blog follower, you probably saw my recent post about my One Little Word. This month's assignment was about connecting mind, heart, and hands and creating little cards that communicate our word and our experience.
From the time I joined Pinterest, I have been pinning beautiful mixed media art projects and this prompt was the perfect little push I needed to get out of my comfort zone and TRY this wonderful, expressive, messy art.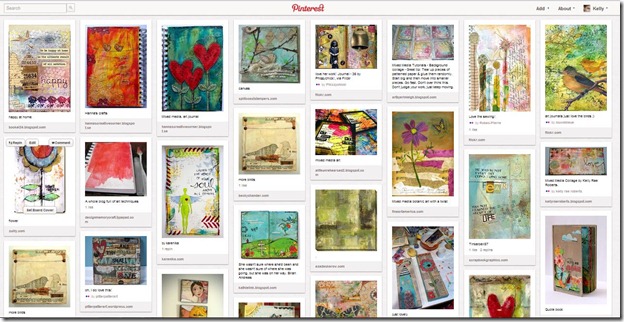 I've long been an admirer of the uplifting art of Kelly Rae Roberts and Christy Tomlinson. And clicking through some of the pins was an adventure in mixed media inspiration.
The great thing about Christy Tomlinson in particular is that she shares the process for her delightful project right on her website (and youtube as well). So I spent a very happy evening one night watching and learning and getting some ideas for how I might put together my OLW cards.
I started with nine cards made from some Crate Paper patterned paper that I cut to fit my page protector.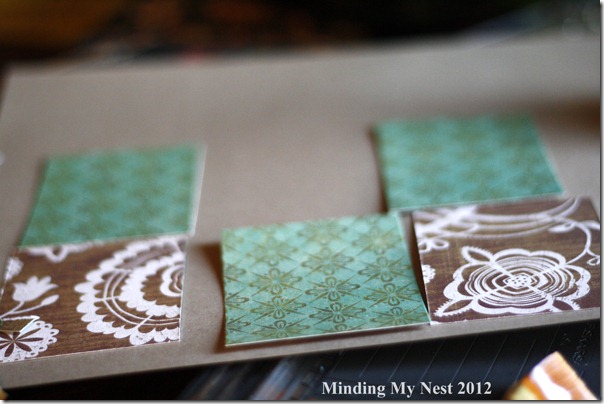 Then I ModPodged (yes that's a real word
) on some scraps of the same paper and also some larger pieces of pages I tore out of some old books I bought a junk store.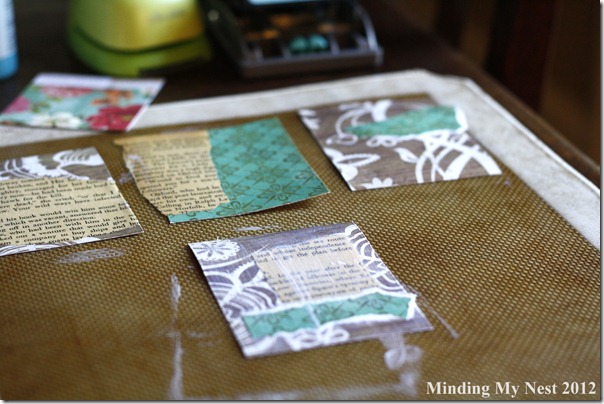 And yes that is a silicone baking mat.
I let that dry completely then lightly covered the surface of each with thinned out acrylic paint.
There is a whole Hobby Lobby aisle devoted to legit art mediums and paints, but ***sigh*** the LAST thing I need is another set of supplies for yet another hobby!
OK. So after my paint dried I used some stamps to add some detail and texture to the background. I also added some text using a couple different sets of letter stamps. On a few of the cards I punched some shapes out of the book paper and lightly painted over them with yellow acrylic paint.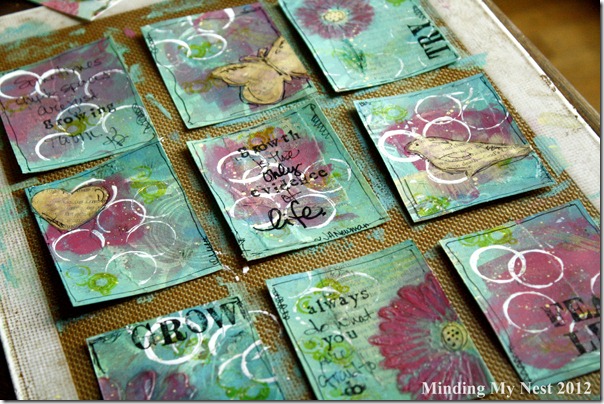 To make these dimensional flowers I used a flower stencil and (technical term here!) globbed on a thick layer of Mod Podge, then removed the stencil and let dry completely. I lightly painted over the raised area with some bright pink paint.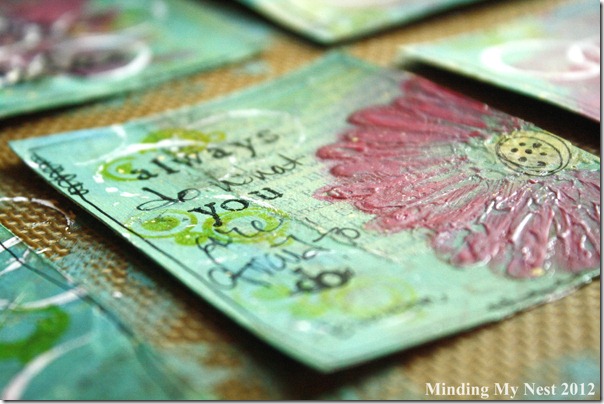 As a final touch I added some doodles with a fine-tip Sharpie marker.
I am so happy with how these cute little cards turned out!
I made myself a promise before I even got started that I would not obsess or otherwise ruin this fun project with perfectionist expectations. There would be no negative self-talk or any sort of comparison. This was my chance to play and have fun. And it was wonderful!
I can't wait to TRY this again!
Love, Kelly