One of my earliest memories of sewing was having my Granny show me how to carefully use a needle and thread to make a running stitch. I vividly recall Granny sewing on her machine and me sitting on the floor next to her, stitching together the fabric swatches from her Montgomery Ward catalogs to make little quilts for my Barbie dolls.
When I got a little older, my mom encouraged me and let me start practicing on her Kenmore sewing machine. Whenever we went to TG&Y, my mom she would help me look through the giant Butterick pattern books to find an easy-to-sew top or dress. Then we would pick out some simple cotton fabric from the rack of bolts along the wall.
Sewing became a fun way for me to pass the time during the dog-days of summer vacation. I would pin the pattern's sewing instructions to the wall behind the sewing machine, then, carefully following the directions, I sewed the pattern pieces together. I also followed my mom's advice of always pressing my seams open – my mom, a skilled seamstress from a long line of skilled seamstresses, knew all the tips and tricks to making homemade clothes look less homemade. And on those occasions where I got confused about what it meant to 'ease' the fabric or clip a curve, my mom was just a phone call away at work where she would always take the time to talk me through the process.
Many years later, when I was pregnant with Kelsey, my mom gave me her old Kenmore sewing machine. I had decided to make all of the bedding for the nursery and found a pattern and the cutest pansy fabric at a local fabric store. I spent the better part of two months sewing the quilt, bumper pad, diaper stacker, and curtains for her room. It was such a gratifying feeling to create something so special for my baby.
In the years since Kelsey was born, I have made dozens of Halloween costumes and Easter dresses. I've also made all of the curtains for every home that my family has lived in. With every project, I feel that same feeling of satisfaction of knowing that I have created something special for my family or my home.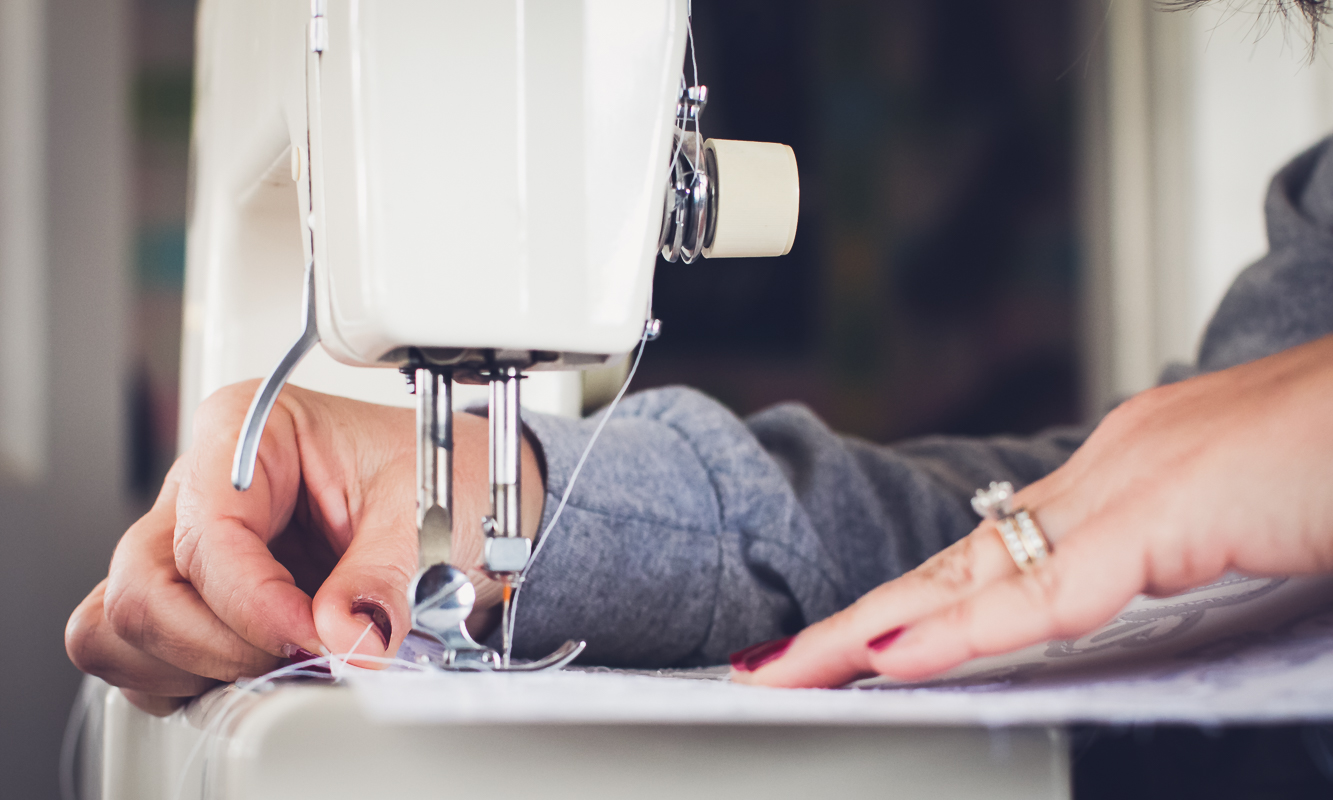 I still sew on my mom's old Kenmore sewing machine. However, these days, it seems that I use it more for crafty memory-keeping projects. Which was the case with the new FABRIC Story Kit™ release from Ali Edwards.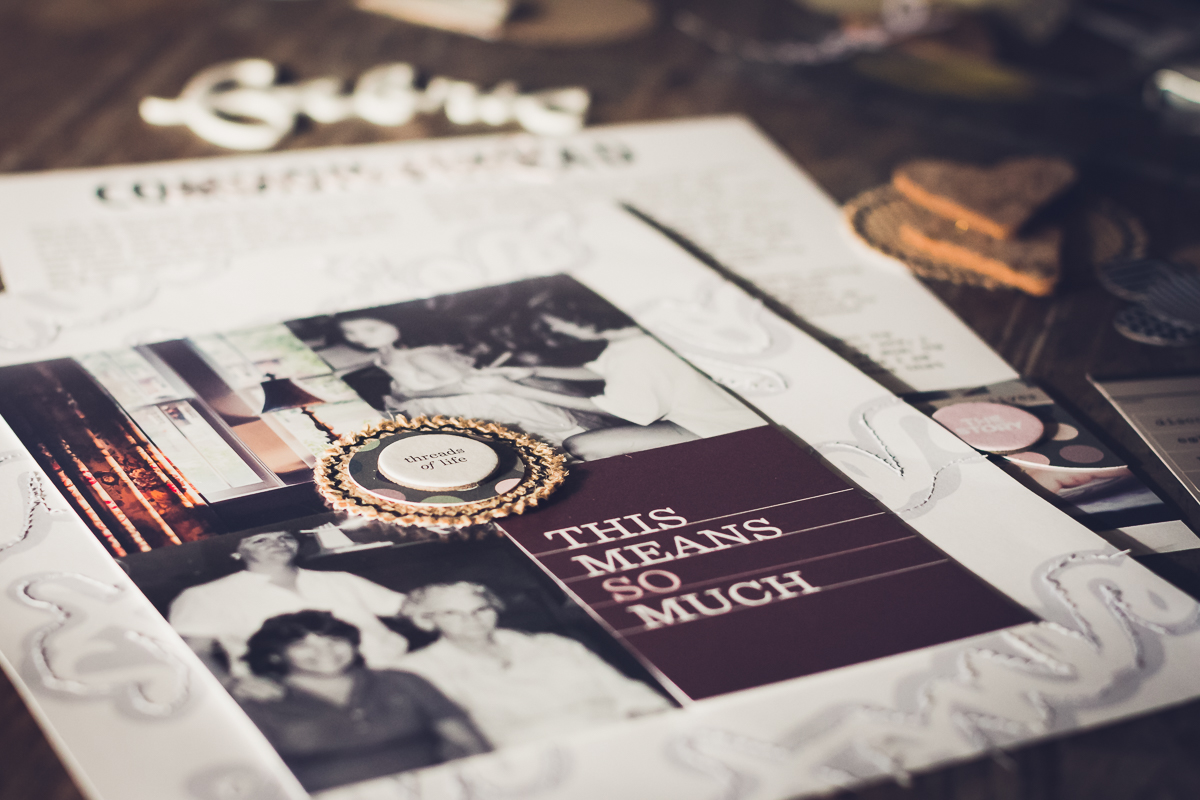 It always makes me laugh a little to think what Granny (or my high school Home Economics teacher) would think about this. <<wink>>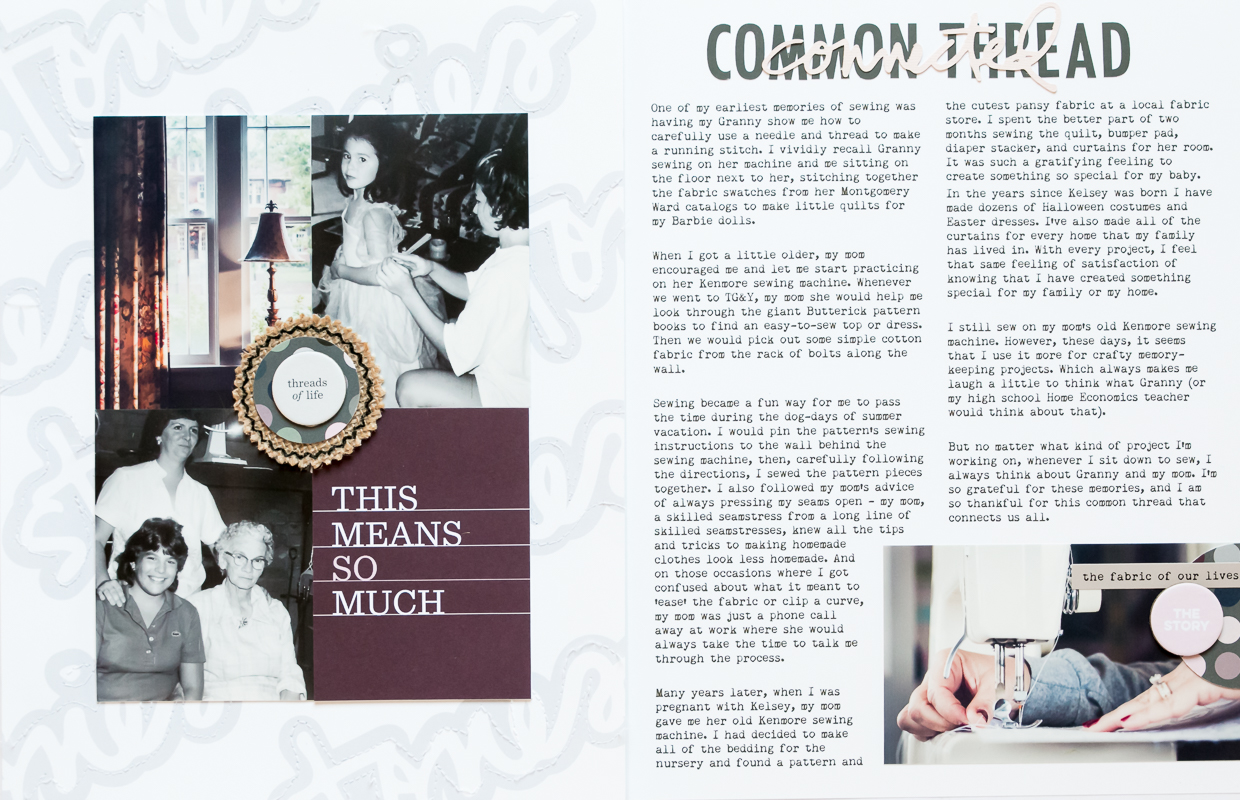 But no matter what kind of project I'm working on, whenever I sit down to sew, I always think about Granny and my mom. I'm so grateful for these memories, and I am so thankful for this common thread that connects us all.
Love, Kelly