Before you say it, yes I know…this is a blog post about November but it's December 2nd. Usually I have a week or so to switch gears, but the truth is that with Thanksgiving being so late this year, December kind of snuck up on me.
Nevertheless, I don't want to move right into the the Christmas season without acknowledging all of the goodness from November. Here are some of my favorite photos from this past month.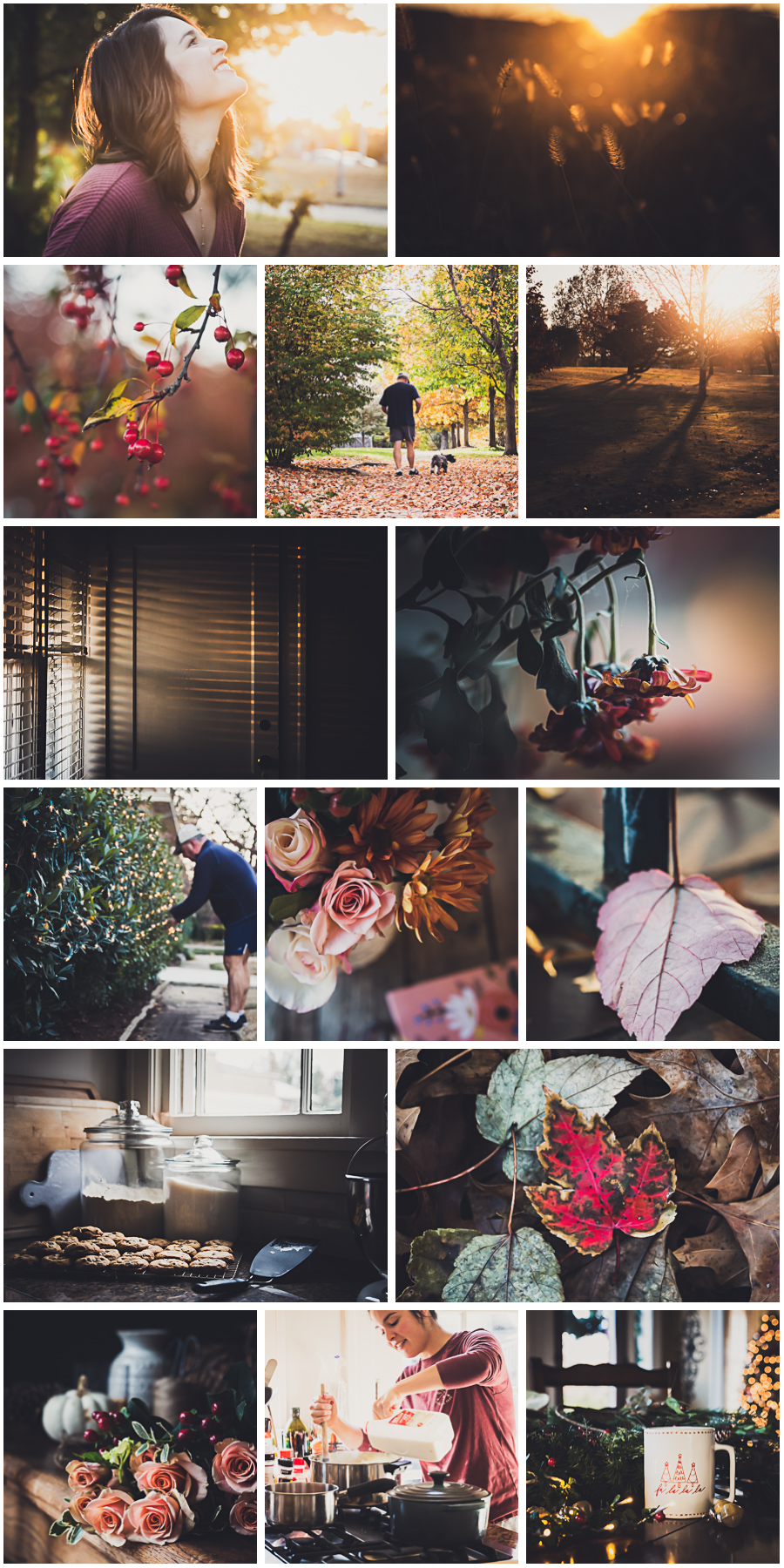 I do so love the light this time of year.
In terms of memory keeping, my projects are a reflection of my gratitude practice this past month.
This first part of the month I created this simple list-style layout to document the little stories from the day using the December 2019 Stories by the Month Physical Kit.
Over the past few years, I have really come to appreciate these kinds of simple layouts in my albums. I love the mix of the different kinds of photos and stories, but mostly because I truly believe that in terms of memory keeping and storytelling, the whole of any given album is greater than the sum of its parts.
This month we also celebrated Tripp's birthday.
In case you were curious, I am currently obsessed with wreaths thanks to December Daily, and so I decided to just go with it for this layout.
I started by printing out the quote onto cardstock. I then dusted off my Silhouette and cut out all the ovals from the November 2019 Stories by the Month Digital Kit. Plus, I also used up the stash of leaf shapes I've been hoarding for the past couple of months.
Finally, for a month devoted to the practice of gratitude, the Gratitude Story Kit was perfect for documenting some of the other little stories for the month.
For this layout, I dusted off all of the my embossing tools to document this little story about Tripp getting all the Christmas light put up.
Why yes I do have December Daily on the brain…why do you ask?? <insert wink here>
I also took advantage of those awesome hexagon die cuts included with the kit to document some of the things I am most grateful for with my girl. Also, 12×12 prints from @persnicketyprints forever and ever!
Finally, I used the Gratitude Story Kit to document the week of Thanksgiving. Tripp was home all week which was a complete joy. Plus we had lots of family and friends with us to celebrate the holiday. Which just made my heart so happy.
Layouts like all of these give me major warm fuzzies. Obviously seeing the faces of my loved ones makes them so special. It's also because this hobby is place where my head, heart, and hands come together to tell the stories of my life.
I am so grateful for this hobby and creative outlet. For the happiness of a few minutes of fun, crafty play. And for the special memories that are preserved.
As always, thank you for letting me share my stories with you.
Love, Kelly