I don't know if you remember or not, but there used to be a show on HGTV daytime called Room by Room. There was a man and woman design team and they'd tackle various home redecorating projects. They also kept a little scrapbook of their projects which, as a scrapbooker, I found extremely endearing.

Anyway, the other thing that I really loved about their show is that at the beginning of every project, they started the design process with an "inspiration piece." I found that to be such a great idea because nothing is worth than starting from scratch with no idea of how or where to begin. And whether it's a bathroom renovation or vacation scrapbook, I apply this technique all the time.
So here is my inspiration piece!
image courtesy http://sevengypsies.blogspot.com/2011/05/1-fabulous-collection-5-inspiring.html
I completely fell in love with this fun, colorful, funky album. (Seriously, check out this gorgeous album at 7 Gypsies!) And I thought this Mykonos paper collection would be perfect for my album.
I love the colors and designs of this paper!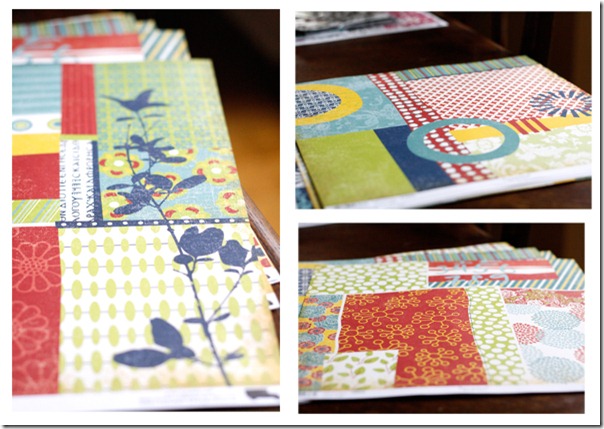 I also bought a set of 6×6 journaling cards and some 7Gypsies Vacation and Cruise stickers. (I also bought some October Afternoon journaling stickers too.)
So with the color and design of this paper as my inspiration, I went through my stash to see what else I could come up with.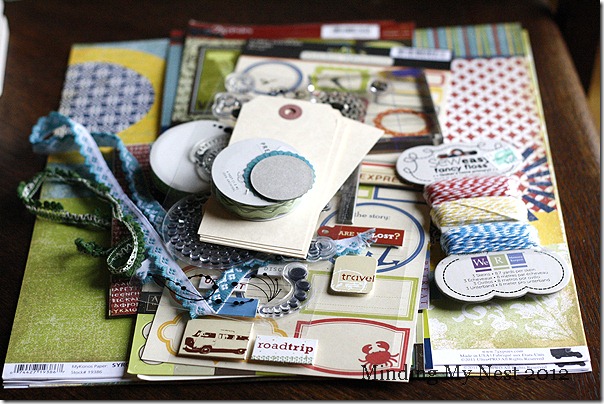 So of course I have my giant tub-o-buttons. I'm thinking that I might just go with yellow only.
This big "flower" punch kinda reminded me of the sun so I might try to make some cool accents with that. And then I have this set of clear stamps with a a couple of big circle with a kinda/sorta sunburst feel.
Then I have a few bits and pieces of ribbons that I think coordinate with the paper and a couple sheets of letter stickers that may or may not make their way into the album.
So that's basically it. It might not seem like much in the way of embellishments, but for me, the fewer supplies/embellishments that I have to choose from, the less overwhelmed I get when I actually start putting together the pages. Plus I think by having just a few kinds of embellishments, it creates a cohesive, unified look. And I like that.
Next time I'll show you how it all came together!

Peace, Kelly