One of the most interesting (and unexpected) things about having a grown daughter in college is how it has affected my relationship with my mother. I say "unexpected" not because my mom and I have a difficult relationship, but rather the opposite – my mom and I have always been close. It's just now it seems to be on another level or have a new dimension. And it is awesome.
I feel like I'm in such a unique place in my life right now having such close relationships with both my mom and Kelsey. I got to spend time with my mom yesterday to celebrate Mother's Day and my birthday. At one point, we were all sitting and talking, and I noticed that I was situated in between my mom and Kelsey. Literally. Yet also figuratively. Almost as if I am both my mother and my daughter, getting to see and experience both sides of the coin so to speak.
Today I am thinking about my mother and her first Mother's Day. Early that morning my mom had given birth to her first born, a daughter. But instead of hearing the joyous cries of a new life, my mom watched in fear as I whimpered and gasped for breath. The Air Force base doctors decided that the best place to treat my aspiration pneumonia was at the KU Medical Center in Kansas City, so my dad and I were whisked into an ambulance and rushed to the NICU an hour away.
Thinking back to the birth of my own daughter, I can't imagine the fear that my mom must have felt. Or how alone she must have felt while the couple on the other side of the curtain celebrated the birth of their healthy baby surrounded by family and friends bringing flowers and well-wishes. But most of all, I can't image spending my first Mother's Day in an Air Force hospital situated in between my daughter's and mother's hospitals.
You see, while I was being treated in one hospital, my mom's mother was being cared for in a hospital in the opposite direction. Edna, who had been been ill for months, was receiving treatment at the University of Missouri Cancer Center. A few weeks earlier my mom and dad had made the hour and a half trip to visit Edna in the hospital but sadly, my mom had no idea that would be the last time she would see her mother.
I have heard this story many times in the course of my life. But now I just get it in a way that is almost impossible to describe. It's like I know the story. I don't know… maybe it's the fact that Edna was 43 when she died and my mother was 19 when I was born, the same ages as Kelsey and me. And now that I am 44, it's like the three of us – Mom, Kelsey, and me – are crossing into a new frontier. And this has profoundly changed me.
As a daughter, when I think about my life and the challenges I've faced, I can't imagine not having my mom there to support and encourage me. Especially this past year and navigating this new phase of my life. But when I think about the challenges and struggles my own mother has faced in her life, I am filled with a profound sense of admiration and appreciation.
All of this is sitting in my heart today and radiating gratitude. I am so blessed to have my mom in my life and I am so grateful for the opportunity to know my mother and be blessed by her strength, courage, and faith.
So especially today Mom, I just want you to know how much I appreciate everything you do and how much I admire you for who you are.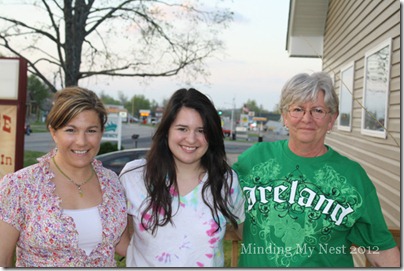 Happy Mother's Day. I love you so very much. Kelly