Since coming home, my daughter has been sharing with me some of the things she has learned in the past year.  So for instance, I sort of expected that she would learn things like 'genotype determines phenotype,' a nice little nugget of knowledge courtesy Bio1005.  But I think we were both blindsided by her learning that a bug bite to the scalp would cause her lymph nodes to swell – the 19th birthday gift that keeps on giving.
But during our trip to the grocery store yesterday, Kelsey shared with me that she now loves pomegranate seeds.
What?? What next?  Will she be speaking Latin?
So, apparently her suitemate ate them all the time and showed her how she extracted the seeds.  Being a fan of pomegranate juice myself (for the health benefits of course), I was intrigued and insisted that we get one and she show me how it's done.
So according to my delightful daughter, this is all you have to do to get the seeds out of a pomegranate.
#1 – Make a shallow cut down the down the middle.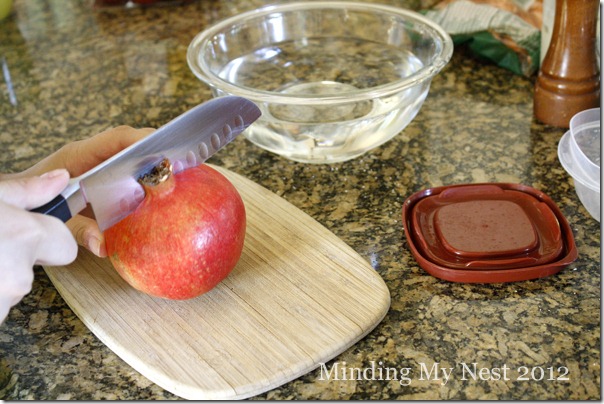 #2 – Gently pry the pomegranate apart.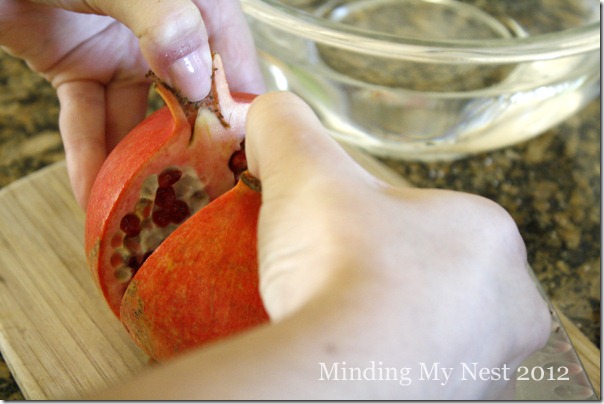 #3 – Take a moment to appreciate the little ruby seeds (ok…maybe that's me)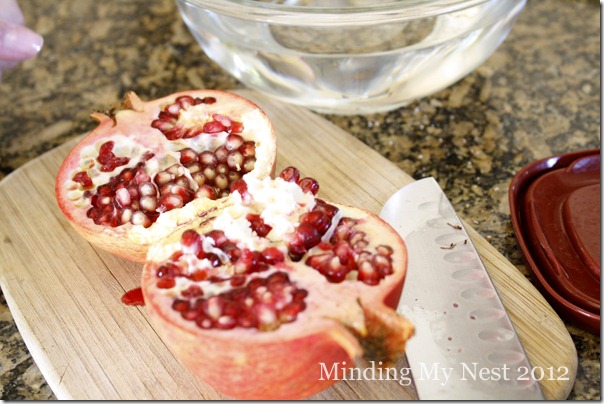 #4 – Cut each half into fourths taking care not to get the ruby liquid on your white t-shirt.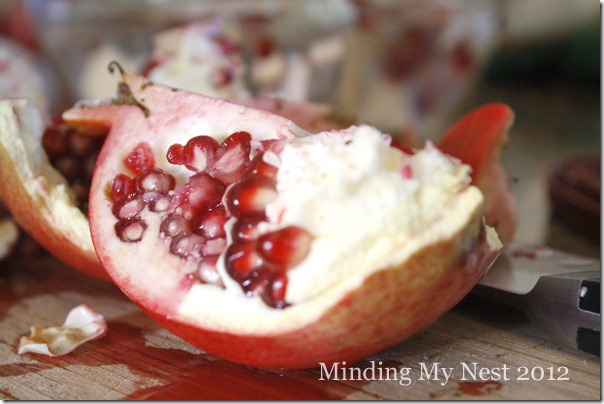 #5 – Using your fingers, gently pry the seeds out of the pithy membrane into a bowl of water.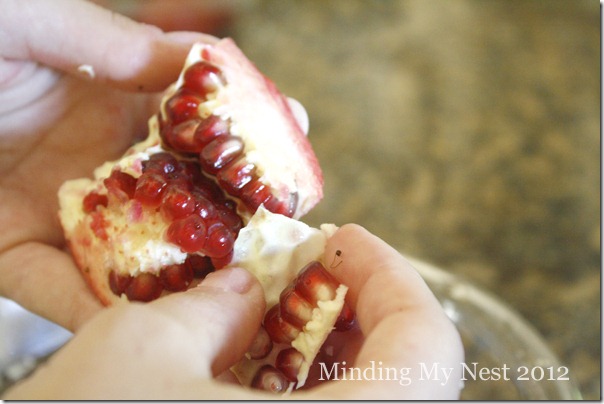 #6 – Skim any of the remaining membrane from the bowl.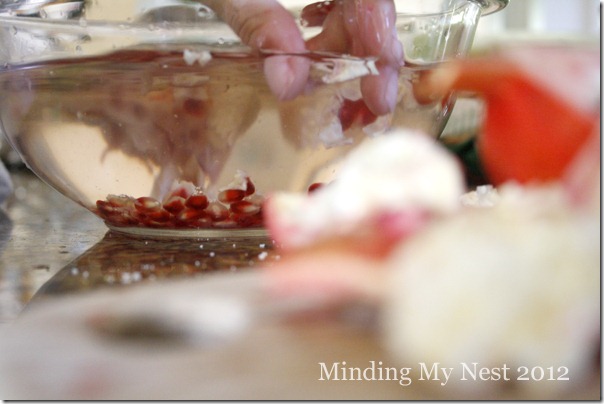 And once that's done, you'll be left with these amazing little jewel-like seeds!  The the flavor actually comes from the juicy pulp surrounding the seeds. And they are so tasty!  Sorta sweet and tart like the teeny grapes that sometimes come in a bunch.
And since we're on the topic of learning, here are some fun facts about pomegranates:
pomegranates are native to the middle east but are also grown in California and Arizona
a pomegranate can contain 400-1400 individual seeds
pomegranates have been used for centuries as natural remedies
pomegranates are a good source of vitamins C and B5, Potassium, and a great source of antioxidants
And here's an extra little anecdotal tidbit from yours truly:
pomegranate juice is delicious in a martini
Hopefully something my delightful daughter did not learned during her freshman year in college.

Peace, Kelly