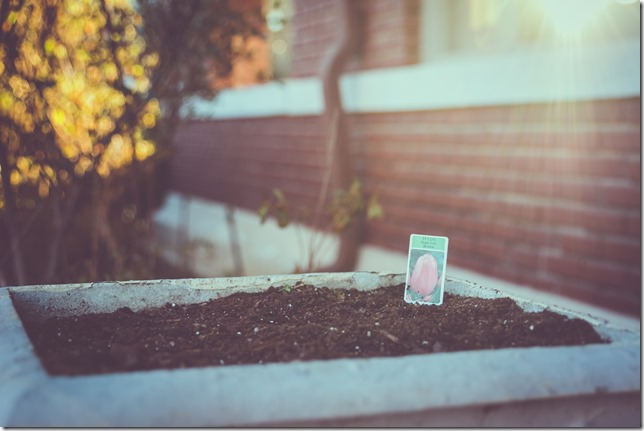 don't say it….i know what you're thinking….yes i took a picture of an empty flowerpot.
yes my neighbor across the street was looking at me funny and no i did not care one bit.
now i know that me and the word "empty" have had our issues, but my friends, this flowerpot is anything but empty.
a few weeks ago, i planted some pink tulips bulbs in here – twelve of them to be exact. when i set these bulbs into the soil, they were in their dormant state. bulbs, also known as "short stems" or "fleshy leaf bases", serve as food storage organs for the tulips during this period of dormancy. but once the bulbs were set into the ground however, new roots started emerging from the base of the bulb. and then these vascular organs began their work of anchoring the bulb in place and absorbing water and nutrients from the soil.
at the center of each tulip bulb, there is a "vegetative growing point". this is the "unexpanded flowering shoot" that will eventually become the tulip. but right now, there is much work to be done underneath the surface.
i think the important thing here to note is that dormancy does not mean dead. these bulbs are alive. and once planted, in the right conditions and in the right season, these tulips bulbs will bloom. so even though by all outward appearances there is nothing really going on, i know the real truth.
so while i wait for my beautiful tulips to bloom, i am going to nurture these flowerpots. i'll protect them from the harsh winter cold and water them as needed. but mostly i am going to give my tulips the time and space to grow and develop.
no…this is not an empty flowerpot. this is a flowerpot full of life and potential. this is what hope looks like. i am living proof.
love, kelly