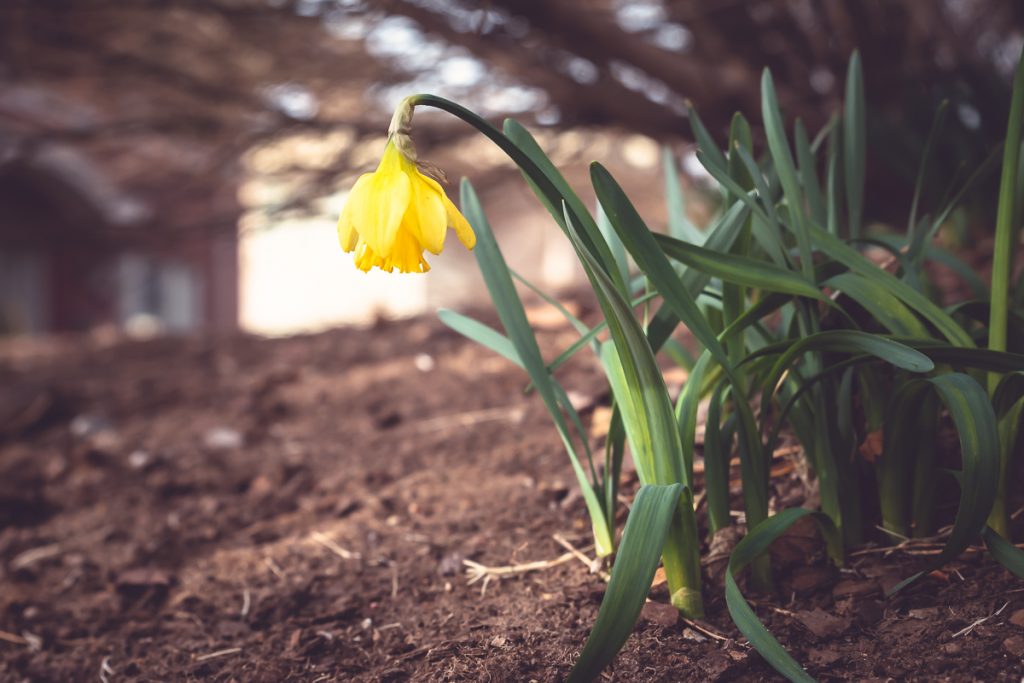 After a week of snow, ice, and frigid temperatures in Kansas City, it was such a delight to come home to see one of my daffodils blooming. Not that it's been that much warmer in Oklahoma mind you. As I sit here typing this post, it's been on and off freezing rain all morning. But even still, just having this one, eager sign of spring in my front yard is a complete joy.
My friend/neighbor Jen had actually told me about this bloom while we were texting one day – one of our other neighbors had pointed it out to her. Apparently I hold the honor and distinction of having the first daffodil bloom in the neighborhood. The thought of which makes my heart SO HAPPY.
I love the idea that tending this garden and growing these flowers, both of which bring me great joy, can also bring joy and happiness to others.
Now I know what you're thinking…
…well good for you Kelly but it's -30 degrees where I live and I won't see any daffodils for another couple of months.
And my response to that would be a little wink and gentle nudge of my elbow to your side saying, "You know we're not really talking about daffodils, right?"
The truth of the matter is that we all have unique gifts and talents. And before you say that you don't, let me just stop you right there. Because you do. Maybe it's growing flowers. Or maybe it's arranging grocery store flowers.
I wholeheartedly believe that whenever embrace our truest self…whenever we connect with those things that fill us up and bring us joy – that's what are gifts are. So today I would just like to encourage you to bloom – to share your unique gifts with the world. Because the world needs them.
The world needs you.
Love, Kelly