it's finally starting to feel like my kitchen again.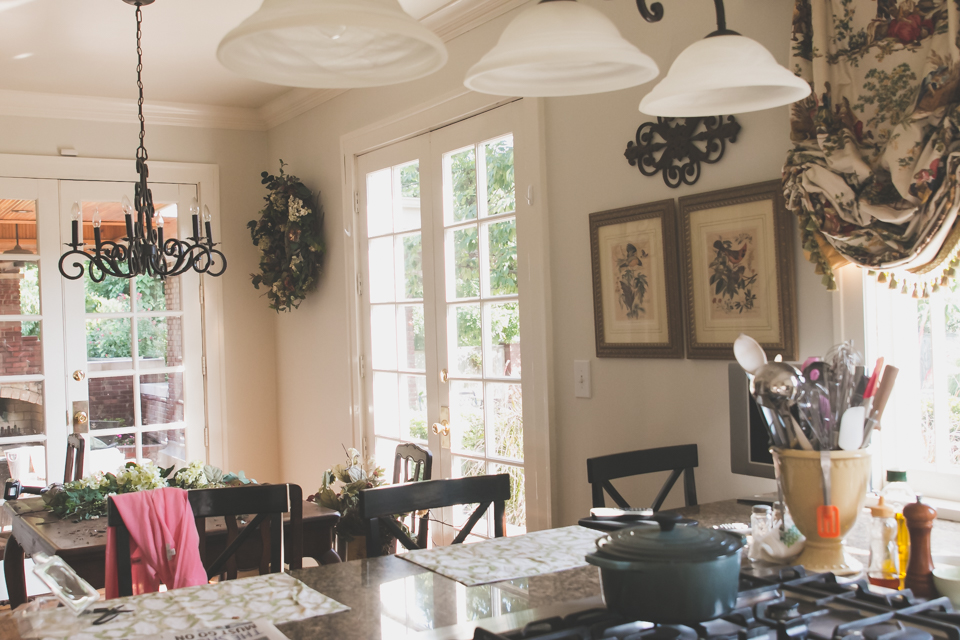 since i left off a few weeks ago, i've slowly been getting things back on the walls.  the first items to go back up were my window shades.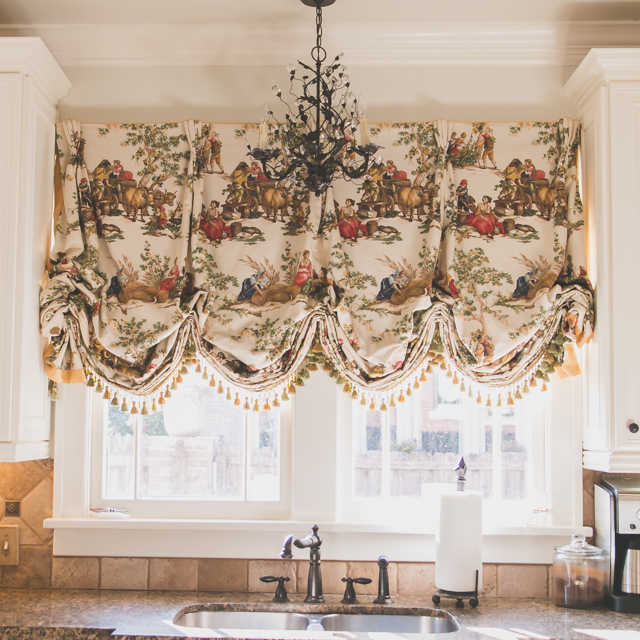 i debated about whether or not i would reuse them…i made them close to ten years ago and they've been hanging on my windows since then.  i had these shades in mind when we originally renovated the kitchen because i had fallen in love with this toile pattern, 'genevieve'.  plus they serve the important function of blocking the last afternoon, western sun with is intense, especially in the summer.
even though the shades are nearly 10 years old, they are still in good condition. and the truth is that i still love this pattern.  so as i pondered the cost of having new shades made or the time it would take to for me to make new ones, it was sort of a no-brainer.
but the shades had to come down in order to paint.  plus after ten years, they really needed to be cleaned.  so we took them down.  and when i say 'we' i mean i begged tripp to help me.  what i failed to mention to him is that when i hung them up (by myself i might add) i stripped all of the mounting screws.
unscrewing a total of 11, 2-inch screws with a pair of needle-nose pliers = awesome!
said no one ever.
seriously….give this guy a medal!
anyway, once we got them down, i took them to my local cleaners – they have a guy who does their rugs and upholstered pieces.  it cost me about $150, but it was well worth it!  my shades came back good as new!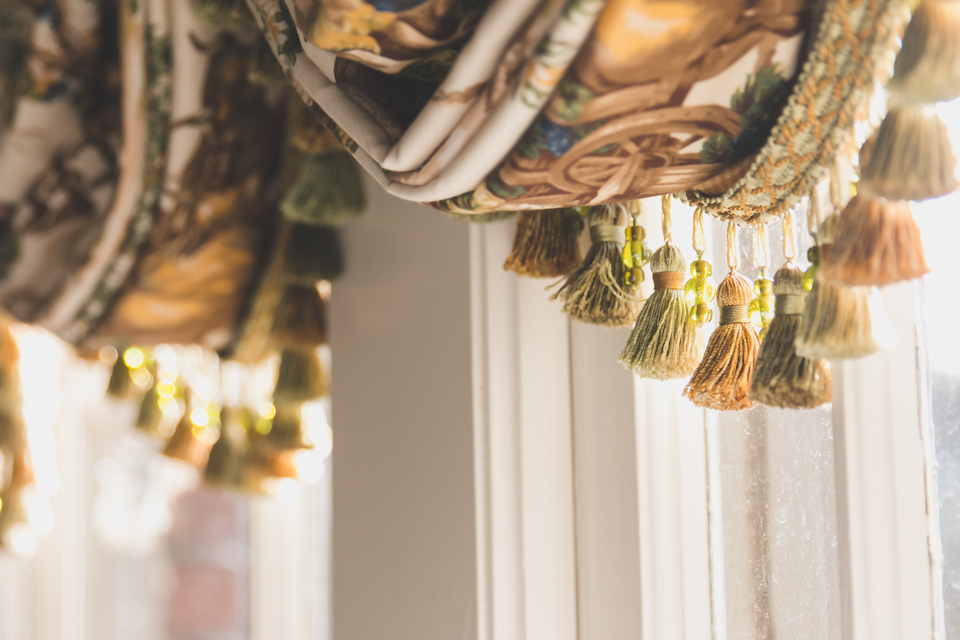 with the kitchen being white now, i appreciate their color and pattern more than ever!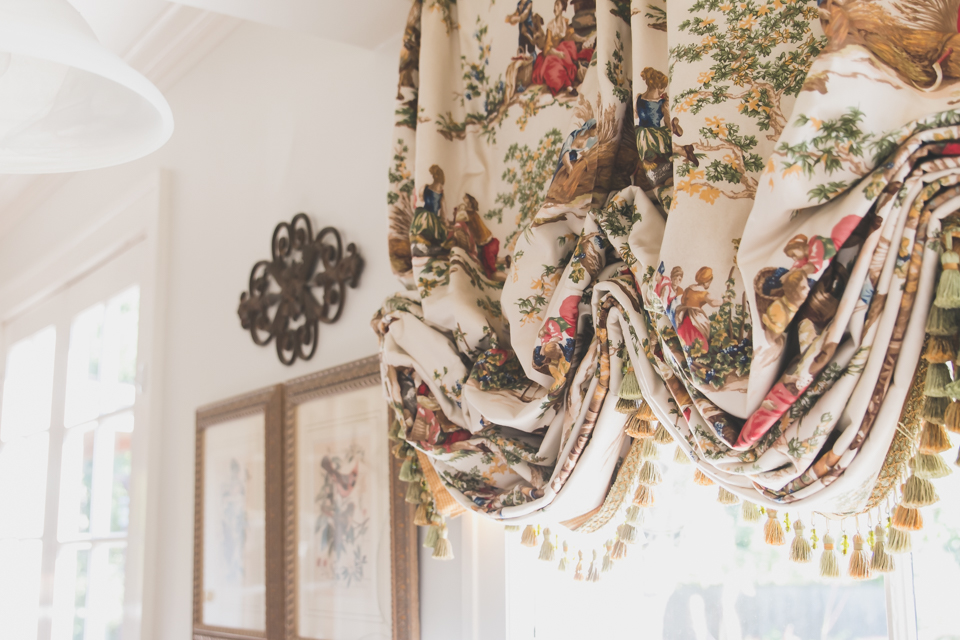 the next thing on my agenda was to address this small wall on the opposite side of the kitchen. before, i had a collection of floral prints and vintage plates on the wall.  but i wanted to do something a little different – a little more modern and organic.  so i took apart an old flower arrangement and made this very 'sproingy' (yes, it's a word) wreath.
also, i had seen these shelves on pinterest and loved the wood tones against the white walls.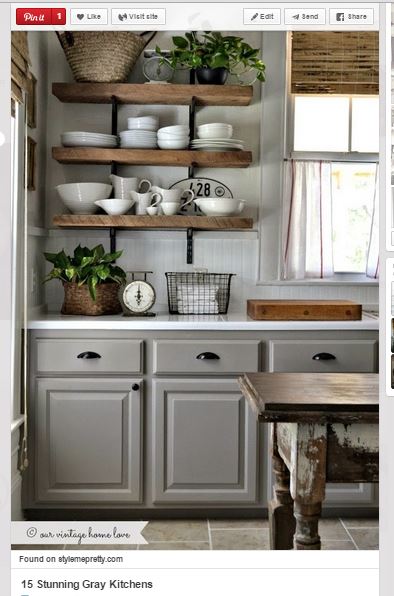 so i did a little research on the interwebs and found these similar shelves at ballad designs. i love how they look with my wreath.  and i like how the color and pattern from the other side of the kitchen is carried over and represented in this little nook.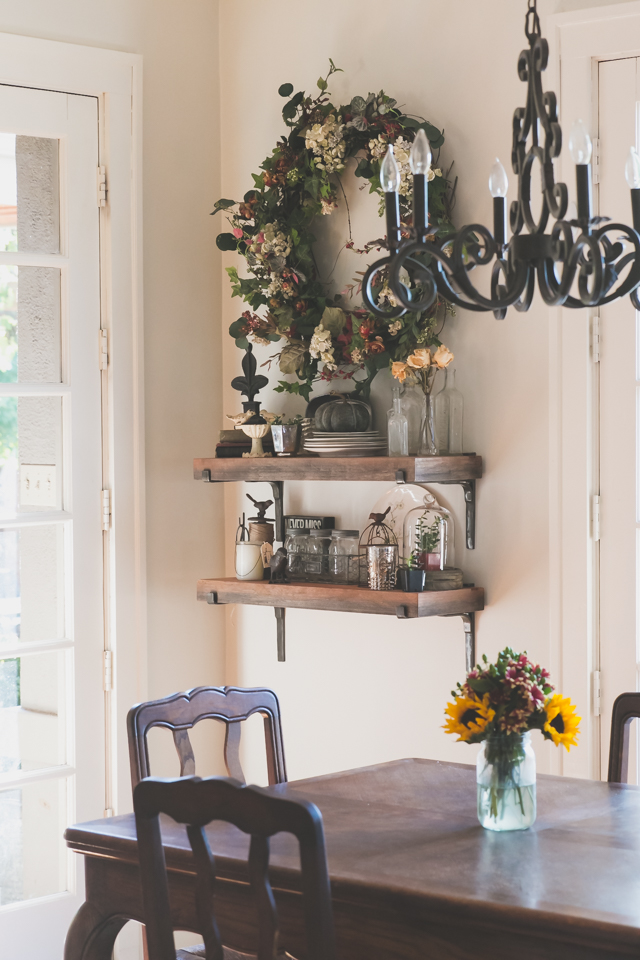 plus i love having a place to display some of my favorite treasures.
and i absolutely love the way they catch the afternoon light right now.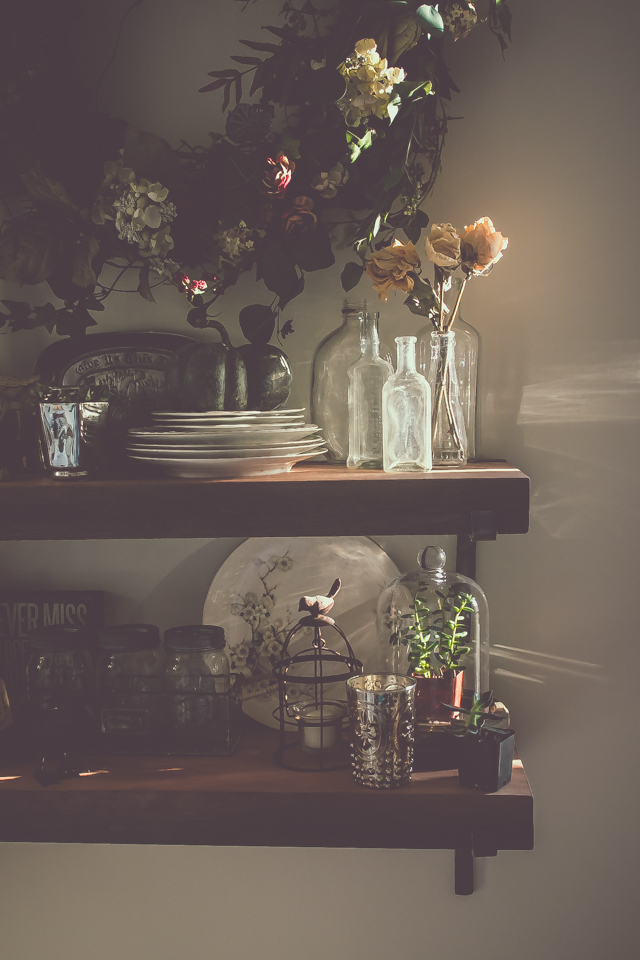 so the last area i tackled was this small wall next to the refrigerator.  before i had very uninspired arrangement of wall pocket, bulletin board, and a large print which i would show you if i was better about adding keywords to my lightroom catalog and could find a picture of it.  but suffice it to say there was nothing pretty about it.
i had this idea to do a sort of gallery wall/kitchen command center similar to this.
so i went "shopping" around the house to find some pieces that might work.  then i drank a couple glasses of wine which accomplished two things: 1) it helped to loosen up my creativity and 2) it helped to mute my inner critic.  and after about an hour of arranging and rearranging the pieces on the floor, here is what i came up with.
i like the mix of shapes and textures along with the mix of vintage and modern pieces. (note::it's not as crooked as it looks in this photo.) and i've added a little more storage with this adorable little farmhouse-style basket i found at michaels.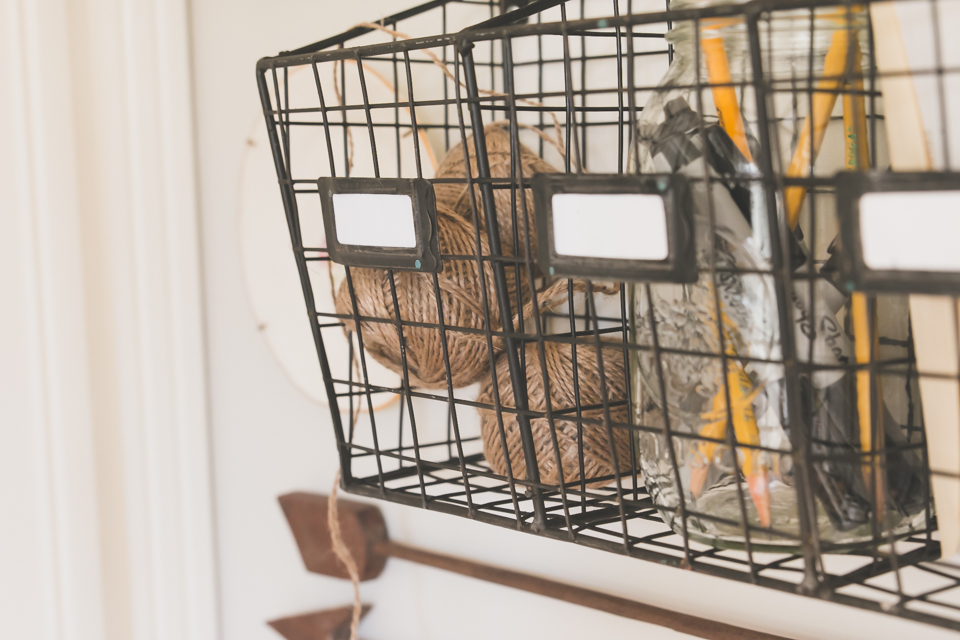 i also added a calligraphy print that i made of one of my favorite quotes.

you can download a full-size version here.  (for your own personal use please)
if it seems like a lot of stuff on the walls, you're right.  what's funny is that when i originally started planning to re-do the kitchen, i envisioned a much more spare look – totally had planned to that whole 'less is more' thing.  but after living with mostly bare walls for a couple of weeks, i knew that wasn't going to work for me.  don't get me wrong….i love my white walls – what i didn't care for was the austerity.
now that i have some color and texture back, i so happy with how it's all come together.  i still want to replace the light fixture over the island and re-do the backspash so i can't say that we're completely finished.  but it feels like my kitchen again.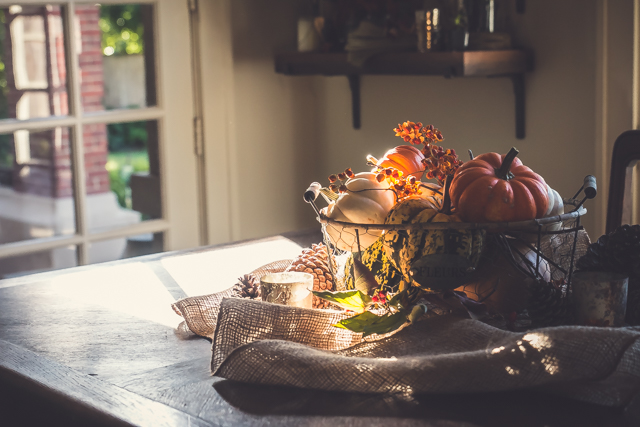 all the hard work was worth it.
love, kelly