raise your hand if you are glad it's friday!
don't get me wrong though – it was good week.  spent part of the day tuesday with my parents…a simple out-patient procedure for my mom (nothing major!) with good news to follow.  wednesday was tripp's office christmas party.  got all gussied up and we scored a bottle of wine and a restaurant gift card in the dirty santa. then yesterday got together with my girlfriends.  my friend pam is going to be a grandma! so we showered her with some fun baby gifts.
as much as love spending time with my friends, it seems like my christmas spirit is directly proportional to the time i get to spend at home. so i am especially thankful to be putzing around the house, drinking coffee, wearing sweat pants, and with my hair in a ridiculous top knot today.
it feels good to sort of reconnect at home.  even when it looks like this.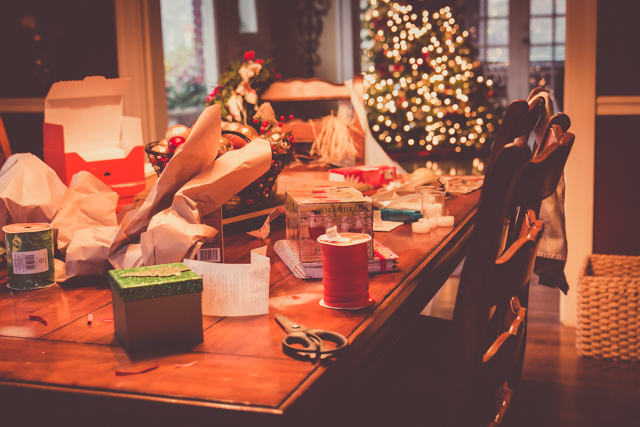 this is where i am happiest.  this is where i feel alive and creative.
so if you don't mind, i'm going to sign off.  soak up some downtime.  i hope you some time this weekend to do the same.
love, kelly