Time marches on and sooner or later you realize it is marchin' across your face. ~Truvy Steel Magnolias
I'm having a bit of moment. I think it's because I'll be turning 44 soon and for some reason 44 sounds sooooo much older than 43. I feel like at 43 I can legitimately say, "I'm in my early 40's." But 44…I don't know – to me that's smack-dab in the "mid 40's."

The reason I am having a moment is because I have to take a self-portrait for my OLW assignment this month. And it sucks. I cannot take my own picture. I feel like complete idiot smiling at the camera, but yet when I try to have a more contemplative expression, I end up looking like I've had stroke or something. One side of my face looks like it's falling off and my eyes have this strange vacant look.
And if it was just looking stupid, that'd be one thing. But now I've noticed that I'm starting to look my age. My skin specifically. All those years of my youth laying out in the front of the boat with no sunscreen are coming back to haunt me!
But instead letting this "moment" turn into a full-on assault to my self-image, I'm going to shut down my inner critic and turn this into something more positive and affirming. And I thought what better way to do this than to share some of my favorite beauty products.
#1 – Garnier Dark Circle Roller This handy little roller-ball is just the thing for perimenopausal insomniacs like me. It's very cool and soothing when it goes on and covers pretty well. Plus I like that it doesn't seem to settle into the little lines and cracks under my eyes and make me look even older and tireder.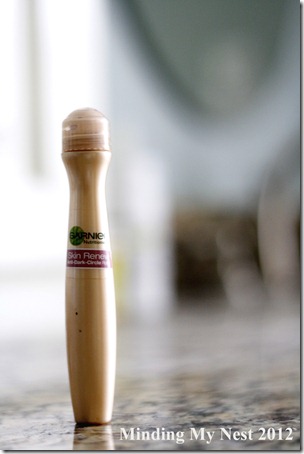 #2 Tarte Amazonian Clay Foundation I know, I know…the Amazonian clay thing sounds like total bullshit and just the kind of lame marketing that appeals to women with more money than brains. But I was A) under the influence of a two-glass of wine lunch with Carrie and our girls (during Spring Break) B) a captive audience to the 20 something Sephora gal who was trying to help Carrie and me find the perfect red lipstick.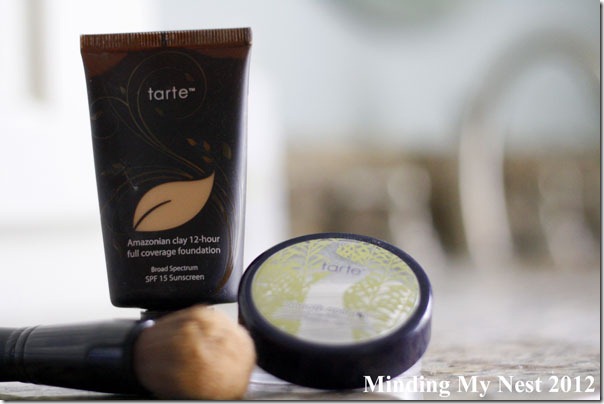 So here's the deal – I LOVE this foundation. Because of my sun damage (brown spots) I like a full coverage foundation. I was using Lancome powder foundation because it covered well and didn't make my face super oily, but now after using this Tarte foundation for a few weeks I've found that the pores in my nose are much smaller. Which is kinda cool. Plus this foundation really covers and doesn't get oily at all. And true to the label, it lasts all day. It is a bit on the pricey side (of course you have buy the special setting powder to go with it. and the foundation brush dontcha know), but hey – desperate times call for desperate measures!

#3 NARS Orgasm Blush OK. Before you judge the name, let me just tell you a little secret – blush makes you pretty. It's true. And contrary to it's name, this NARS blush is reminiscent of a youthful rosy look. It's a little on the pricey side too, but like with all blush, a little goes a long way.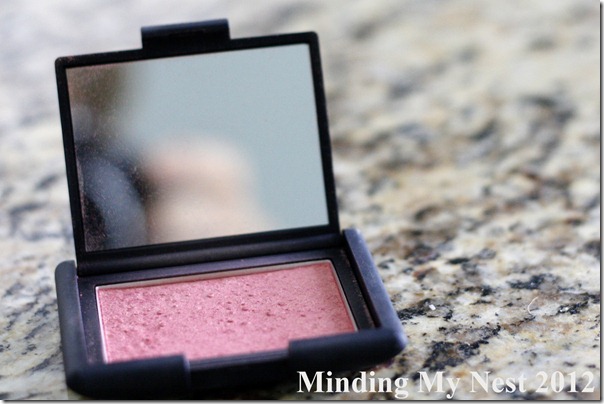 #4 Urban Decay Eyeshadow Primer Potion I'm still loving my NAKED eyeshadow pallet that I bought a few months ago. And I liked the little trial size of eyeshadow primer so much that I bought a full size tube a couple of months ago. I love this primer because it keeps my eyeshadow from creasing all day. Even after exercising! It comes in several nude tones, but I ended up getting the primer in Sin.
Good grief! 'Orgasm', 'Naked', 'Sin'…such racy products for a good Catholic girl such as myself!

Anyway, I love this color. It's a nice neutral beige-y pink with just a teeny bit of shimmer. It goes great under any color, plus it a great color to wear all by itself (which I do a lot on the weekends).
#5 L'oreal Double Extend Mascara I have a confession to make…I am a bit obsessed with eyelashes lately. It started after spending the weekend with my well-fringed friends Carrie and Stacey. And then one of my girlfriends at work actually got eyelash extensions. And you know what…it was so pretty. Not weird and fake a la Kim Kardashian.
The thing is, I have a decent amount of eyelashes – it's just that they are not very long. So lately I have been on the hunt for "lengthening" mascara. And I really like this one by L'oreal that comes with a primer and mascara. I am now a eyelash primer convert! It really does help to create length without looking like I have four eyelashes all clumped together.
So there you have it – these are a few of my favorite weapons in the war on aging. But thanks to some good advice from a friend, I'm starting to think that the best defense might be a more positive attitude. So I think I'll spend a little more time doing that instead of obsessing over a few new wrinkles and brown spots.

Peace, Kelly