Hello friends! Happy Monday. I am happy to report that today's high temperature is only supposed to be 101 degrees. So that means my car thermometer only reads 117 instead of 135 when I get in after work.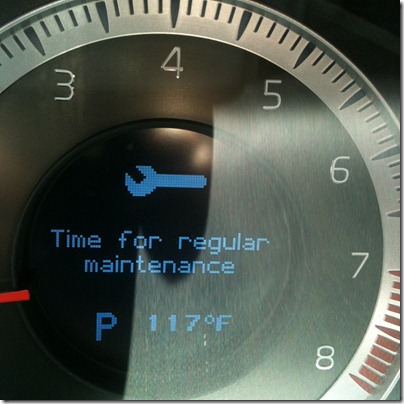 I may have to break out the long-sleeved t-shirts. Ha!

I used to think that anything over 100 was just hot and that it was impossible to tell the difference between 113 and 103. Man was I wrong! I think it's safe to say that when 101 seems like a cool down, then it's been way too hot for way too long.
OK. I promise not to complain anymore about the hot summer weather. It's August in Oklahoma. Just the way it is.

Anyway, I hope you had a nice weekend. Ours was relatively quiet. I got home Friday from my little trip to OKC with our friends. Then Saturday I cleaned house and went to Michael's. Exciting stuff I know.
Saturday afternoon I stayed inside and worked on my little DIY canvas project. Around 3:00 or so, I happened to look outside and noticed a strange tint to the sky. All day long Tripp and I could smell the smoke from the wildfires to west of us. But by that afternoon, the wind had picked up and brought the smoke and ash with it.
The sky was so eerie. You could see the bright orange sun through the cloud of smoke. It was like sunset, only it was afternoon. So creepy.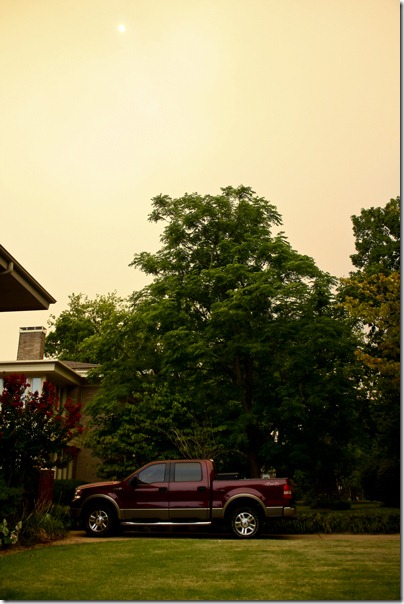 As the afternoon progressed and the wind continued to fuel the flames, the smell of smoke got more and more intense. The closest fire to us was about 20 miles away, but even still, the smoke burned my eyes and nose. But probably creepiest thing was the ash and burnt leaves falling from the sky. I can only image the poor people living in the path of the fire. And the firefighters working so hard to extinguish the flames.
Finally that evening, late summer storms started brewing out west and by 8:00 or so, rain was falling in parts of NE Oklahoma. It was not nearly enough to undo the damage caused by weeks of 100+ temps and months of drought. But at least it gave the firefighters the upper hand in their efforts to put out the fires.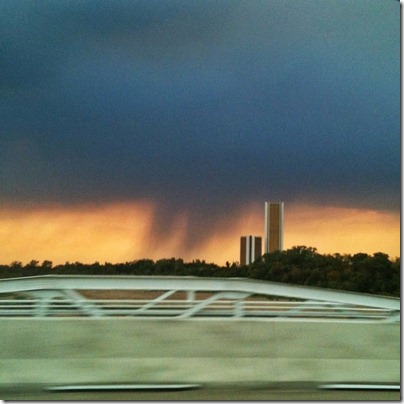 Something to be so, so grateful for yesterday.
Peace, Kelly