You know how it goes…you get together with a group of girlfriends and you have a couple of glasses of <<insert your favorite cocktail here>>. Before long, the conversation turns to, "We should totally <<insert activity here>>."
This is what happened with my friends Ann and Holly. We had gone out to dinner (something we try do every couple of months) and we were lamenting how much we missed our friend Tawana who moved to Texas about a year ago.
The four of us go way back. We all lived in the same town where we raised our families. We all have kids about the same age. I lived in the same neighborhood as Ann and Tawana. I went to the same church as Tawana and Holly. Ann taught all of our kids in preschool.
Yes indeed….we go way back.
It ended up that we all moved away about the same time. But we still kept in touch and we still got together for dinner periodically. And just like when our kids were little, we still supported and encouraged each other through all of the challenges that came along with this new season of our lives. That's why when the idea came up to drive down to visit our friend, I proclaimed "We should totally do that!"
So here's the thing. Give me two glasses of Rosè and I'm game for pretty much anything.
Road trip? "Sure!"
Volunteer to iron a dozen ruffled shirts for the cast of your daughter's high school musical? "Of course!"
Take an adventure through the jungle of Puerto Vallarta and repel down a waterfall? "Why not!"
Seriously, don't even get me started on that last one.
Anyway, the point I'm trying to make is that taking a road trip to visit a girlfriend is something that is super easy and fun to talk about. Actually making it happen though? …well that's a different story.
But we did! We made it happen. A week or so after our dinner, Ann texted Holly and me, and after a string of messages in our group text, we came up with a date that worked for all of us. Then last week, Ann, Holly, and I loaded up in my car and made the four hour drive to visit our friend Tawana.
A little shopping, a little eating, a little white-knuckle-navigating the entrance and exit ramps and five lanes of traffic on the Sam Rayburn tollway…but mostly, for the 48 hours we were there, the four of us just hung out together. Whether it was the pool, around the patio table, or sitting around her big kitchen island, we talked and laughed and remembered and shared our dreams for the future.
Laughing until your stomach hurts  = magic.
Reminiscing about our babies = magic.
Also…please notice that throughout this post I have used the word "made" time.  Because in my experience, "finding" time is next to impossible. For me finding time that I didn't know I had happens about as often as finding five dollars in the pocket of my heavy coat when I put it on for the first time on the first really cold day of winter. Which is to say almost never.
Making time for friends…saying yes to laughter and memories and connection…what that really means is carving out time from something else. But I am so glad that we did it. There is something about spending time with girlfriends like this that fills my tank in a way that almost nothing else does. To know that you are loved and accepted and valued and included…it is such a blessing.
Belonging = magic.
On Friday morning, as we said our tearful goodbyes, we were already talking about our next visit. But we did so knowing that no amount of miles can separate our hearts or our special connection.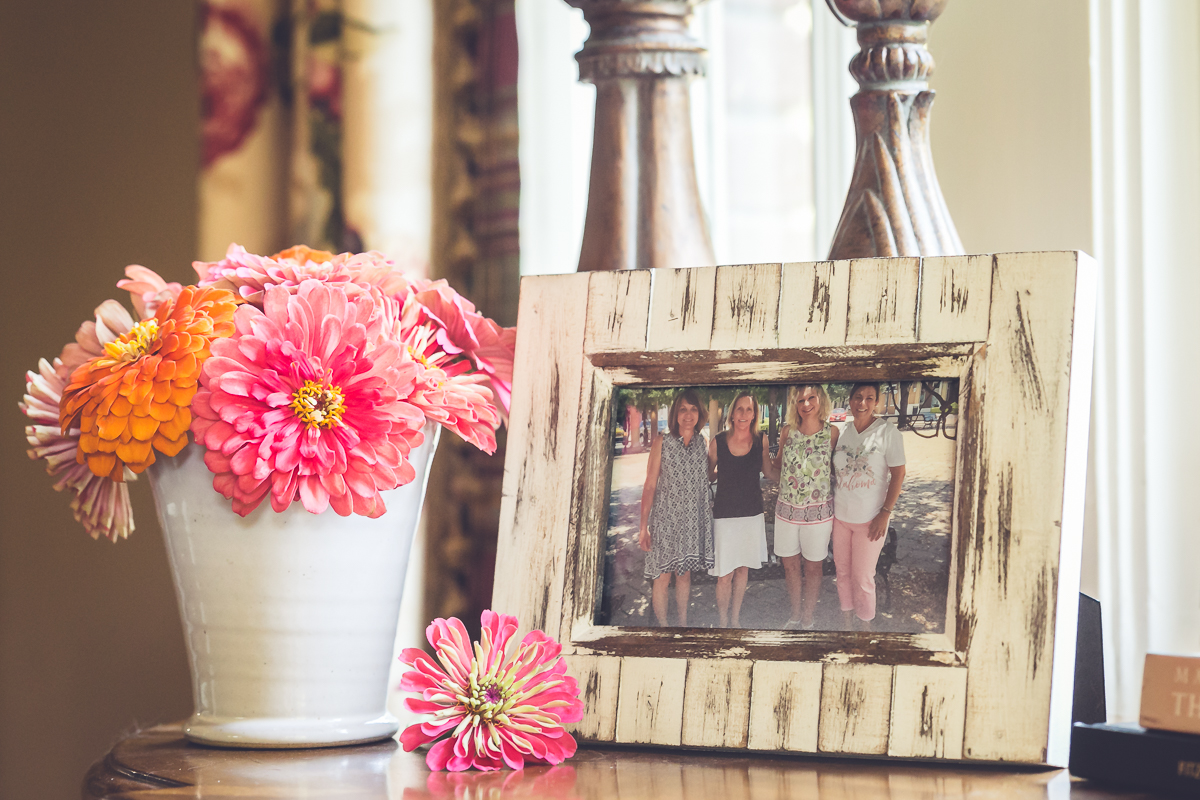 SaveSave