i have two go-to dinners when i need to clean out my refrigerator…my infamous (and so cleverly named) 'clean out the refrigerator pasta' and jambalaya.  the latter of which is tripp's preference.  which is what we had for dinner last sunday.
when i say 'clean out the refrigerator' what i'm trying do is use up stuff like the half of an onion, a green bell pepper that is almost past its prime, the thighs and legs of a roasted chicken from dinner one night.  and jambalaya is perfect for this.  it's hearty and a little bit spicy – perfect for cold, dreary days.
and my very favorite thing about it is that it is made in one pot!
here's all you need:
for the flavorings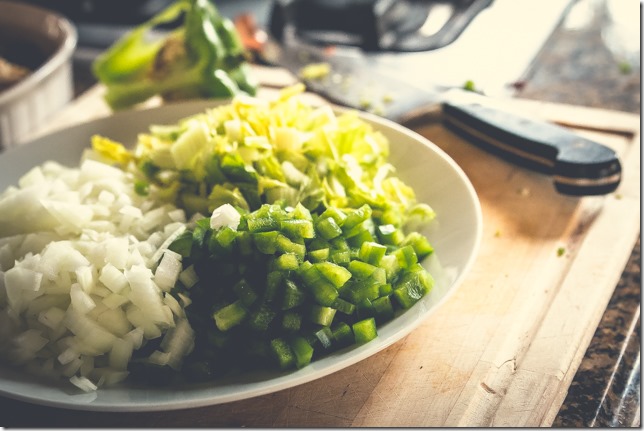 2 cups diced onion
1 cup diced green bell pepper
1 cup diced celery
(these are just approximate measurements by the way.  there's no recipe police who will take you down for using more green pepper than celery)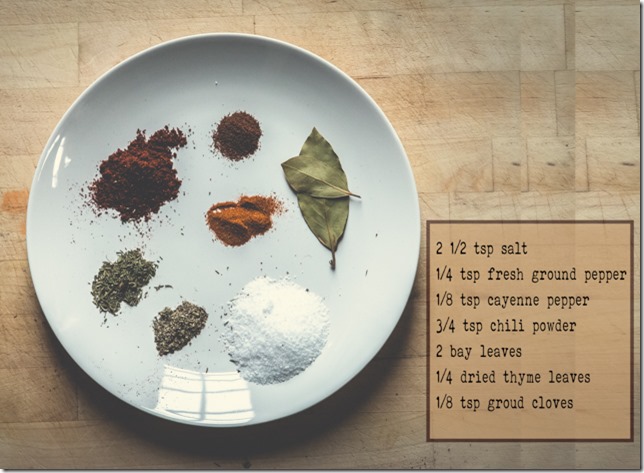 2 1/2 tsp salt
1/4 tsp freshly ground black pepper
1/8 tsp cayenne pepper
3/4 tsp chili powder
2 bay leaves
1/4 tsp dried thyme leaves
1/8 tsp ground cloves
meat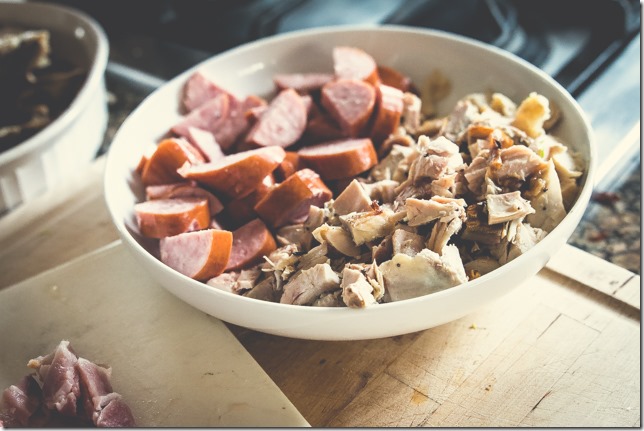 1 link smoked sausage or kielbasa, sliced
2 cups of cooked, diced chicken
6 slices of bacon, diced
(once again these are just approximate measures – 3-4 cups of meat is what you're going for.  and you can substitute any type of meat here as well – i often use leftover cooked pork chops or ham.)
for the dish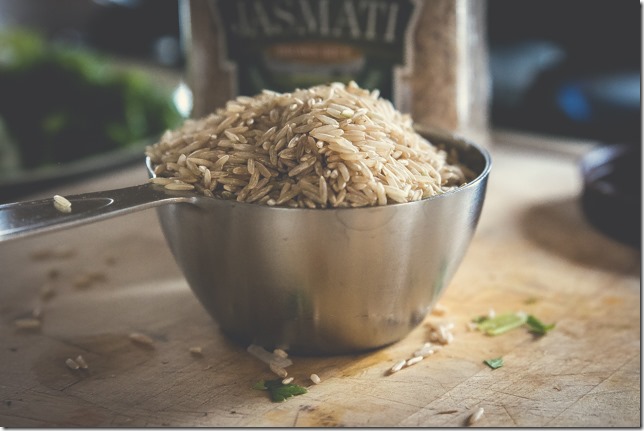 2 cups of long-grain rice
4 cups of chicken stock
(i like to use brown rice but white rice is fine too.  and if i use leftover chicken, i typically use chicken broth.  but i've used beef stock with ham and pork and it is equally delicious)
ok.  got everything?  here's how it comes together.
first, in a large dutch oven, render the diced bacon over medium heat until it's just browned (5-10 minutes)…not super crispy.  then remove the bacon with a slotted spoon reserving the fat that is in the pot.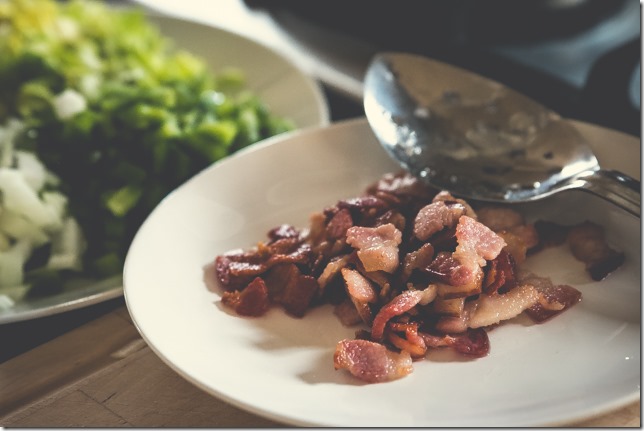 next, add the sausage/kielbasa to the pot and cook for a few minutes just until it's heated through and lightly browned. remove from the pot and set aside.
now, add all of the chopped vegetables to the pot.  sprinkle with 1/2 tsp or so of the salt.  sauté the vegetables over medium-high heat until they are slightly softened (maybe 8-10 minutes).  as they cook, be sure to scrape up the browned bits on the bottom of the pan.  browned bits = yum.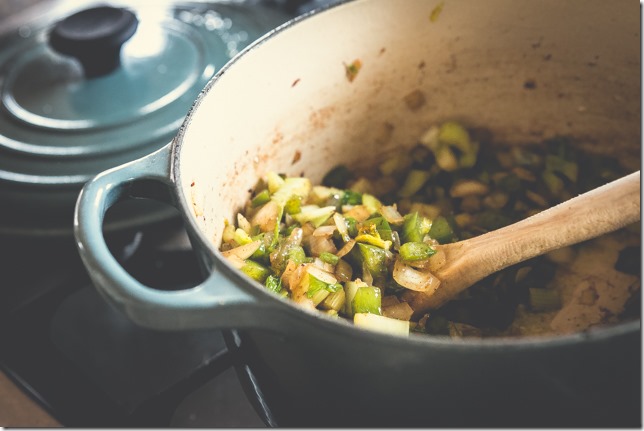 once the vegetables are tender, add the cooked bacon, sausage, and chicken back to the pot along with the spices.  mix well.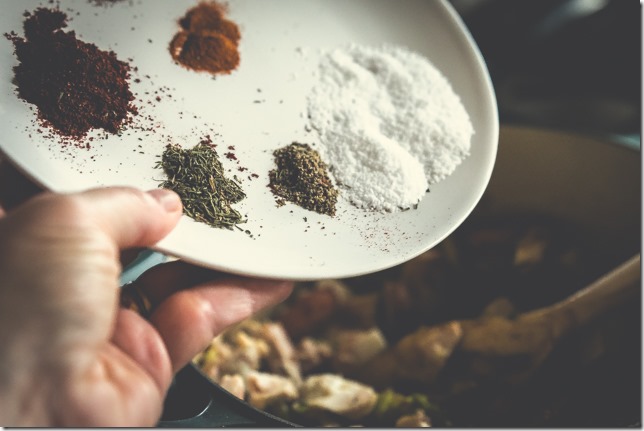 now add the rice and stock and bring to a boil over high heat.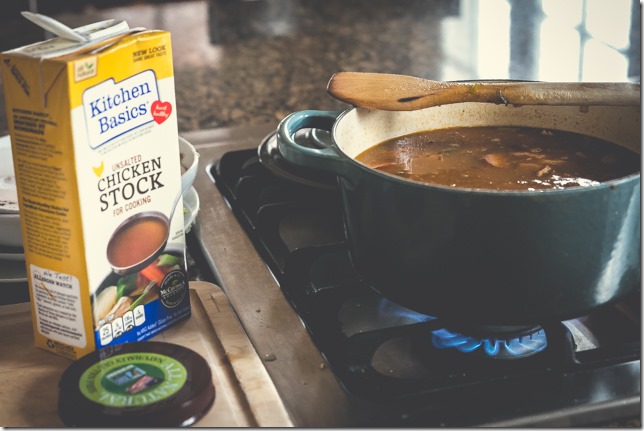 once it comes to a boil, reduce heat to low and simmer for 45 minutes or so until the rice is tender and most of liquid is absorbed.
as a final step, right before serving, add in some chopped parsley for freshness – maybe 1/4 cup or so. also i like to taste for seasoning…most of the time i add in a bit more salt.  i prefer to do it at the end (you can always add salt, but you can't take it away).  and feel free to add more cayenne for a little extra heat.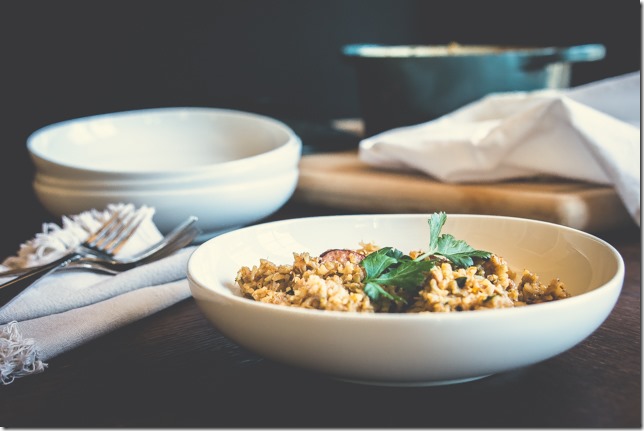 it's so easy and so tasty.  one of my family's favorites.
hope you like it!
love, kelly