It's been strawberrypalooza around here lately!
Strawberries are just so delicious right now in season, and as much as I love me some strawberry shortcake, I was looking for something new to make with strawberries this past weekend.  So I had an idea for making some strawberry cupcakes.  Taking a cue from these Peanut Butter cupcakes, I thought I might start with a box mix and not reinvent the wheel.
Aren't you so proud?

It took a couple of attemps (the first batch I made turned out OK), but I think I nailed it the second time around and I wanted to share this awesomely easy recipe with you!
Here's all you need: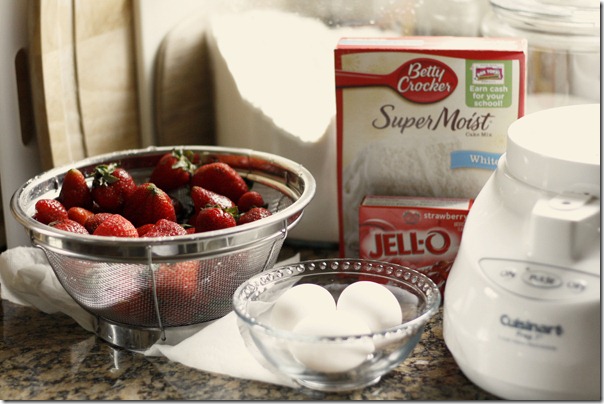 one white cake mix
1/2 cup of vegetable oil
3 eggs
1/4 cup of water
1 – 3oz package of strawberry Jello
16oz container of strawberries
The first step is to thoroughly rinse and dry the strawberries.  Then hull and half each berry and toss into the bowl of a food processor.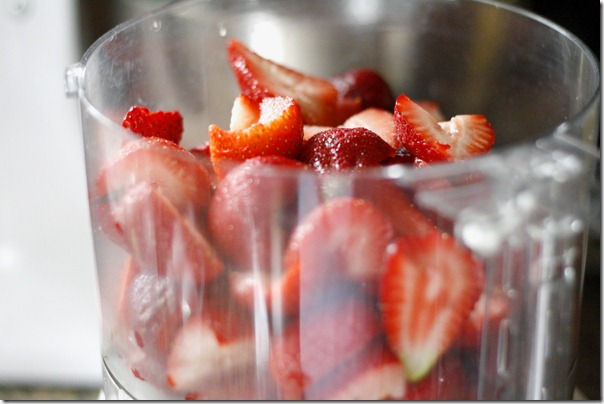 Process the berries for a minute or so until they are pureed.  And it doesn't have to be perfectly smooth either.  A little chunky is OK.  You should end up with about two cups of puree.
Next, add the cake mix, jello, oil, eggs*, water, and 1 1/2 cups of the strawberry puree (save the remaining 1/2 cup for the frosting) to the bowl of a mixer.  *Note – Usually a white cake mix calls for three egg whites, but since I'm adding berries and not worried about the cake being perfectly white, I just added the whole eggs.  The extra yolks are good for adding extra richness too.
Mix the ingredients on low to incorporate, then increase to medium and mix for 2 minutes.  Then you will have the prettiest, rosy-pink cake batter you've ever seen.

Once you get them into the cupcake pan, bake according to package directions.  Mine took exactly 22 minutes.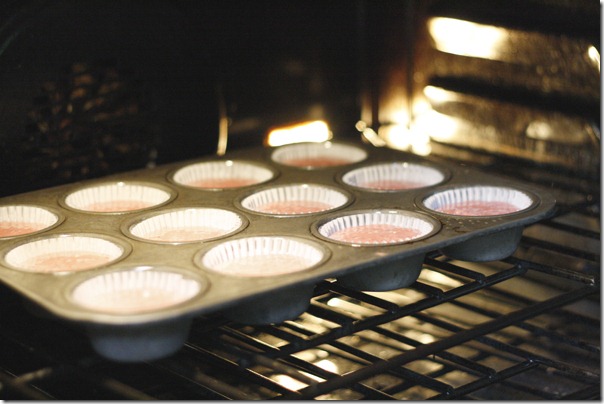 After baking, let the cupcakes cool in the pan for a minute or two then transfer them to a wire rack and cool completely.  And please just take a minute to appreciate this gorgeous color!!  Pink cupcakes!  I love it.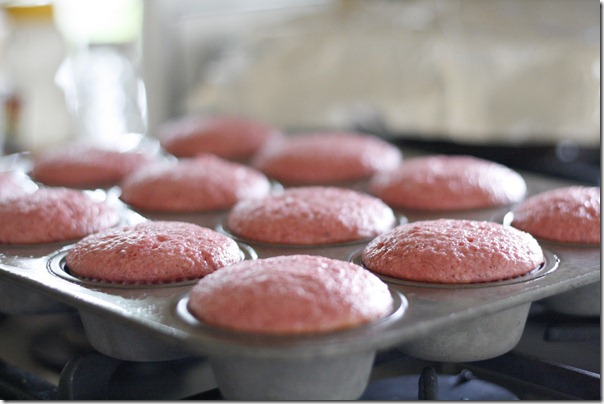 While the cupcakes cool, you can get the frosting ready.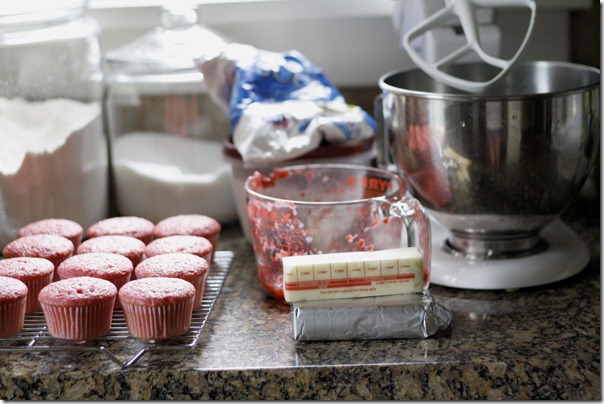 4 0z cream cheese, softened
1 stick (1/2 cup) butter, softened
6-7 cups powdered sugar
pinch of salt
1/2 cup (remaining) strawberry puree
For the frosting, cream together butter and cream cheese.  And don't be afraid to let the mixer go for a couple of minutes to ensure a nice, creamy frosting.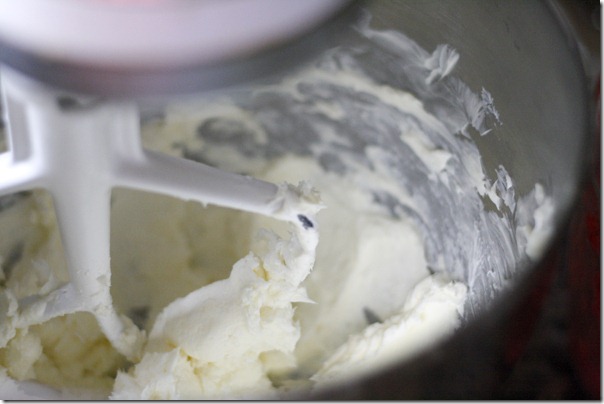 Next, add the salt and strawberry puree.  Then slowly add powdered sugar one cup at a time until it reaches your desired consistency.  I used six cups because I wanted a softer frosting.  And once again, be sure to "ooooooh" and "aaaaaah" over this delightful color.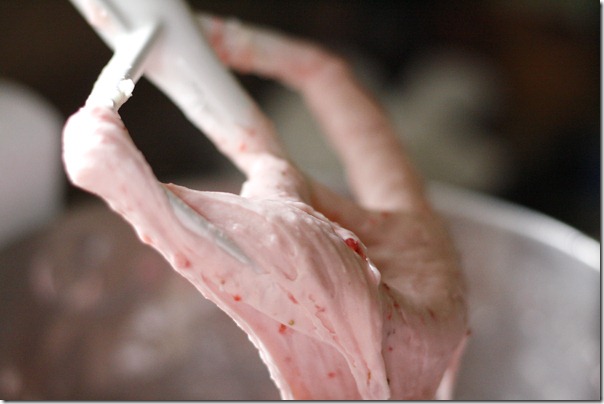 I'm so sad to report that my favorite 1M piping tip met it's untimely demise in an unfortunate garbage disposal incident.
Let's just have a moment of silence why don't we.
But all was not lost because I still have my 1A tip which makes very nice frosting too. 

I just can't get over that color!  And the flavor is just heavenly.  Even my oh-so-very-macho hubby loved them too.
So make some strawberry cupcakes because you like pink.  Or because you like yummy cupcakes.  Either way you'll come out a winner!

Peace, Kelly