Well the strawberrypalooza continues at my house due to the fact that my delightful daughter is home from college.  Since one of her favorite things about being home is having home-cooked food again (purrrrrr) I thought we should celebrate her homecoming with her favorite Strawberry Salad. 

I know everyone has their own recipe for making Strawberry Salad, but this is how we like it at our house.  To start with, I make the vinaigrette which consists of:
extra virgin olive oil (if you have fancy stuff, here's the time to use it)
red wine vinegar (ditto)
shallot
honey
salt & freshly ground black pepper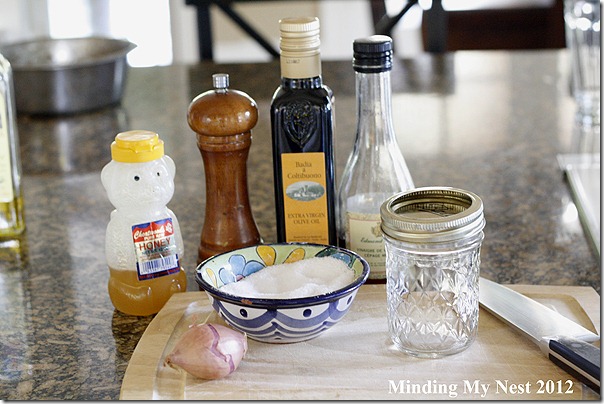 The first thing I do is to finely mince one medium-to-small shallot.  Mine was on the medium-to large size, so I only needed about half (about two tablespoons).  But as with most vinaigrettes, you can adjust the amounts of the ingredients to your particular taste.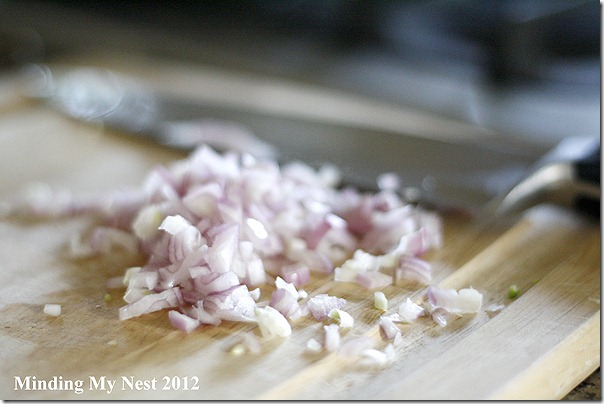 Next I place the shallot in a mason jar and then pour in two tablespoons of red wine vinegar.
What I like to do is set that aside for a bit so the shallots will kind of soften in the vinegar.  So while that sets, I get the salad together.
four cups of salad greens
1/2 cup of strawberries that have been hulled and quartered
1/4 cup of toasted pecans (or walnuts if you prefer)
1/4 cup of crumbled goat cheese
If you have fresh lettuce that you just picked from you garden, feel free to use that.  But I'm not braggin' or anything.
Well maybe just a little.

Then the next thing I do is add the strawberries.  If at this point you'd like to take a moment to appreciate the vibrant color and delicious flavor of this exquisite little fruit, go right ahead.  And if you feel so inspired to offer up a little gratitude as well, I promise you that there will be no judgment from yours truly.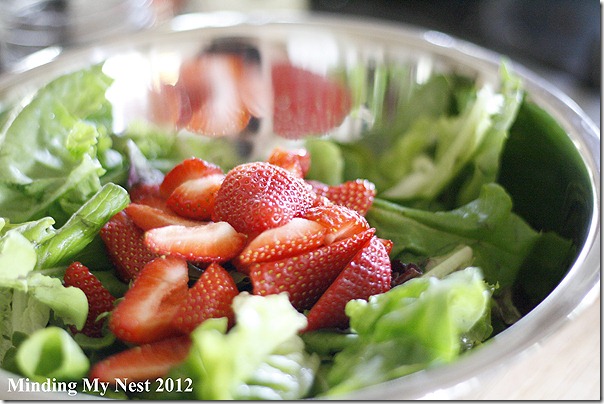 OK.  So now what I do is crumble up a little bit of goat cheese.  I do this in a separate bowl and add it after the salad has been tossed so the little chunks don't get smooshed around too much.  'Cause there's nothing worse than smooshy goat cheese.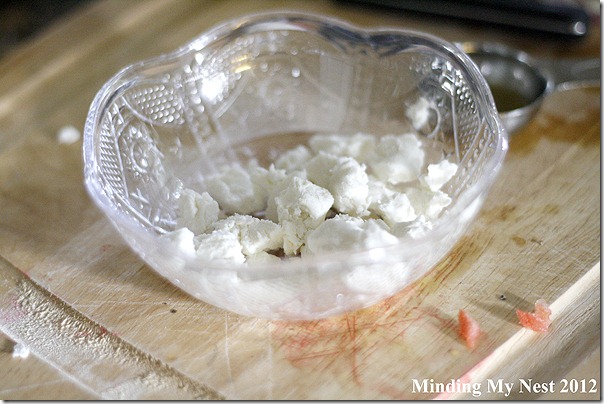 After I get the salad components ready, I finish the salad dressing.  I use the classic vinaigrette proportions of 1 part vinegar to 4 parts oil so to my jar I add 1/2 cup of extra virgin olive oil.  I also add a small pinch of salt and a little black pepper.  Oh and I also like to add a good squeeze of honey.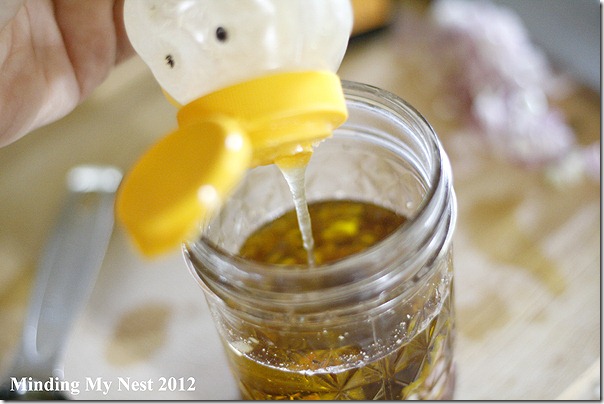 Once I get everything in the jar, I put the lid on tightly and shake the snot out of it.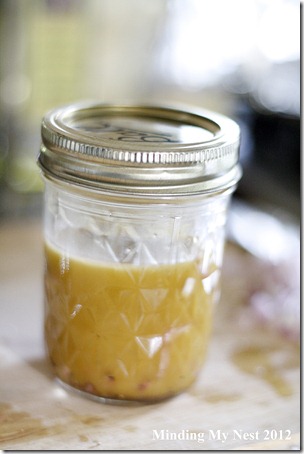 So the last thing to do is put it all together.  In my salad bowl I add the pecans then drizzle on about one third of the dressing and gently toss it all together.  (You can adjust the dressing amount to your taste, I just don't care for overly dressed salads.)  Once I get the salad in a serving bowl, then I add the goat cheese.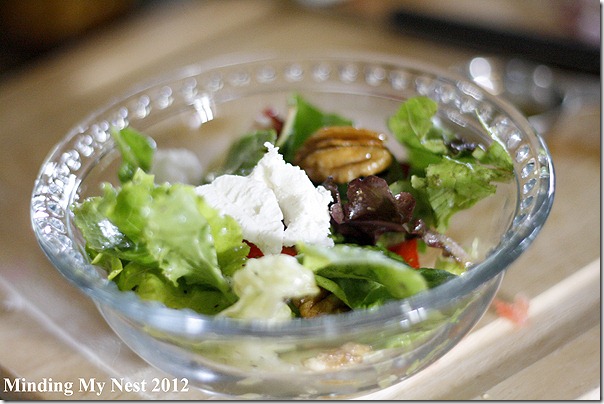 So now is the best part!  For the perfect bite, I suggest that you get a little bit of lettuce, strawberry, pecan, and goat cheese.  It's be perfect combination of crunchy, creamy, tangy, sweet, and savory.
Don't be surprised if you make this salad and it becomes your favorite too.

Peace, Kelly