Welcome to the One Little Word May Blog Hop. If you have arrived here my friend Donna at http://holimess.blogspot.com/, then you are in exactly the right place. (If you get a little lost there is a list of all the blog participants at the bottom.)
I hope you have enjoyed hearing how the other ladies have been experiencing their words this past month. I think getting to know the other gals has been one of the best (if unexpected) parts of this whole experience.
April has been a big month for me, full of a lot of reflection of the past year. And not just because it was more or less our "assignment" this month. It's just that last year was full of so much chaos and change, fear and anxiety. And to feel so at peace this year…well it's a welcome relief.
One of the things I've discovered this month is that my word TRY is really so much bigger than I originally intended. It's not just about trying new things like recipes and crafts. Really my word is so much more about learning to live authentically. But old habits (doubt, fear, and comparison just to name a few) sometimes die hard. And that's exactly where I see this journey helping the most.
So here are my pages for this month. It only took about 247 tries to get a decent self-portrait.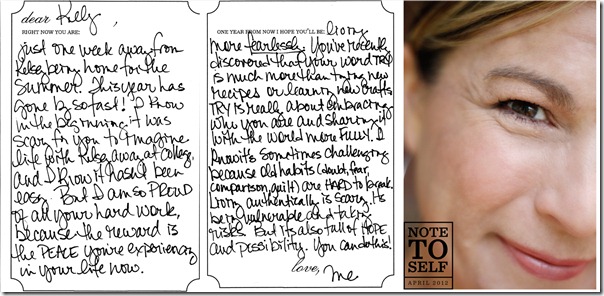 Thank you so much for stopping by my blog today. Your next stop on the blog hop will be Carolina at www.micinnamons-en.blogspot.com.
Peace, Kelly