well so apparently, one of the perks of having a daughter who is a floral designer, is that occasionally she will get to keep one of the leftover arrangements.  and in this case, give it to her momma.
i absolutely adore this 'organic', free-flowing style of the wedding designer she works for. and for three days this gorgeous arrangement graced my kitchen table.
but soon the snapdragons and roses started to wilt and droop.  so i decided that instead of pitching the whole thing, i would salvage what pieces i could and re-arrange my arrangement.
just look at these gorgeous colors.  just as pretty on the table as they were in the vase!
as you can see, i had a lot of fun playing around with the spent blooms.  flowers are so photogenic in just about any state.  one of the millions of reasons why i love them.  so much so in fact that i also created a little calligraphy piece to forever celebrate the joy they bring to my life.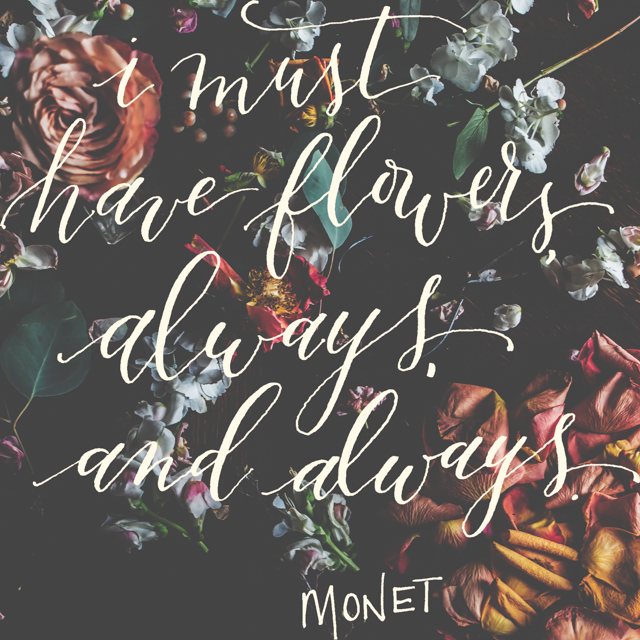 mr. monet and i have much in common.  and if you happen to feel the same way, i have uploaded the full-resolution version of the above image here.  also, if you would prefer to add this quote to your own image you can download this .png file here.  and finally, if you would just like to print out this quote and stick it on your wall, you can find a PDF version here.
just my way of saying thank you for all of the kind words and encouragement you share with me.
happy friday friends!
love, kelly
p.s.  these downloads are available for personal use only please.  thanks!!  xoxo