Welcome to week 33 of my Pinspiration series!

This week I'm sharing a project that is near and dear to my heart. But it's actually not my Pinterest project, it's my delightful daughter's.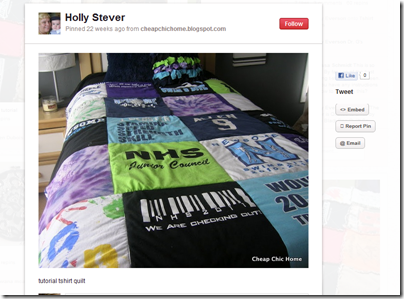 Let me back up a little.
So back in May when Kelsey got home from college
****honestly I can't believe that was three months ago. where did the summer go??? sigh****
she showed me her Pin and asked if I would help her make a quilt like this. Of course I said yes – let me see, quality time with my girl crafting??? what's not to love!!
After we got finished with her huge room cleanout, she had a pile of 10 or 50 t-shirts that she had been accumulating since middle school. We went through the pile and sorted out her favorites, and we determined that she had enough t-shirts to make a quilt that had 16 squares on the front and back.
The next step was to cut-out the squares.
Somewhere on my computer I have pictures of this whole process, but I can't find any of them. Honestly it's the story of my life.

Depending on the size of shirt you have, your squares might be smaller or larger, but for Kelsey's shirts, we cut them 16 inches by 16 inches.
So what I did (because I'm well…me…) is use my rotary cutter and gridded cutting mat and cut a piece of poster board that was 16 inches square. Then I cut a square out of the middle so that when we placed it on the t-shirt to cut around, we could center the design in the square. Like I said – I'm a freak. To speed things along, Kelsey cut the t-shirts up the sides so that they would lay flat and then I used the poster board template, my metal yard stick, and my rotary cutting wheel to cut them out.
Fast forward three hours and one Real Housewives marathon later and we finally had all 32 t-shirt blocks cut out.
Next I ironed them with spray starch to keep them from curling up along the edges. And then the next day Kelsey laid them out in the pattern she wanted.
This took a while because, bless her heart, the apple does not fall from the tree.

Now for the fun part! Sewing! Yay!!
Unless your Kelsey.
I thought it would be super fun if Kelsey did the actual piecing and sewing. A nice little introduction to this most wonderful of homemaking skills. But after several run-ins with a bad bobbin, my delightful daughter was not exactly delightful. So we decided for the sake of both our sanity, that I would take over.
Finally I had one completed front panel and one completed back panel. I added a layer of thin batting to the quilt and then sewed the front and back together. Plus I also took some embroidery thread and made a quick stitch at each corner to keep the front and back from shifting around too much.
I have to say, this quilt turned out so completely adorable.
And I think what is cool about it is that it's almost like a scrapbook of all her high school memories – football games, dances, clubs, theatre stuff. So great.
The other thing I love about it, of course, is that we worked on it together off and on all summer. It gives me some serious warm fuzzies. Pun intended.

So here friends is the part where I tell you that I am tired. Completely worn out. It has been a wonderful summer, but also a very busy one. And to be perfectly honest, I haven't even looked at Pinterest in a couple of weeks. Creatively I'm a little really drained.
My goal has always been to approach this project with joy, but lately it's been more obligation. And that's just not how I want to live my life. So I think for the next several weeks I'm going to take a break from 52 Weeks of Pinspiration to recharge my batteries – physically, mentally, emotionally, creatively.
Thanks for all your lovely comments and support thus far! Love, Kelly