Welcome to week 51 of my Pinspiration series!

So a few weeks ago I pinned this beautiful ornament idea from scrapbooksetc.com. I loved the combination of paper and sparkle.
I made a quick stop by Michael's for supplies and came home with some patterned paper, glittery snowflake embellishments, wooden snowflakes. Oh and of course mod podge and glitter. From my scrapbooking supplies I grabbed a couple of different size circle punches and my snowflake punch.
The first thing I did was to cut the paper into strips that were six inches long by one in wide. Then I made a loop and stapled the ends together.
Each ornament was made from twelve loops, and I found that it was easiest to hot glue six together into a semi-circle. Then glue two semi-circles together.
To cover up the center and hold the circle together, I applied a big dollop of hot-glue to a circle punched out of cardstock, and then placed it on the center of the ornament.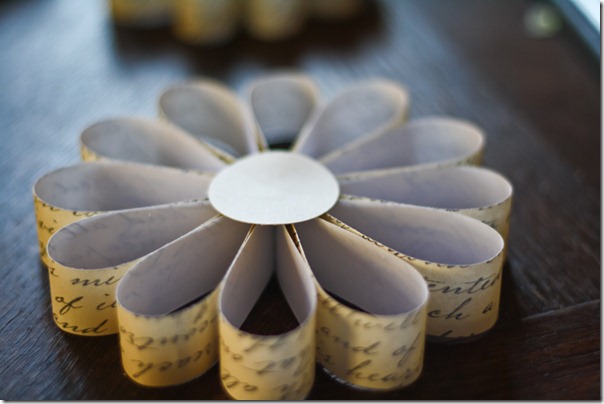 I thought it might be fun to add some glitter to the edges.
You know it's Christmas at my house when the floor is covered in glitter.
Just call me sparkle-butt.

So what I did was dip on side into some mod podge that I had poured into a paper plate, then dip it into a plate full of glitter.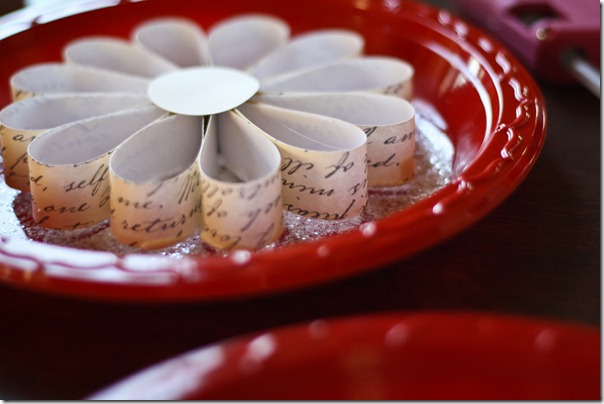 I let it dry for a bit then worked on embellishing the front side. On some of them I just mod podged a big circle of cream cardstock and then applied one of the snowflake embellishments. Super easy.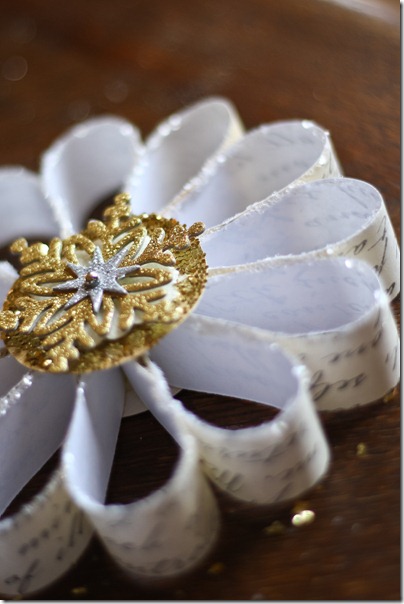 Here's one that I added some letters to. I really like how this one turned out.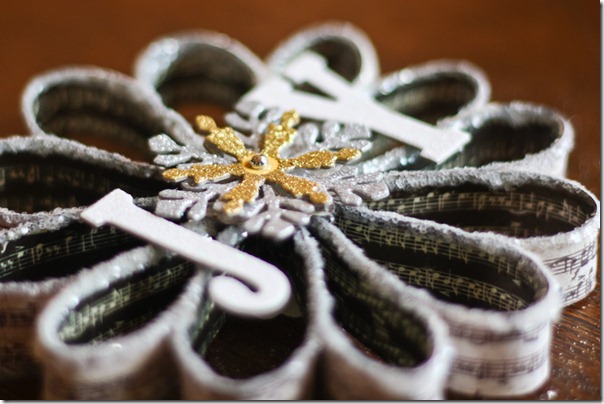 For the ones using the wooden snow-flakes, I first painted them with some craft paint mixed with mod podge. Then I dipped them into glitter. I also glitterized (yes, I just made up that word) a snowflake I punched out of cream cardstock.
I really love how these ornaments turned out. They were so fun and easy too – I bet kiddos would love it.
So with that, I think I am going to conclude my year-long series. Hallelujah! I know technically I haven't done the full 52 weeks (missed a few weeks here and there too), but I'm totally OK with that.
I have some thoughts about this year long project that I plan to share in the future, but for right now all I would like to say is THANK YOU to everyone who has followed along this year.
Wishing you and yours a very Merry Christmas! Love, Kelly