***Disclaimer – in this blog post I plan to share some recent experiences with regards to my cat's litter box. I'm sure somewhere out in the blogiverse there is some kind of rule or quota that I have complete shot to hell talking about my cat's issues. My apologies.***
OK friends. Here's the thing. My cat is…shall we say…special. Don't get me wrong – she's really beautiful and probably the most lovable cat I've ever owned.
And bless her heart, poor Pumpkin had a rough start. You can read all about it here, but the abridged version is that she was weaned way too young and I don't think she's ever fully recovered.
Even though she's special, I still love Pumpkin. I love how she jumps on the bed every night and "makes biscuits" on my belly and rubs her cheeks on my book while I'm trying to read. But when it comes to the litter box, I've been at my wits ends. You see my sweet, lovable kitty is a total DIVA when it comes to her litter box.
Don't worry, I promise that there will be no accompanying litter box photos.
Problem #1 – I don't care how big your house is, there is no good place to put a litter box. We had it upstairs in the office for the longest time because I could put a baby gate in the doorway to keep the dogs out of it. But Tripp bitched about the smell whenever he went upstairs to pay bills and plus there was always cat litter on the floor. Gross. So we put it downstairs in the basement which is nice to have it out of sight, but now I just have to remember every day to shut the basement door when I get home from work to keep the dogs from going downstairs and looking for "snacks." Gawd.
OK. I'm sorry but here's where it gets really gross. And I know you're thinking, "How could it be grosser?" Trust me.
Problem #2 – I don't even know how/where to start. So after Pumpkin's little meltdown last spring during out bathroom renovation, I went out and bought her a brand new litter box. It's one of those kinds with a tall, snap on cover. I thought this might alleviate the both the problem with scattered cat litter and the dogs. (It didn't.) Plus it created an entirely new problem – cat pee on the outside of the litter box. For some reason, Pumpkin started peeing backwards towards the back of the litter box instead of down. Every time I'd go to change the litter box there's pee all down the back. And then it gets on the floor. And anyone who's ever tried will tell you that it's nearly impossible to get rid of the smell of cat pee. Gawd.
I know a lot of the time when a cat has urination issues it can be caused by a UTI or other medical issues. But I've had Pumpkin checked many times and it always comes back negative.
So after the bazillionth time of having to take the litter box outside to wash off with Clorox Clean-up (and I hate cleaning the litter box!), I decided to try a different approach. I've never been a fan of clumping cat litter – my motto has always been, "I don't scoop poop." But lately my motto has changed to, "I don't want my entire house to smell like a litter box." So I bought some clumping cat litter. But also tried one other thing…since the litter box cover wasn't doing a bit a good, I took it off.
Lo and behold no more problem #2. Well I guess it's technically no more problems with number one.
Sorry. A little litter box humor. I'll stop now.
Anyway, for the time being, all is well in Pumpkin's world so that means all is well in mine.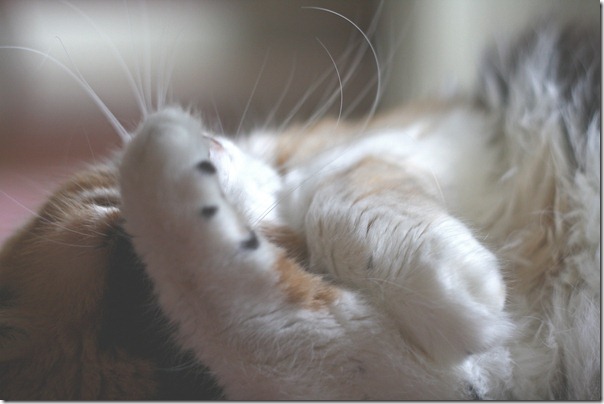 And now if you'll excuse me I'm off to scoop some poop.
Cheers. Kelly