It's hard to believe that my girl will be going back to college in just a little over a week. This year she'll be sharing an apartment with her best friend/roommate from last year and one of her close girlfriends from high school. So for the past couple of months, Kelsey and I have spent Friday afternoons brainstorming and planning and shopping for her new place. It's been a lot of fun spending time with her and sharing this experience with her.
Her bedroom was the first priority so we made several trips to Bed, Bath & Beyond and Hobby Lobby for her bedding and room decorations. Then we bought a few things for the shared spaces and kitchen. This past week she and I went "shopping" in the kitchen at home – Lord knows I probably have enough measuring cups, kitchen utensils, and mixing bowls for three households.
I have to admit…it so totally gives me warm-fuzzies to think that Kelsey will be whipping up brownies (she's a brownie-baker extraordinaire!) with these measuring cups and mixing bowls from my kitchen. I can just see her standing in the kitchen pouring the batter into the baking dish and licking the spatula clean when she's done. She learned from the best is about all I can say about that.

I know it's totally random, but for some reason now, all I can think about is that scene in 'St. Elmo's Fire' when Mare Winningham's character (who has just moved out of her parent's house into her very first apartment) tells Rob Lowe's character that the sandwich she made herself the night before was "the best peanut butter and jelly sandwich I have ever tasted."
I totally remember that feeling when I made my first batch of cookies in Tripp's and my first apartment. It's all so very exciting and I am so very excited for my girl.
I know I say it every year, but geez this summer has gone by so fast. I think because we've had such a great time together. And it's not like we've really done anything out of the ordinary. It's just been so laid-back and easy – so different that last year. Don't get me wrong, last summer was great and our vacation to St. John was incredible. But there was also a sort of uneasiness that loomed in the background. I know Kelsey was a little nervous about adjusting to college and dorm life. And then of course there were my own anxiety and empty-nest issues.
Don't worry…I'll spare you the reprise.

The things is, if I've learned anything from keeping this blog for the past couple of years, it's that putting on a happy face and suppressing my true feelings is nothing but a one way ticket to melt-down city. So in the spirit of being honest, not just with you but more importantly with myself, I must tell you that I am really going to miss my daughter when she goes back to school. Like I said before, it's just been such a great summer. Plus I just love the simple things like seeing her at the bar in the kitchen. Not having to come home to an empty house. The way her big, brown eyes and warm smile brighten my day. Laughing at her silly faces and goofy voices. A partner in crime who loves BravoTV as much as I do.
Geez! If just didn't like her so damn much!
The good news is that I am in a MUCH better place than I was last year. (Dear Mom, please don't worry. I'm good. I promise!!) No more worrying about finding my purpose and focus. No more mid-life crisis. No more emptiness. I'm growing as a person, and in so many ways, I am stronger, happier, and more content than ever. And now I have dreams and plans that I am excited about working towards. It's all good. (I swear Mom!)
Anyway, last week Kelsey and I finished up her back to school shopping with a trip to Office Depot for school supplies. It's our tradition and probably one of my favorite things in the whole world. The final things on the shopping list were spiral notebooks and folders. First she picks out the spirals then she likes to color coordinate her folders of course. Because she's my kid.

As we walked to the checkout, Kelsey made the comment that she loved new starting a new year with a new spiral. She loved how the blank page was like a clean slate. A new beginning.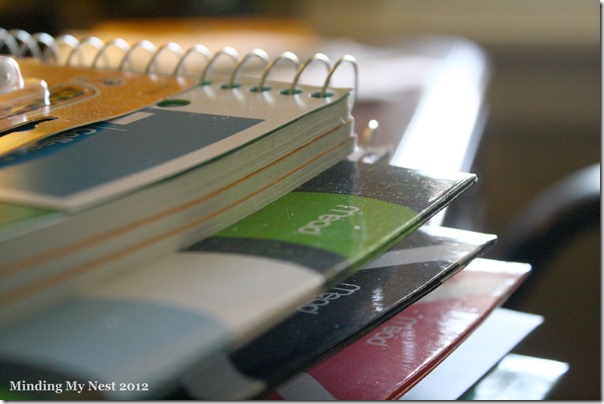 Yes indeed my sweet girl. A new beginning.
At the end of the day, that's really my prayer and my hope. That my delightful daughter begins filling her notebooks with the story that she wants to write for herself – the story that the Father has called her write. I hope her pages are filled with exciting adventures and the delights of true love. And I hope it's a story full of faith and hope and peace.
I can't wait to start reading it.
Peace, Kelly