Hi friends. HappyMonday. Hope you had a great weekend!
I can't remember – did I ever tell you that we hosted a foreign exchange student? Well we did. A few years ago. Kelsey's junior year in fact. For an entire school year, Karoline lived with our family. She went to high school with Kelsey and lived like part of our family. She went to church with us, did chores with us, ate sloppy joes with us, and even cleaned up a cat hairball or two during her stay with us.
We really know how to treat our houseguests.
Anyway, Karoline is back in the US visiting.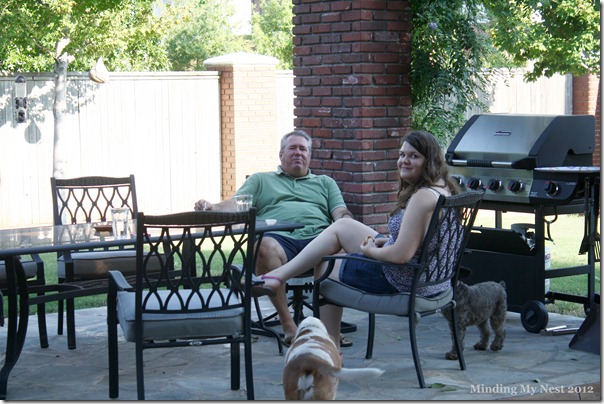 She got here Saturday and we've had a fun time so far hitting some of her favorite places to eat (Freckles and Los Cabos for starters). She's also reconnected with Pumpkin and thrown the ball with Daisy a time or fifty.

Sunday afternoon we did a little shopping at some of her favorite stores. While at Ulta we picked up some new nail polish from OPI's new Germany collection. Quite the coincidence wouldn't you say.
I really like this color "German-icure by OPI". It's kinda like a burgundyish copper. Or coppery burgundy.
Random fact – "OPI Sweetheart and Bubble Bath" is one of the most common Google searches that refer people to my website. How funny is that.
Oh and check out the other fun thing I got this weekend!
This cute new iPhone cover goes on my iPhone 4. Finally!! Feel like one of the big kids now.

It's somewhat a of a running joke in our house how I seem to always be the last on the list for new electronics. I always say, "It's fine…no big deal. I don't need new fancy stuff." But secretly (don't tell Tripp I said this) I am beyond excited about this new phone and it's WAYYYYYY better camera.
All I can say is look out Instagram friends.

OK. So that's about it for this Monday. Karo and I are heading upstairs for some Real Housewives. She's got a lot of catching up to do.
Living large.
Love, Kelly