Happy New Year 2012 and welcome to my new blog!
It looks remarkable different no?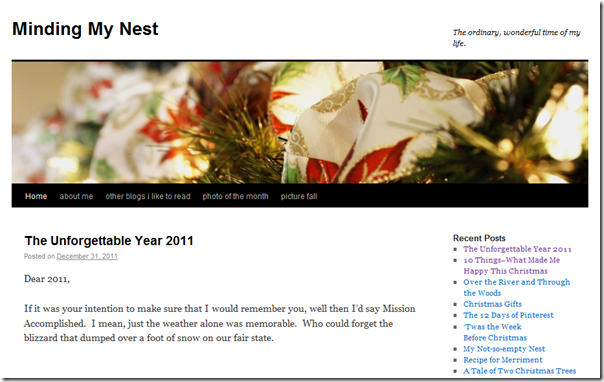 When I first started my blog using the free version of WordPress, I thought it might be a good way for me to deal with my thoughts and feelings about Kelsey graduating from high school and going off to college. I figured I'd either a) get tired of it/bored with it or b) not have time/be stressed out by it. To my surprise neither of those things happened.
Instead, what I found is that having this blog is a profound source of joy and enlightenment. True, it's part journal and part scrapbook, but mostly my blog is a celebration of my ordinary, wonderful life and a constant reminder that my nest isn't really that empty after all.
So why the switch? Well, my new blog goes hand-in-hand with my New Year's Resolution – getting out of my comfort zone and trying new things (more on that in the next couple of days).
Although it may not look that new on the face of it, there is a lot of new stuff going on behind the scenes of my little blog. I now have a big-girl, self-hosted blog which gives me a lot more flexibility and allows for more creativity than my old blog. I spent a good portion of my Christmas vacation setting up my website and although it was a little scary and frustrating at first, I now know more about C-Panel, domain names, web hosting, and site-redirects than I ever thought possible.

So here's to 2012! I'd love to hear what you've got planned for the new year. Whatever it is, I hope it's full of health and happiness. And most of all, Hope.
Peace, Kelly