you guys…
just add this blog post to the category called 'crazy shit that only happens to me'.
so the other night before bed, we took the dogs outside to pee. and by 'we' i mean 'tripp'. and so the dogs go over to the grass and tripp goes behind the pool to turn the pump off. and i'm inside getting kitty some fresh water and food so she doesn't drive us crazy all night. anyway daisy starts barking. and not the 'there are people walking their dog along the sidewalk' bark. and not the 'please don't go on on your run without me' bark/wail. no it was more like her 'there's a rat in pool somebody come look quick!' bark. only it wasn't a rat…it was a possum.
so about that time tripp walks in, starts looking for the flashlight, and says "babe! get your camera! daisy cornered a rat!" to which i replied, "sure! i'd love to take a picture of a nocturnal varmint with a nasty hiss and beady eyes!"
said no one ever.
but i followed him out anyway because he tasked me with holding the flashlight on the possum so it would…well… play possum… and that way he would have time to go get his pellet gun.
i really didn't want to go outside and stare down this possum, but i was worried about daisy and knew from the rat incident that she was not scared in the least to go after this thing. so i followed tripp out there and sure enough…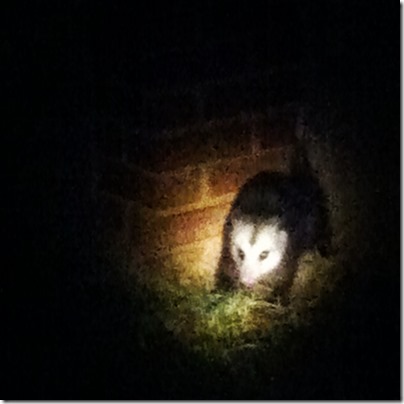 gawd. so tripp goes into the workshop to try to find the pellets for his pellet gun. and meanwhile i am standing face to face with this nasty thing. after several minutes of 'hey babe, have you seen my pellets?' and 'no dear, i wasn't my day to watch them' he finally finds them and comes over to take down the possum. because big daddy is out for revenge.
***warning! nostalgia alert!!***
the last time we came face to face with a possum it was about 15 years ago when we lived in our 'old, old house' in owasso. which was the house we owned before the 'old house' naturally. anway, late one night tripp hears a bunch of commotion in the garage where our previous schnauzer, jenny (God rest her sweet schnauzer soul) had corned one. so tripp goes inside the house to get his shot gun to kill it.
now i want to pause here to tell you that we are peace loving folks. and it is not our intention to go out and kill critters willy-nilly. but that possum in the garage had cost us about $1000 in repairs from chewing a giant hole in our roof. so tripp was not about to let said possum go just to have it go back and do it again. so that's the reason for the shotgun.
i have to confess that i was not onboard with the shooting of the possum in our garage for the following reasons.
i didn't want to have to deal the messy aftermath
i was afraid it would wake all neighbors
i was afraid we would get in trouble.
but tripp was determined. so i kindly begged him to just call the police first to make sure it was ok.
worst decision ever.
so tripp gets on the phone and the police dissuade him from shooting his gun, assuring him that would have animal control come get it immediately. which they did. in the form of two police cars flashing their lights and coming to a screeching halt in front of our house. and standing there in the driveway i watched as, one by one, all of our neighbors' lights come on.
well so officer 1 and officer 2 come into our garage to assess the situation. then officer 1 goes out to his car to get that weird animal noose thing and over the course of the next 30 minutes, proceeds to try to capture the pesky possum.
once they finally caught the possum, the two officers debated a bit on how to handle it. without consulting tripp they determined that they would go into the greenbelt behind our house and set it free. so tripp followed them around to the back of the house and when he realized what they were about to do, he explained to them (in very colorful language and o uncertain terms) why he was not about to let them do that. tripp wanted that possum dead.
so the officers confered once again. they understood tripp's position and had decided they would do this for him. but first they had to notify headquarters. so officer 1 leans his head over into the walkie-talkie strapped to his shoulder and says, 'yes this is officer soinso, just letting you know that i am discharging my weapon on a possum.' then he assumes his position, takes aim, and BAM!
and looking out the front door, there i watched as all the rest of lights in the neighborhood came on.
and so if all that drama wasn't embarrassing enough, it also made the local paper's police blotter. because we're awesome like that.
****i swear i couldn't make this shit up if i tried.
anyway, back to the other night…no way tripp was going to let it go down like that again. and i couldn't blame him. but i also couldn't watch. so i turned around and closed my eyes and i heard tripp's pellet gun POP. i'm going to spare you the rest of the gory details, but suffice it to say…tripp got his revenge.
so i guess the moral to this story is that schnauzers make excellent guard dogs. and it doesn't pay to play possum.
and thankfully, the end.