so you know how some people, when they are feeling a little under the weather, will say things like, 'oh i can't eat' or 'i don't have an appetite'.  yeah…that never happens to me.  in fact, i would say i do the exact opposite and turn into a human garbage disposal.  which has been the case for the past couple of days.
just to be fair i wouldn't say i'm 'sick' per se…just battling a bit of an allergy/sinus thing.  because it's spring in oklahoma.  and the wind blows.  so therefore every speck of pollen in the southern half of the unites states is currently blowing into my neck of the woods.
anyway, for me, when i've got this kind of headcold, all i think about is food.  and i don't mean chicken soup.  no, what i'm craving is a cheeseburger and fries.  or pizza.  or chicken fried steak.  or greasy tacos.  actually anything fried or greasy.  or spicy!  and oh my gosh greasy and spicy…now that's what i'm talking about!  all washed down with a diet coke of course.  which makes perfect sense when you think about it.
seriously…what is wrong with me?
well so yesterday morning i got up and got my coffee.  then fixed myself some peanut butter toast (which in case you're curious – and i mean why wouldn't you be – is what i eat for breakfast 87.6% of the time).  and then i got onto my computer to check my email and then facebook to make sure i didn't miss any important internet memes that might be currently circulating.  which i didn't.  but what i did see is a status update from the guthrie green announcing that it was food truck wednesday.
now if you're not from these parts, the guthrie green was once an old, abandoned warehouse in the middle of downtown tulsa that has been renovated into a beautiful park.  they have all kinds of cool activities and it has completely transformed that part of the brady arts district.
anyway, once i got to work i told my girlfriend carolyne about it. you see she and i have been wanting to do this for months.  because there's this one particular food truck – lone wolf – that we have been drying to try.
the thing about lone wolf though, is they are kinda like an urban legend.  we hear about it all the time.  see it in the paper.  but can never actually find it.  that's because they don't have a website and the only way to know where they are going to be on any given day is to follow their twitter feed.  and friends i cannot twitter.  i've tried.  but i am physically, mentally, and emotional incapable of twittering.  or tweeting or whatever.  i think it's because i'm too wordy (i know that might come as a shock to you).  or really probably more the case…i'm just not that cool.  which probably is no shock to you either.
well so, carolyne and i set out for the guthrie green around 11:20.  it's about a 10 minute walk from our building which was actually nice because it was a pretty day – pollen-infested air and all.  and so we come up to the row of food trucks lining the street and were greeted with the line of people lined up waiting to food.  but lo and behold!  there was the elusive lone wolf food truck.  which is what most of the people were lined up for.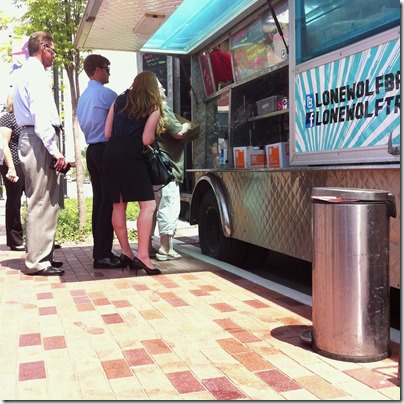 the lone wolf food truck is somewhat famous in town for their bahn mi sandwhiches.  which if you've never heard of them, they are basically a meat-filled (usually pork) vietnamese style sandwiches served in a chewy baguette.  they also usually include vietnamese style vegetables such as cucumber, carrots, and radish.  and finally, condiments usually include spicy sauces, jalapeños, and cilantro.
sidenote #1 – my dad is probably grossing out about now.
anyway, these sandwiches have developed a kind of cult following here in tulsa and so carolyne and i started to worry that they would run out before we got to the order window.  but i am happy to report that indeed we were able to get our bahn mi and we went over to some steps to enjoy our delicious lunch.
sidenote #2 – wearing white pants that day was a bad idea.
so here's where i'm going to channel my inner giada de laurentis and try to describe to you how wonderful this sandwich is.  first of all, the baguette is wonderful…really light and airy with just the right amount of chew.  and the pork filling was savory and very flavorful.  and just a teeny bit spicy.  then the vegetables which added a nice crunch and texture.  and topped mine with extra jalapeno because…well you know.  and i know there are alot of cilantro haters in the world, but i have to say it was the perfect little fresh bite at the end.  so, so delicious.
and just what the doctor ordered.
and so with that i think i'm going to wrap up this already way too long blog post.  because i'm hungry.  which is ok because i'm meeting my girlfriends for mexican food tonight.
wishing you lots of love and spicy food.  kelly xoxoxo