this week i'm back with another installment in my finding the light in your photography series. if you're following along, you will recall that last week we talked about the sun and how the sun's position relative to the earth affects the way we experience light. today i thought it would be a good to discuss how the camera registers this light and determines the exposure of an image.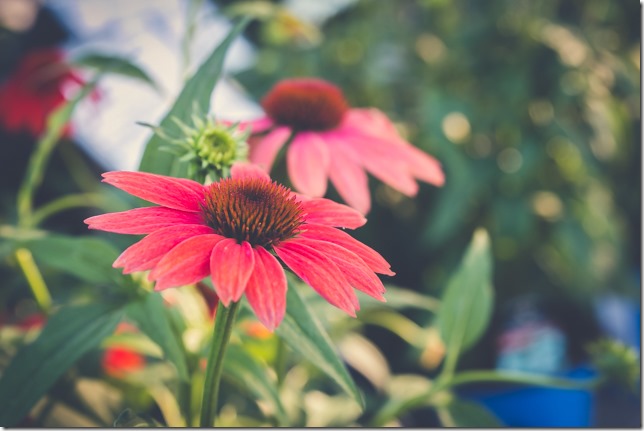 in simplest terms, exposure basically means the amount of light that reaches the camera's sensor. and the exposure of an image is determined by three key elements: aperture, shutter speed, and ISO.
this week i wanted to focus on aperture. and the aperture is the circular (more or less) opening inside of a lens that determines how much light can enter into the camera's sensor. it works similarly to the pupil of the human eye in that it can increase or decrease depending the settings. obviously, the wider the opening the more light that can reach the sensor.
aperture settings (or f-stops) can vary depending on the lens…you can usually find this information on the side of the lens. f-stops are expressed in values such as 1.4, 2.8, 3.2, etc. i know it seems a bit counterintuitive, but the lower the number the more open the aperture.

image courtesy nikonusa.com
apertures can be constant or variable. for example my tamron 24-70mm lens is a constant aperture lens with a maximum aperture of 2.8. this means that the aperture setting will not change depending on how far in or out i zoom my lens. most 'kit' lenses are variable (i.e. 3.5 to 5.6) and that means that the widest aperture setting will be with the lens at its widest zoom setting.
by virtue of a bunch of laws of physical that i do not fully understand (let alone have the ability to explain), the aperture setting of a lens also dictates what is known as depth of field – how much of an image that appears acceptably sharp.
a wide aperture setting (lower numbers) creates photographs that have a very shallow depth of field and conversely, a narrow aperture (higher numbers) have a very deep depth of field.
here, i think it's easier if i show you.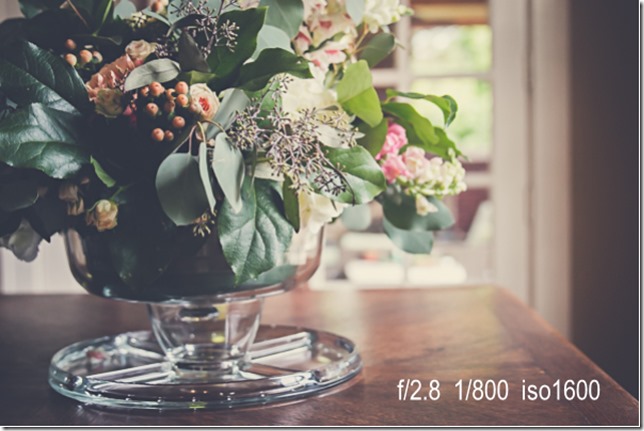 notice in the example above how the wide aperture brings this floral arrangement into focus, while the details of my back door are blurred. this setting is great for situations where you want to draw the viewers attention to a subject and have the background fade away. i like to use a wide aperture when i'm taking photos of my girl or the flowers in my backyard.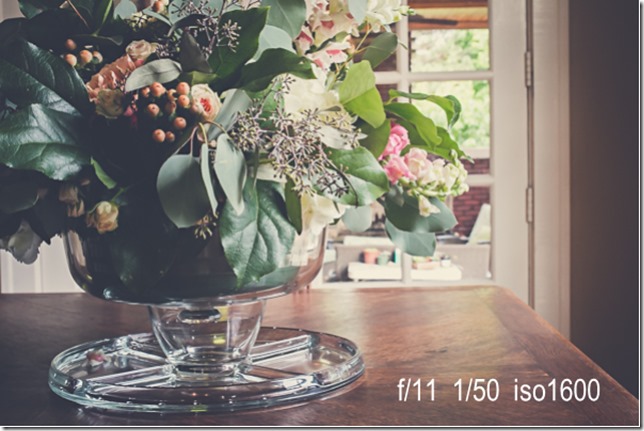 now notice that i've taken this same, exact photo only i've used a much narrower aperture setting. see how now you see the the hinges in my backdoor? see how all these details distract you from the vase on my table? obviously in this instance a wider aperture is more desirable, but there are many times – especially when i'm taking photos of the sunset or landscape photos – that i want to have as much detail as possible throughout the image.
clearly aperture serves a very important function in how much light it lets into the camera's sensor. but aperture (and thereby depth of field) is also a wonderful tool – probably my very favorite – for visual storytelling.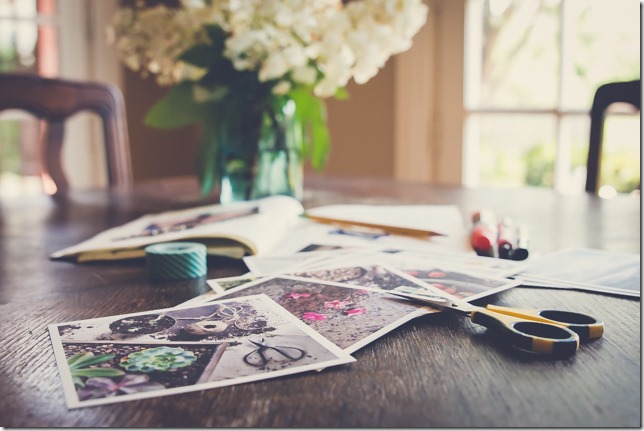 we'll come to back to aperture and DOF a little later on, but for now, this week i would encourage you to set your camera to aperture priority – this will allow you to adjust the aperture and have your camera handle the shutter speed. get comfortable with your camera (hey maybe dig out that camera manual!) and changing the aperture settings. and then experiment with different aperture settings to see which ones help you to create the vision you have in your mind's eye.
love, kelly
to see all the posts in this series, click here.