The words we say make a difference, something I discovered this after my girl left for college. Empty or Room to Grow? They are both accurate. But one is a dead-end and one is hope.
This post from November 2011 is another example of how seeing things differently (or, more accurately saying things differently) changed my life by giving me hope for the future when I thought my best days were behind me.
I have come to believe that when we speak words of hope over our lives, we give ourselves the opportunity to grow and flourish. And I hope by sharing my story, it encourages you in any empty spaces you might be facing.
---
A few weeks ago when I was planting pansies, I had 5 little plants leftover. I stuck them in this pot by my back door, but there weren't really enough of them to make the pot look full and lush like I like. I told myself that I would run by Ted & Debbie's later that week to get cabbage and maybe a couple more things to fill it out, but then work happened and I basically forgot all about it.
Fast forward to yesterday afternoon and I happened to notice the pot of pansies as I was getting Riley's dog bowl. To my surprise those sweet little violas had nearly filled in all the empty spaces.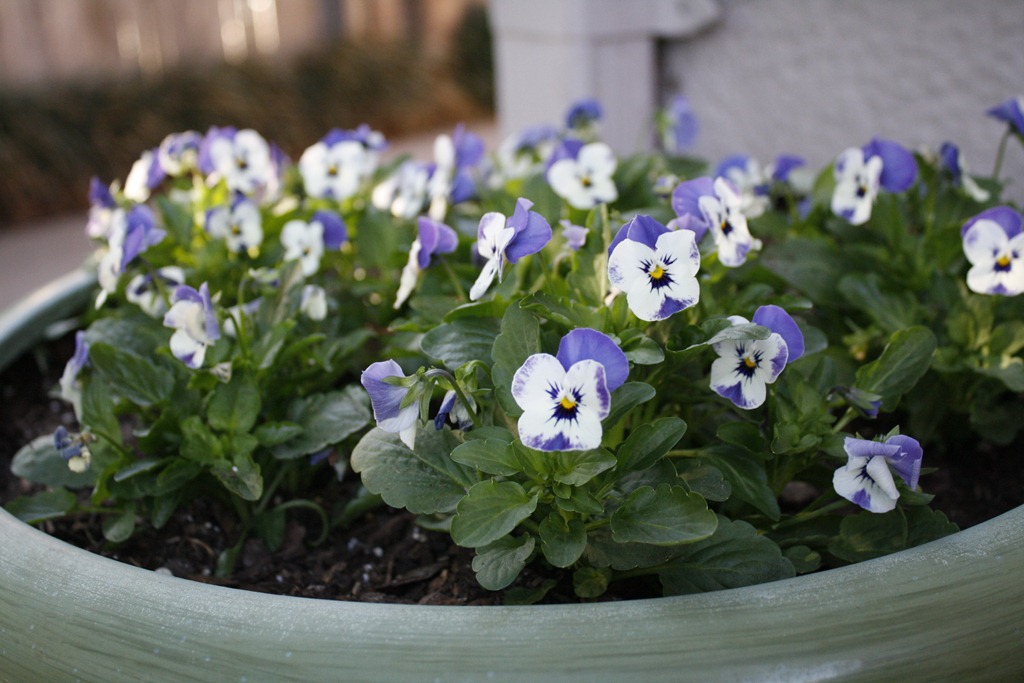 And then, as if being wrapped in my Heavenly Father's loving arms, the sweetest words came to me, "All they needed was a little time and some room to grow."
This is what I do. In my impatience to have a lush, full garden, I overplant my flower beds with flats and flats of pansies. To me, empty spaces have always looked like a place where something should be. It never dawned on my that they might fill in on their own. I have a tendency to do that in my life too. And lately, facing a few empty spaces of my own, I have been impatient to fill the void because of my desire for a lush, full life.
So I am going to take a cue from nature and the Master Gardener and leave the empty spaces for now. I am going to tend to my little pot with Faith and Gratitude (maybe even a little self-compassion) and give it some time and room to grow.