i suppose you could blame this recipe on two things:
the fact that i received a new blender from my family for my birthday or,
the fact that i have hard time sitting still for very long. well except in the morning while i'm drinking coffee.
so here's the deal…last saturday i got bored while i was laying out by the pool.
please…don't say it…i know.
but let me just tell you that my computer problems had me all tweaked out.  and i don't know…something just came over me…i needed to make something.
i'm not sure why, but alot of the time if my mind is a mess, making a mess in the kitchen is the perfect way for me to de-stress.
so anyway, i came in the house and looked in the pantry.  i had a vanilla cake mix which i have no idea why i bought and three half eaten packages of chocolate chips (don't ask).  but nothing baked sounded good.  because of course i was all hot and sweaty from being in the sun. #lazygirlprobs
but then i got an epiphany!  ice cream.  yes, ice cream sounded wonderful! and amazingly, i had all the ingredients i needed to make it. so from the fridge i grabbed the milk, eggs, and cream to make my favorite homemade ice cream recipe.  and while i was there i noticed a half of a tub of strawberries a little past their prime and decided that i would puree those up (in my new blender of course) and make strawberry ice cream.
see…problem solver.
sigh…if only the worlds problems (or even my computer problems for that matter) could be fixed with ice cream.
anyway, i decided that i would just do a half batch of my ice cream recipe seeing as how i was going to use my little countertop ice cream maker.  the amounts for the half batch are as follows:
1 cup whole milk
3/4 cups sugar
3 egg yolks
1/4 tsp salt
2 tsp vanilla
2 cups (1 pint) heavy whipping cream
i followed the same method as i described in that blog post.  except that because i got such a wild hair and didn't plan ahead and make it the day before, i had to use the quick cool-down technique for the custard.  which is just a smaller bowl set into a larger bowl full of ice. and i stirred it every so often for about 30 minutes until it was cold.  then i set the whole thing into the refrigerator for another 30 minutes while i went upstairs to get cleaned up.
after the  custard cooled, i added approximately 1 cup of strawberry puree i made from hulling about two cups of strawberries and blending them until they were mostly smooth.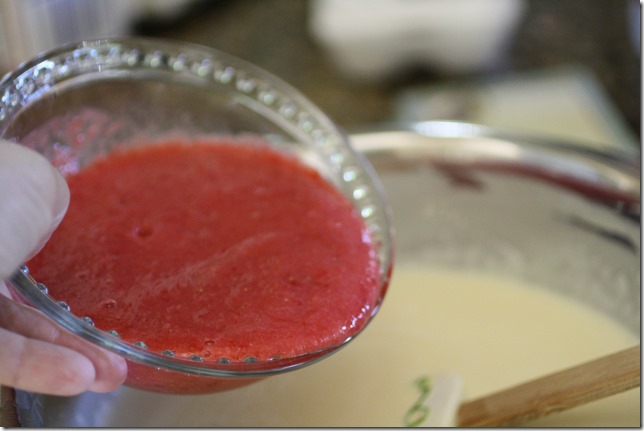 once i had that stirred in, i poured the entire mixture into my ice cream freezer and let it go for about 45 minutes. i then transferred the ice cream to the freezer for a couple of hours to harden up a bit. and then….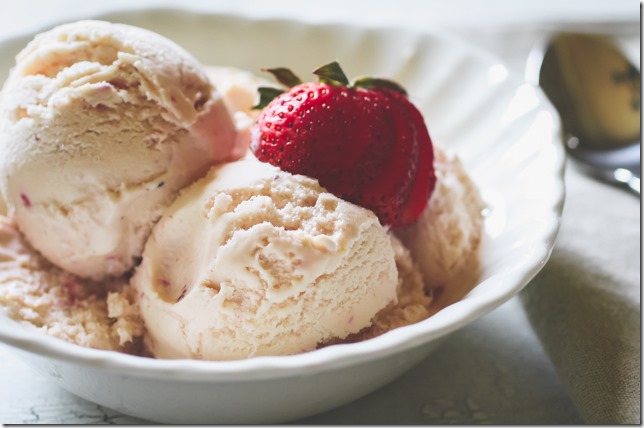 this.
oh my goodness. such a yummy treat. delicious strawberry flavor.  and i don't know which was more comforting…the making or the eating.  either way, it was comfort food to the max.
hope you enjoy friends.  love, kelly