I thought this was supposed to be a relaxing trip…
That's what I was thinking as I strapped on a life jacket and stepped into the inflatable, rubber combat-style boat with my husband and 30 other adventure seeking souls.
I guess I should back up.
Seeing as how it was our first Christmas without having our girl at home, Tripp decided that we should take a little getaway trip of our own. So a few months ago, he started scouring Trip Advisor and American Airlines Vacations and found a great place for us in Puerto Vallarta. We left early in the morning on the day after Christmas and by that afternoon we were wearing our flip-flops and swimsuits.
YES.
In my mind, four days of warm sunshine, a lounger by the pool, and uninterrupted quiet-time with my new book sounded like absolute heaven. But for my beloved, no vacation would be complete without some kind of adventure component. So he tells me casually one evening before Christmas that he found us a fun adventure tour – "it's rated the best in Puerto Vallarta!" – and asks me what did I think.
When will I ever learn…
Anyway, fast forward a week or so and this is how I found myself bouncing across Bandera Bay holding on for dear life. And for the record, this was least scary part of the entire tour. Then, after our twenty minute boat ride, we pulled up to a tiny fishing village, where we then boarded a military-style transport vehicle (known as a Unimog) which drove us up into the forest to the Outdoor Adventure base camp in the heart of the Sierra Madre. And when I say 'drove us up', what I mean is that we crawled along a steep, one-way, washed-out dirt road in first gear.
Once we unloaded, we were welcomed by the young, fit, energetic, and enthusiastic tour guides. Which honestly, this should have been warning flag #3 because I clearly I am not young and fit, and at this point I was feeling neither energetic nor enthusiastic. But nevertheless, I played along and listened to the introduction. That is until they they handed me a surf-style, rashguard shirt to put on. At which point I started to worry because why in God's name did I need to be guarded from a rash??
Also, let me just pause here to say this…I am a nearly fifty year-old woman with a strong affinity for pasta and wine. I DON'T DO TIGHT SHIRTS. In addition, I am slightly claustrophobic so wearing said shirt made me feel like I was wearing a straight jacket made out of nylon/spandex performance fabric.. And as if that wasn't bad enough, it smelled kinda funky. But I managed to shimmy into my shirt which made me look something akin to a stuffed sausage. But whatever. This was going to be fun! Right?? Then, next up was getting fitted for my zipline gear which took uncomfortable and unflattering to a whole new level. But wait! Let us take your picture!
Unflattering photo of the day #1.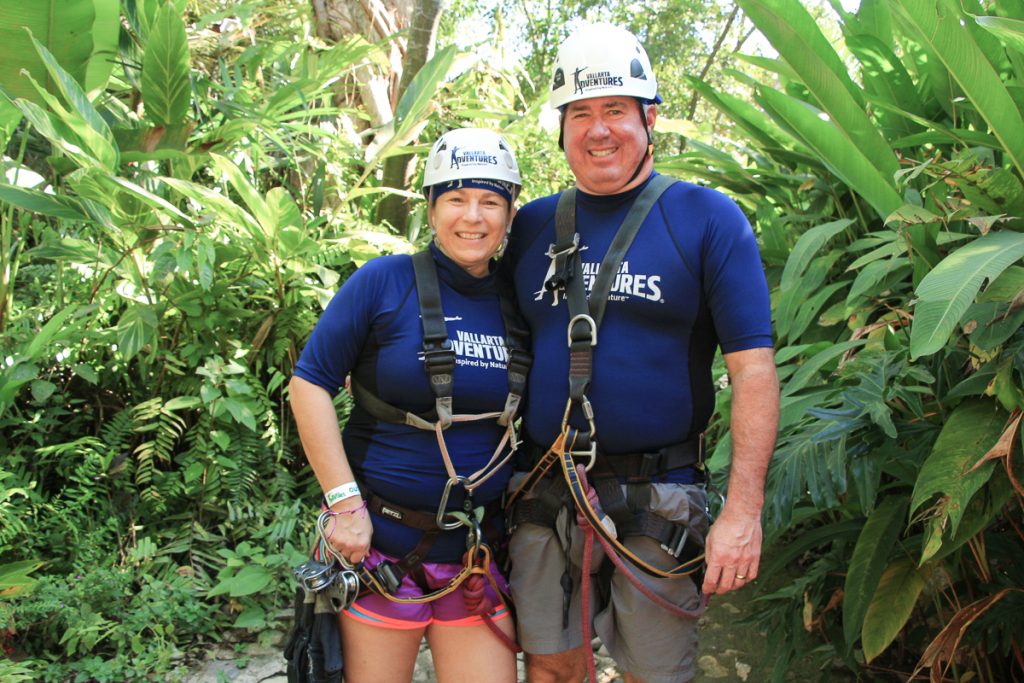 Now the fun part begins they tell us! And by fun they mean running across a roap bridge up to the stable. Because guess what! We're going to ride mules up to the first zipline!
Ummmm…
Oh yes. We rode mules. In full ziplining gear I might add. Which was as awkward and uncomfortable as it sounds. And not only that, my stirrup straps were too long and my feet wouldn't reach into the ring (#shortgirlsprob). And when I pointed this out, my guide simply shoved my tennis-shoe clad feet into the loop of the strap saying, "Is OK, Ms. Kelly." The good news here was that my mule preferred to be at the front of the line, so when he took off trotting up the side of the mountain, I could barely hang on to the saddle. But hey! We're having fun now!
Right.
Meanwhile, adventure Tripp is aaaaall smiles.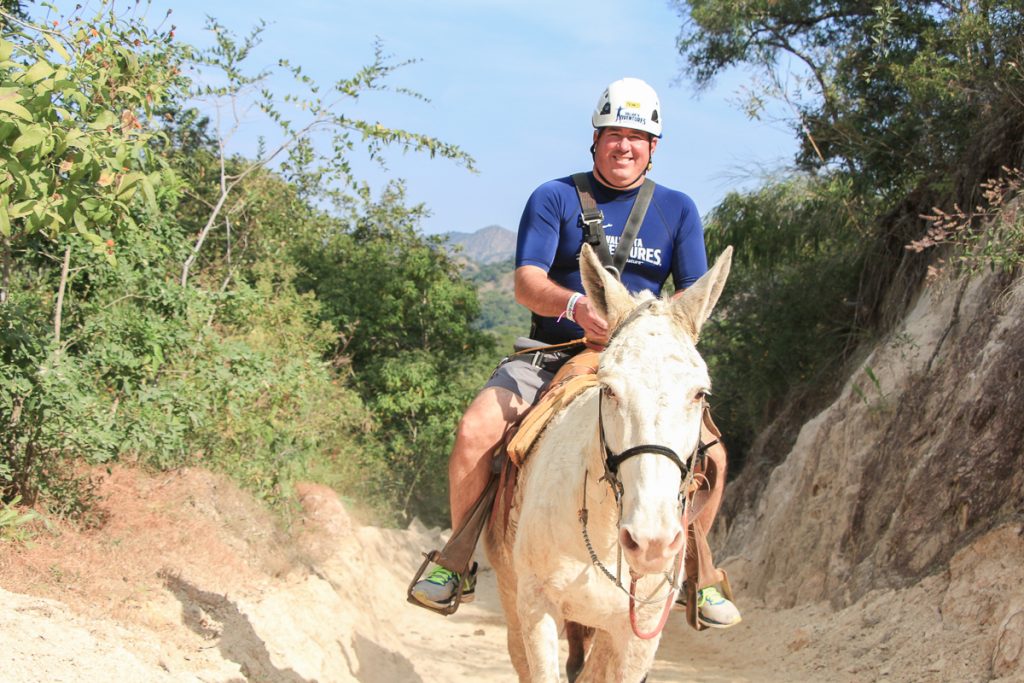 Anyway, we make it up to the first zipline run and I was feeling pretty good about it since having done it before. So I get into position and get ready to ride while the tour photographer took another opportunity to take some more incredibly unflattering pictures of me.
But not Tripp! Once again, all smiles.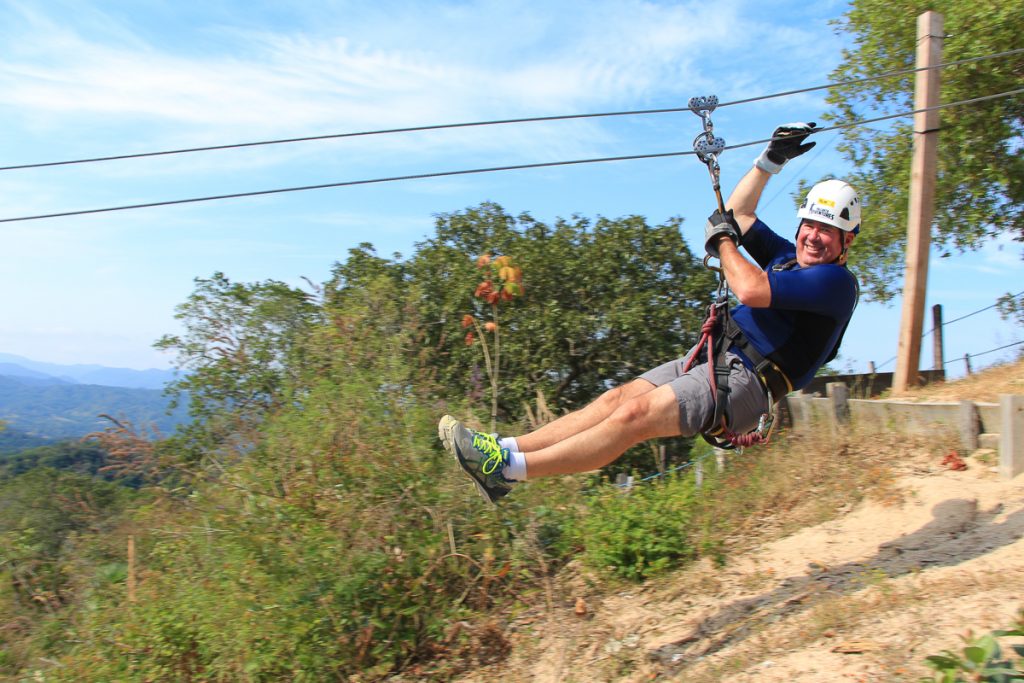 So after another zipline and a couple more rope-bridges, it was time to rappel down a waterfall. Yeah…I'm pretty sure that Tripp failed to mention this when he was selling me on this tour. And I was like…so let me get this straight, you want me to hang onto this rope with only my two hands and push off down the side of a 100′ waterfall??
Jesus take the wheel.
This is me rappelling.
This is Tripp rappelling.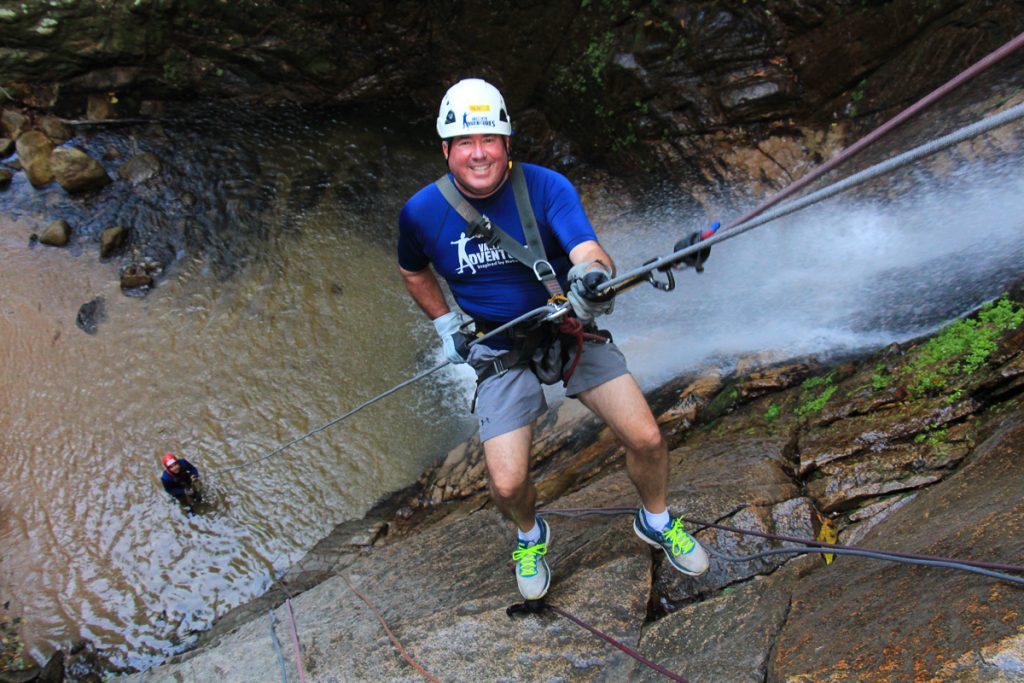 I swear…I can't even with this guy.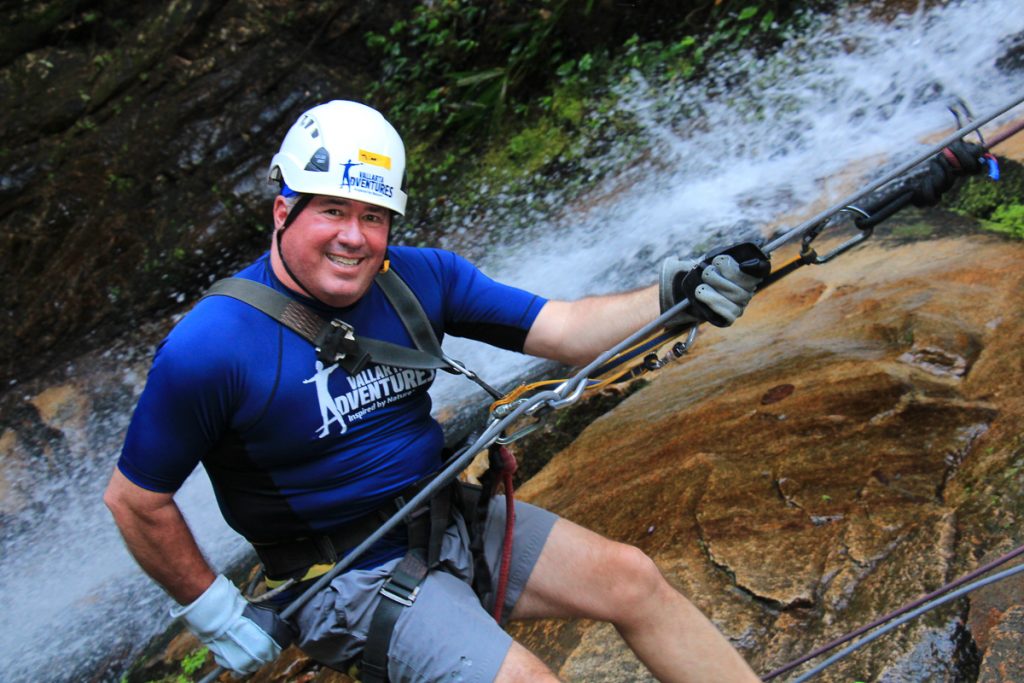 So, next up on the adventure was a rope climb and a two-seater water slide that bucked us off at the end. Oh and another waterfall, two different styles of tandem ziplines, and lots more unflattering photos.
I feel like this photo pretty well sums up how Tripp and I enjoyed the adventure.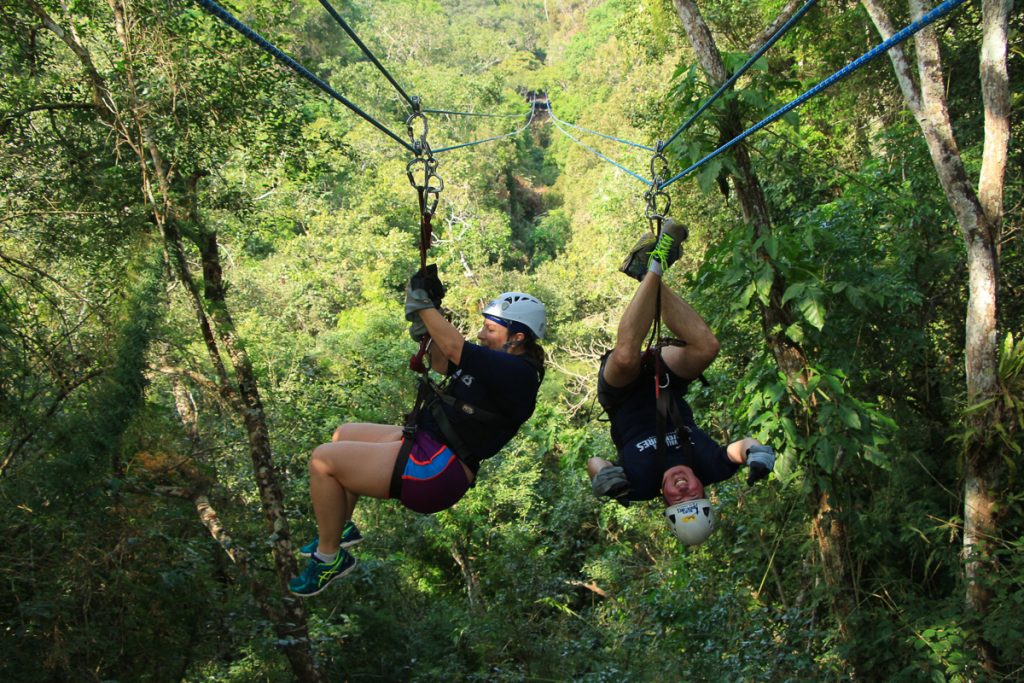 Anyway, we had come to the end of our tour and like any self-respecting adventure, they saved the best for last. A giant waterslide – the highest drop in Mexico!
I should have run when they handed me elbow pads and a face guard. 
It was as terrifying as it sounds. And for the record, I screamed THE. WHOLE. WAY. DOWN.
Thankfully, that was the end of our tour and I was finally able to put on some clean, dry, loose-fitting, fresh-smelling clothes…I was pretty wiped out. But if you asked Tripp, he'd tell you it was amazing! Awesome! Because he loves adventure. And I love that about him. I also love how he pushes me to get out of my comfort zone, literally and figuratively.
The truth is, we've been on pretty amazing adventures in our married life together, but nothing (not even ziplining or rappelling) compares to this grand adventure called life. The highs and lows and everything in-between…it can be a really wild ride at times. And today, as we celebrate our 26th anniversary, I am thankful for Tripp's strength and courage and fearless spirit. And I am so, so grateful to have him as my traveling companion.
Happy Anniversary Tripp! Here's to many more adventures with you.
I love you.
SaveSave
SaveSave