It's become sort of a thing for us that whenever Kelsey comes home for Thanksgiving break, we take a family picture that I can use on our Christmas card.  This year was no different.  After setting up my camera on the ladder (my makeshift tripod) and after about ten tries, I finally got a photo that everyone could agree on.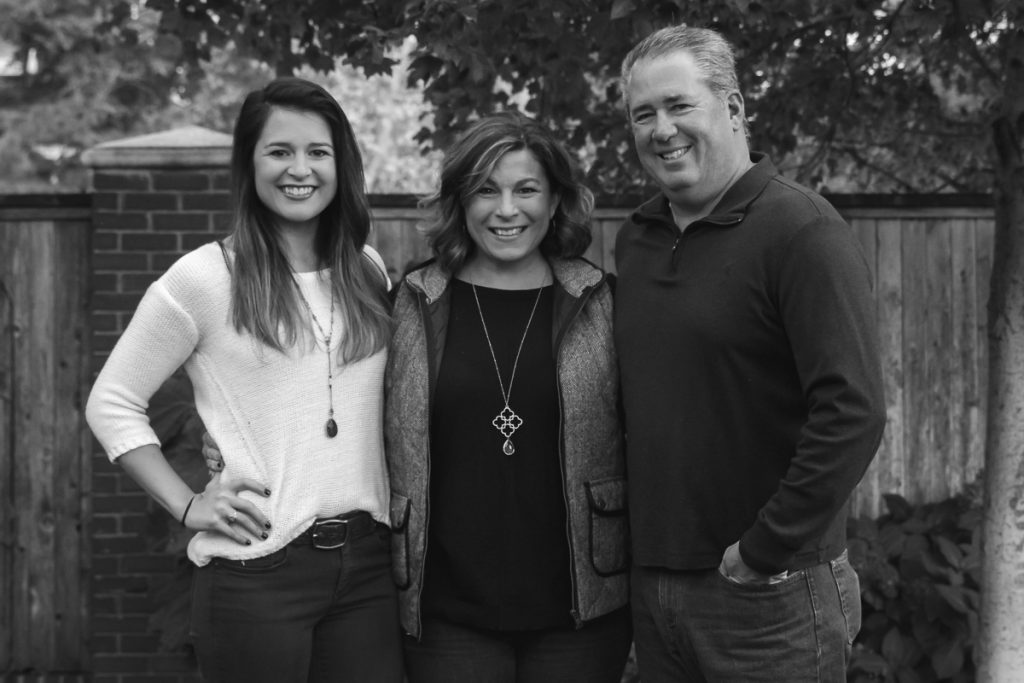 Well so fast forward a week or so and I'm sitting at my computer obsessing over which minted.com Christmas card template to use.  I tried at least a dozen different styles, but none of them seemed right.  And after about 30 minutes, I realized the problem was not in the template, but in the photo.  Because the truth behind my "happy" family photo is that it involved lots of coercion on my part and lots of grumbling on their part.  Which was then followed by at least half a dozen iterations of me running back and forth between my camera and my spot.  Then trying to get everyone to smile at the same time.  Plus fussing over my bangs and trying to adjust my outfit to camouflage my middle section.  Followed by "Did you get it?"  "Can we be done yet???" "We have to be there in five minutes!"
Festive, no?
Anyway, while I was sitting at my computer going back through my Lightroom catalog looking for a photo of the three of us together, it just so happened that Kelsey called.  During the course of our conversation, I tried to explain to her my dilemma to which she remarked, "Why don't you use that picture from Costa Rica?"
We went to Costa Rica on vacation last summer…did I ever tell you that?  It was an amazing trip in every way possible…the landscape, the food, the people.  But by far, the stand-out experience of our vacation was the day we went ziplining.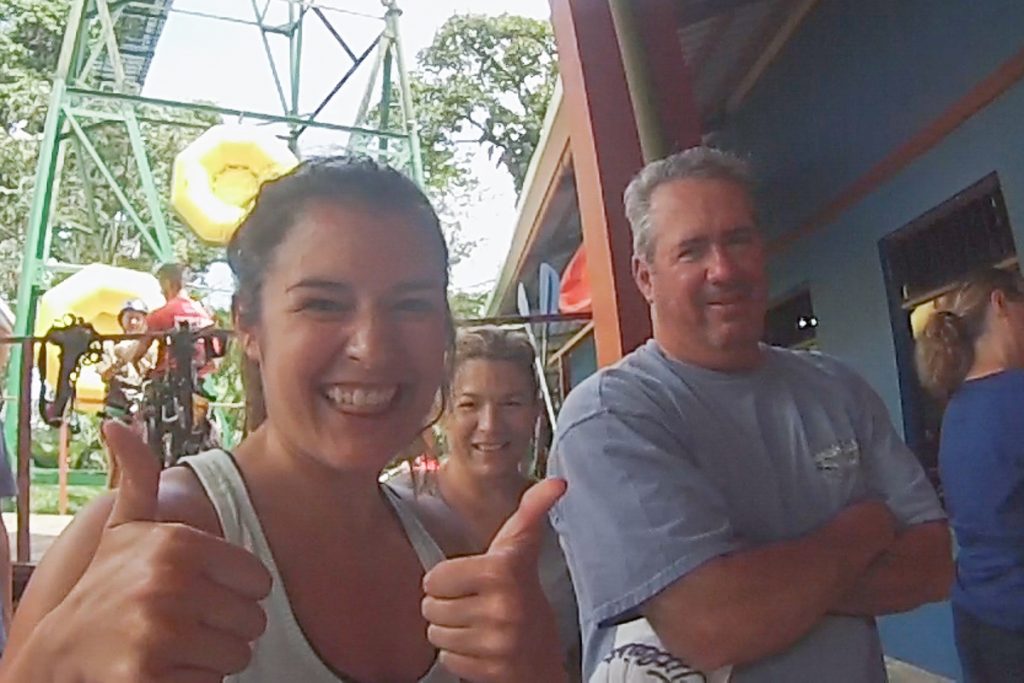 Our ziplining adventure (a "bucket-list" list experience for both Tripp and Kelsey) began at 6:00 a.m. when our tour guide, Rodrigo, picked us up at the house we had rented for the week.  Four hours later we finally arrived at our destination, Sky Adventures.  Set near the Arenal Volcano, which until 2010 was one of the most active volcanoes in the world, our zipline tour started with getting fitted for our gear.  One by one each of us was fitted with a harness, helmet, and gloves, then we proceeded to the gondola where we received a brief orientation.  The instructor gave us a demonstration on how the cable locks worked and how to lean back and actually ride the zipline.  He also showed us how to move the handles back and forth to apply the 'brakes' when we get close to the end of the line.
Finally we were ready to board the open-air gondola that took us up to the observation deck – the highest point in the park.  And as promised, the views were spectacular.  Even though the volcano was hidden in the clouds, you could see Lake Arenal off in the distance surrounded by the lush beauty of the rain forest.  It was truly breathtaking.  And it was from this point that we started our zipline tour.
So here's the thing…I've been snow skiing before.  I've ridden gondolas before.  I'm not really afraid of heights.  But this was different…and the truth is that I was really scared.
Once we got up to the first platform for our first ride (a short 'training' zipline), I watched as the staff member helped Tripp latch on to the zipline and get into the proper position.  Then, 3…2…1, the guide let go and Tripp went whizzing down the cable to next platform.  Next up was Kelsey – all smiles as she followed after Tripp the same way.  Then it was my turn.
Thrill-seeker. Risk-taker. Adrenaline-junkie. Daredevil. Words that so totally DO NOT describe me.  I like my safe little world…the one I have created for myself inside the sanctuary of my comfortable, predictable little life.  Ziplining is the opposite of that.
I was practically in tears at the end of that zipline.  What I didn't realize was that the 'brake' was really more of a slow-down at the end rather than full stop.  I was afraid of going too fast and not being able to stop.  But here I was at the top of the rain forest on this amazing adventure with my family…I could either ride the gondola back down or stay on the ride.
I chose to stay on the ride.
It was the best decision I have ever made.  Because once I finally learned to let off the brakes, the ride was utterly amazing.  Gliding high above the rain forest…seeing out in all directions. Looking down at the tops of the trees. Feeling the wind and the rain on my skin. The distinctive whir of the cable and pulleys as I glided across.  It was truly exhilarating.  And surreal.  Like an out of body experience.
There were seven ziplines total, and on the next to the last zipline our guide gave us specific instructions to stay tucked tight in our position and avoid applying the brakes.  It was the longest line of the park stretching almost half a mile across the canopy of the rain forest, and we would need all of the available momentum to get to the other side. Because otherwise, if we didn't make it all the way across, we would get stuck in the middle and have to get across the hard way….pulling ourselves backwards, by hand, to get to the finish.  So one by one, Tripp, Kelsey, and I stepped up to 'Big Daddy'.  And because I had made it across on all the previous rides, I wasn't afraid anymore.  I had conquered my fear of going fast without stopping.  So I let go, let off the brakes, and went flying across safely to the other side.
It was such an incredible day.
Right before we stepped up to that first platform, the park photographer took our photo on the observation deck.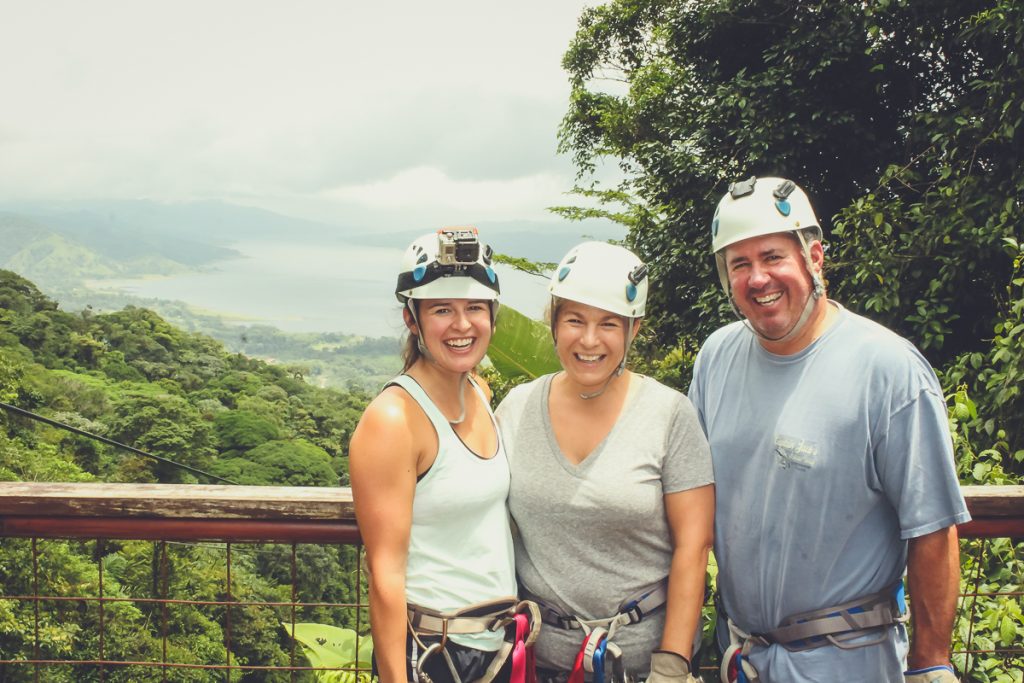 I love this picture so much.  All that gear, my crooked helmet, the way we we're all laughing…this is so much more 'us' than my staged backyard photo.  So naturally, this is the photo I had to use in our Christmas card.
But beyond being just an awesome family photo, this shot also represents a life-changing experience for me..one that I've been thinking a lot about since then.  How so many times in my life I have been afraid of going too fast and not being able to stop.  How so many times in my life, just about the time I get a little momentum going, I put the brakes on and get stuck out in the middle.  How often I have had to make it across the hard way – pulling myself backwards by hand.  But now that I have experienced the thrill and exhilaration of flying high. Seen the view from this perspective.  Felt the freedom and joy that comes with working with (not against) momentum……well, it's a game changer my friends. And all I can say is that I am ready to ride this ride. I'm ready to let off the brakes….I'm ready to fly.
So look out world…I'm coming in hot.