Welcome to the March edition of the One Little Word blog hop.  I am really enjoying this class and getting to know all the great ladies who are also participating.
My word this year is TRY and for the past couple of months I have made an effort to try new things. So in addition to trying some new recipes (most were big hits, but not all), I also changed things up with a new polish color at my last pedicure…I know – radical, life-changing stuff!

Although those types of little things certainly satisfy the "have fun" aspect of my word choice, one of my main intentions has been to nurture the creative part of my life. That's why I was delighted when my friend Carolyne invited me to join the Artsy-Fartsy group that she and her friends were starting. Our group has met couple of times now and just being part of this enthusiastic, creative group of ladies is such an inspiration.
A couple of weeks ago the ladies met at my house where I shared with them my love of paper-crafting. We had a card-making workshop and it was such a blast sitting around together talking, laughing, and creating. It reminded me so much of years ago when my girlfriends from work and I would work on our scrapbooks during lunch on Fridays. I had forgotten how much a friendly, joyful atmosphere contributes to my own personal creative energy.

As for February's OLW assignment, below is my completed photo template. This was pretty easy for me as I have no problem with taking regular photos (as many of you are probably painfully aware). LOL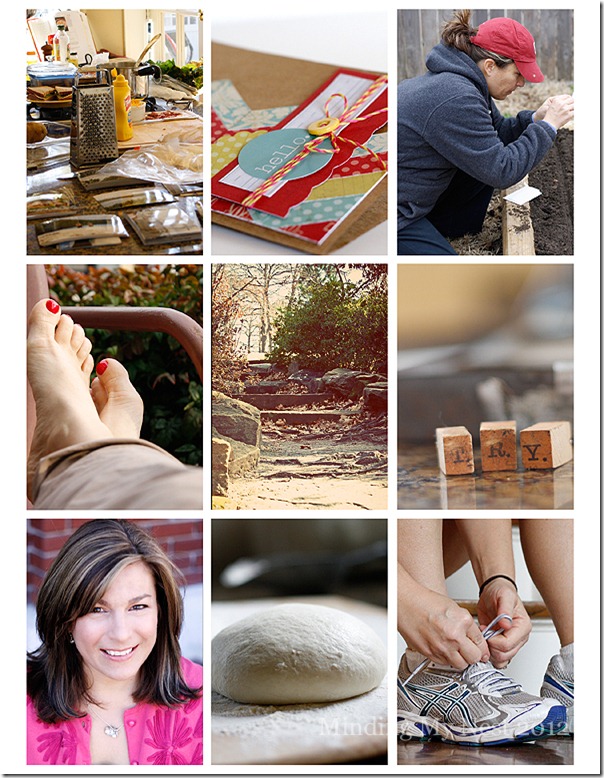 On the right side I made an old-school scrapbook layout.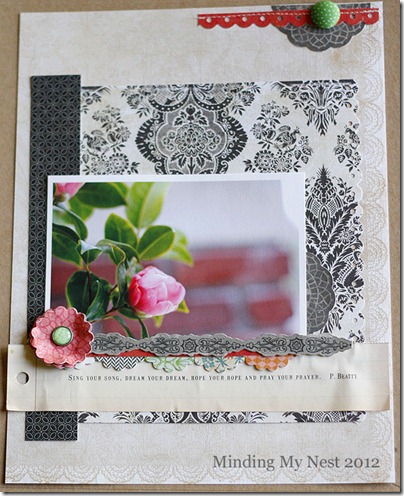 I recently discovered that my Camellia was blooming for the first time since we planted it four years ago.  I had totally given up on it, figuring it just wasn't meant to bloom in my garden.  I was overjoyed to find that it was.
To me, this lovely Camellia symbolizes hope and possibility.  And a reminder to never stop TRYING.
I have been enjoying this journey with my OLW and being part of such a great group of ladies on this blog hop. Next you should be directed to http://terecontodomicorazon.blogspot.com/.
Thank you again so much for stopping by. Love, Kelly
P.S. Below is the entire list of OLW blog hop participants.
Margie            http://xnomads.typepad.com
Melissa S        http://blog.mshanhun.com
Sharyn           http://LaVieEnChic.com
Kimberlee      http://scrapsandsass.blogspot.com
Cheri             http://cheriandrews.blogspot.com
Cindy             www.cynthiacrysdale.com
Jenn              www.studiojenn.blogspot.com
Monica            http://scrapinspired.com/
Catherine         http://myview-catherine.blogspot.com/
Naomi             http://poeticaperture.com/
Jamie              jmpgirl.blogspot.com
Coley              www.coleybelle.blogspot.com
Melissa C          www.smudgetime.com
Donna              http://holimess.blogspot.com/
Monica B           http://questtoperfectimperfection.blogspot.com/
Veronica           www.veronicanorris.typepad.com
Heidi D            http://mommy.heidimdavis.com/
Lisa               http://backtoallen.com/category/one-little-word/
Nikki              www.inkyart.com.au
Devon              http://www.youhadmeatneurotic.com
Amanda             http://scrappnbee.blogspot.com
Brooklyn           www.everysnapshot.com
Kristina           http://hrinspirationfromthe403.blogspot.com/
Jen R              http://jenritchie.com
Kara               http://iwannabemewhenigrowup.blogspot.com
Eydie              www.whatwecreate.net
Ruth               http://suburbansahm.blogspot.com
Missus W           http://www.mrswookieswanderings.blogspot.com/
Marilee            http://rose-brier.blogspot.com
Cindy              http://seriousplay.typepad.com
Kaylea             http://www.myscrappylife.com
Dawn G             www.sunshineandcreativity.com
Rebekah            http://istampscrapcraft.blogspot.com/
Becky              www.becky-handforth.blogspot.com
Orange Gearle      orangegearle.blogspot.com
Katrina            www.katrinasimeck.com
Jo                 http://www.mrsbeee.blogspot.com
Nicky              Www.seejanebake.blogspot.com
Beth               www.thesingularlyordinary.blogspot.com
Kelly              https://mindingmynest.com