This past week was Spring Break so Tripp, Kelsey, and I went down to Houston to visit our friends Bryan & Carrie and their family. Kelsey and I had a great time hanging out with Carrie and her daughter during the week, and all of us had a wonderful time at the beach on Saturday!
One morning while Carrie and I were enjoying our coffee on the patio, Carrie's little dog, Lucy, was sitting by my feet, so instinctively I picked her up and cradled her in my lap. Carrie joked that I was completely spoiling her dog and that Lucy would start expecting to be held all the time. To which I replied (with a wink), "And what's wrong with that?"

The way I spoil my dogs has been a joke between us for years and I just laugh and tell Carrie I come by it naturally – I learned it from my Mom.
What's funny is that, the older I get, the more I notice how much more like my mom I'm becoming. So in honor of her birthday today, I thought I'd share with you ten ways in which I am just like my mom.
I spoil my pets.
I love Spring.
I can spend a whole morning drinking coffee on the porch.
I hate scary movies.
I feed the birds in my yard and love watching them at the feeders.
I like rearranging knick-knacks.
I cook dinner nearly every night.
I root for the underdog.
I cling to my Faith in times of trial.
I love my family.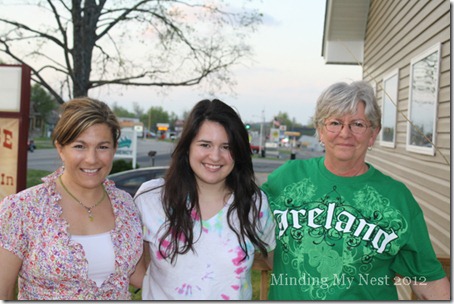 So now when people say, "You're so much like your mom," to me there is no greater compliment.
Happy Birthday, Mom. I love you so much. Kelly