Happy First Day of Spring!!  In my neck of the woods, the telltale sign that Spring has officially sprung is the long-awaited blooming of Redbud trees.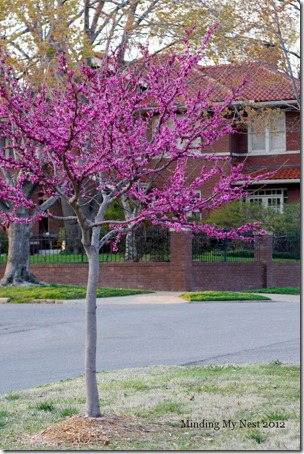 I just adore redbuds, so I though I'd share with you a few little factoids I discovered about this beloved harbinger of Spring.
Random nonsense…It's just another service this blog provides.  It's all for you friends. 
  hehehe
Random factoid #1 – The botanical name for the redbud is Cercis canadensis.  This particular cultivar that was planted in our median after the ice storm is Cercis canadensis 'Oklahoma'.  There's no real difference between it and the original except that the flowers are a little deeper and more vibrant in color.
And speaking of color…just look at those glorious magenta blossoms! (Or are they fuchsia? Which would you call it??)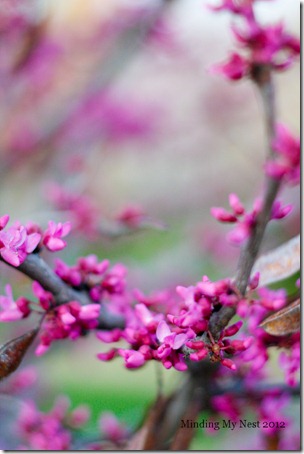 The humble Redbud grows naturally all over the state of Oklahoma, mostly in valleys and ravines.  It typically reaches heights of around 20-30 feet tall and it's branches can spread to over 20 feet.
Random factoid #2 – The showy magenta flowers are only pollinated by long-tongued bees, because researcher believe short-tongued bees cannot reach the nectaries deep inside the flowers.
Random factoid #3 – Maimee Lee Robinson Browne (1881-1963) was so enamored by the humble Redbud tree that she campaigned for it to become the state tree.  In 1937 the Redbud, as a welcome to "sturdy and hardy pioneers," was given emblem status by the State Legislature.  And on June 24,1971, the redbud became the official state tree.
Like Maimee, I love the notion that the Redbud's heart-shaped leaves evoke a message of love in Oklahoma.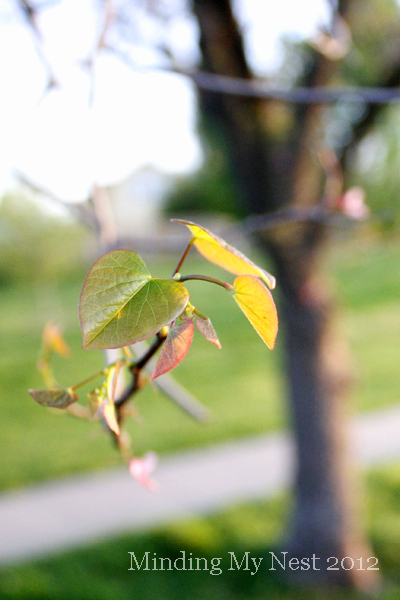 I can't think of any better ambassador for Spring!
Peace, Kelly