in the weeks that followed our weekend at the lake, the landscape had begun to wake up from its winter slumber.  spring was starting to make her appearance.  and everywhere i looked, i could see the signs…things were coming back to life.  including myself.
spring was a busy time with kelsey's senior year coming to a close.  prom, vocal concerts, spring musical…and because there was so much going on, i had decided that i was going to take time off from worrying about my purpose.  stop trying so hard to figure everything out.  just focus on the present and enjoy the wonderful things that were happening with my girl.
one beautiful spring afternoon i was in the backyard.  not doing anything special…just putzing around, walking around in the garden, pulling a few weeds here and there.
two of my favorite flowers – 'may night' salvia and bearded iris – were in full glorious bloom.  i happened to notice that my salvia was quite literally abuzz with little honey bees darting in and around the beautiful, deep-purple spikes.  it made me smile thinking about how proud my little salvias must have been to have such a grand purpose in the garden.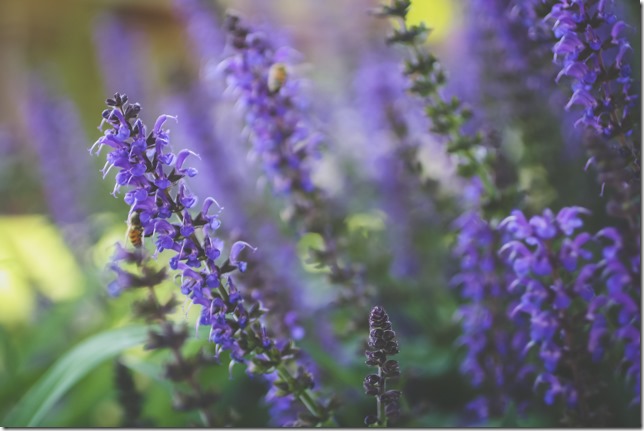 then i looked over at my stately bearded irises standing there so dignified and gracious.  and although they didn't appear to display the obvious function of providing nectar for honeybees, my irises did not at all seem to be riddled with self-doubt about their purpose in life.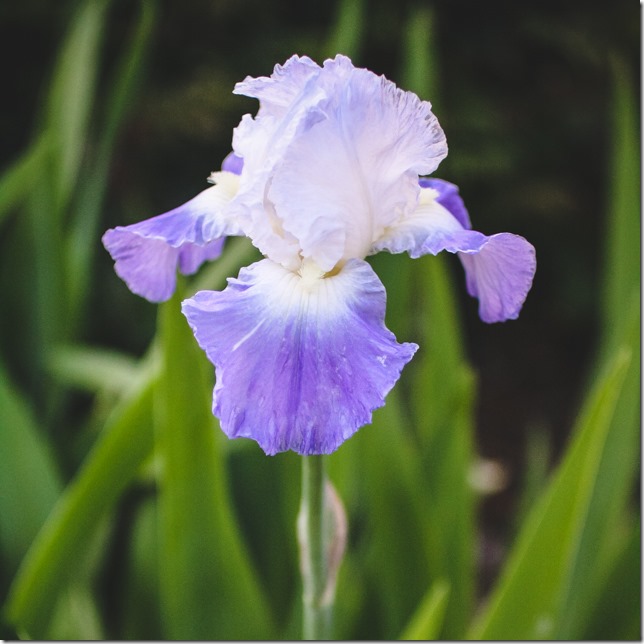 after that, i just smiled to myself thinking how i'd really gone off the deep end by projecting my own existential insecurities onto my lovely garden flowers.   and then i said a little thank you to God for irises because they just make me so happy with their beautiful flowers and delightful fragrance.
and then it occurred to me…maybe that is their purpose.
when i thought about it a little more, neither the iris nor the salvia really tries to do anything to fulfill their purpose.  just being an iris or a salvia is quite enough – expressing their essential iris-ness and salvia-ness is their sole (soul?) purpose. and God uses each one according their particular design and unique qualities.
here it was…the answer i had been praying for.
once again i found myself face to face with God's grace. and even though i knew i might not ever truly discover what my purpose was, i knew that i was done trying to do things to have purpose.  so kneeling there in the garden, i humbly offered up my gifts and talents to God – gifts that i received from him in the first place – to use He saw fit.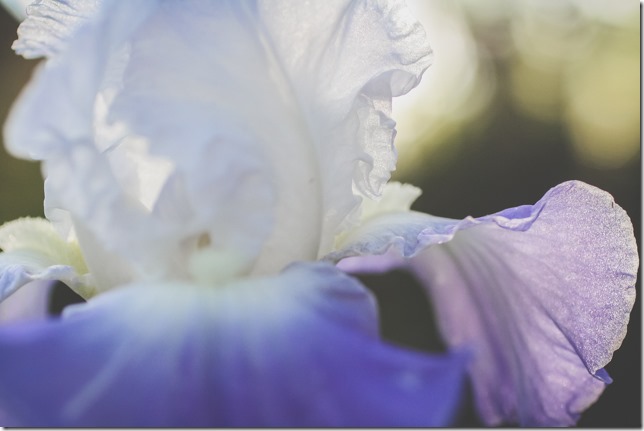 in that moment, so many things became clear.  the answer to the question that had haunted me for months – who am i? – was very simply this…a child of God, saved by grace.  and even though i didn't have it all figured out quite yet, well this seemed like a pretty good place to start.
thank you so much for joining me on my 31 day writing challenge. to see all of the posts in this series, please click here. and if you would like to receive future posts via email, you can subscribe here.
from the archives