it is that moment every woman dreads.  mine was the day i scolded a friend for getting a kraft single out of the refrigerator and putting it on her sandwich.  no sooner had the words – don't use that…it's the dogs' cheese – come out of my mouth, when the realization washed over me.  so i just stood there and hung my head.  all i could think was {say it with me now!!}, "oh my God…i am just like my mother."
the truth is that  i am my mother's daughter.  whether it's in the way that we spoil our dogs, or like my dad always says, the way we cry when the laundry comes in.  {and btw – what does that mean anyway??}   but it's ok…i'm not ashamed to admit it.  because it also means that i am good at reconciling my checkbook and knowing how to throw together dinner with just what's in the fridge.  #problemsolvers
while it's true that my mom and i are alot alike, there are some key differences when it comes to our motherhood experience.  to start with, there is the fact that my mother has two children  – my younger brother and myself.  and then there this…and in all sincerity, i am more than a little embarrassed to admit it…i never left home really.  after i graduated from high school, i lived at home and went to the local junior college for a few years…first full-time and then part time.  and my poor mom…i was 23 years-old and she practically had to kick me out.  but then right about the time i was getting ready to move out into my own apartment, tripp asked me to marry him.  and so that's when i finally left the nest.
so let me just pause here because honestly this has been the subject of many family conversations.  and even more so, it was a key player in my own personal coulda/shoulda/woulda mid-life crisis.  i haven't shared much about it before, because like i said – it's a little embarrassing.  especially considering that nowadays a lot of young women don't even start getting married until they're thirty.  but just so you know, i have no regrets…that's sort of a bad word in my book.  this is part of my story and i think it's important that i put it out there.  
anyway, the point i would like to make is, although this process is something that every mother will have to come to terms with at some point in her life, we all have our own unique story of how we get there.  each of us has our own personal challenges and heartaches along the way in our journey through motherhood.  each of us brings our own baggage aboard the SS EMPTY NEST and for me, the world's worst over packer, i had more than my fair share.
but during that time when everything in my world seemed to be unraveling, the one thing i knew beyond the shadow of a doubt was that my mom loved me.  i knew this.  i mean i really know this.  and even though at first i don't think she really got why i was taking it so hard, she was still there for me in every way…listening, supporting, encouraging…promising me that it wasn't the end of the world.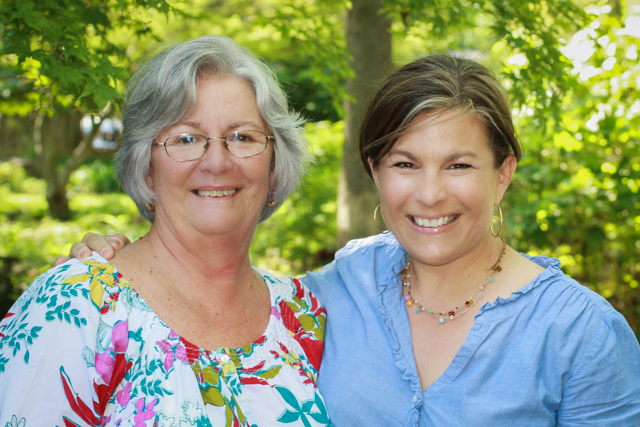 i consider it one of the great blessings in my life to have such a close relationship with my mother.  and i am blessed by her selfless love and her willingness to help me carry my burdens along this journey.
thank you so much for joining me on my 31 day writing challenge. to see all of the posts in this series, please click here. and if you would like to receive future posts via email, you can subscribe here.
from the archives~