Welcome to Week 30 of my Pinspiration series!

Before I get started I would just like to acknowledge that, yes, I totally dropped the ball last week.
Just been really busy lately.
So for this week's project, I have to credit to my delightful daughter who has been bitten by the Food Network bug. While I was folding clothes one afternoon last week, Kelsey was watching the Barefoot Contessa (my personal favorite food network show by the way) and for dessert Ina made individual molten chocolate cakes in tiny, baby cast-iron skillets. Yum!
All week long, Kelsey and I fantasized about these decadent, heavenly desserts and we decided to make them Friday night to celebrate the London 2012 Olympics opening ceremony. The only problem was that when we went to search for Ina's recipe, the closest thing we could find in this one. Even so, we decided to give it a go.
Now for the record, over the years I've made several attempts at these molten lava cakes using various recipes and it's a pretty fine line between "molten lava" and uncooked cake batter. One which I have never been able to find.
Anyway, here is the star of the show!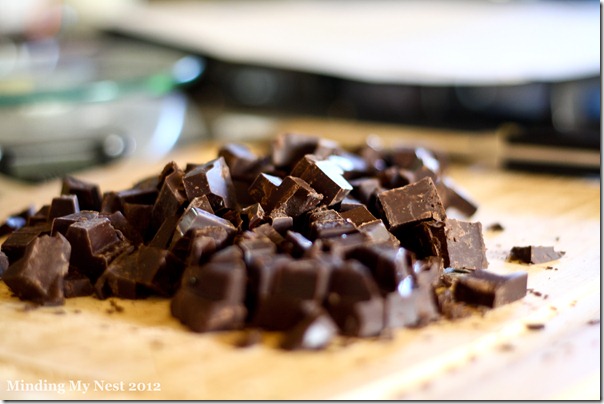 Seven and a half ounces of coarsely chopped heaven on a cutting board. LOL
OK. So the recipe. I followed it to the letter. The only thing that was slightly different is that I did not have the 6 ounce ramekins like the recipe for, so I used my garden variety, target special 7 ounce ramekins instead. I baked the cakes for 12 minutes (per the recipe) and they were not even close to done. At 16 minutes they were still mostly uncooked cake batter. And then at 20 minutes I pulled them out to serve.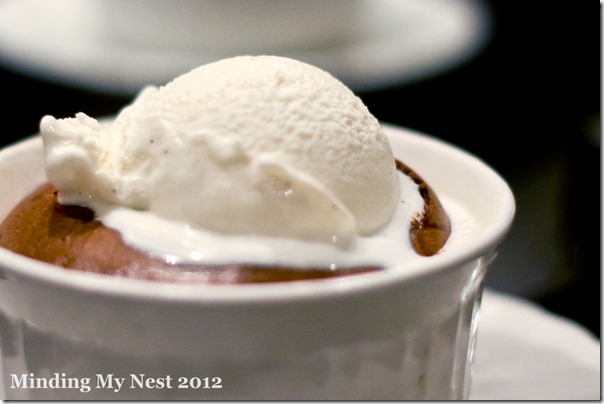 With a scoop of vanilla bean ice cream of course.
The final verdict? They were utterly delicious. Rich, chocolatey, decadent. But the molten lava business was pretty disappointing. I don't know if it was because of my ramekin size or something else, but mostly it was like a hot fudgey pudding. Which was not a bad thing! Just not exactly what we were hoping for.
As always, if you've made something awesome from Pinterest, I'd love for you to share. Feel free to leave a link to your blog in the comments below.
See you next week! Love, Kelly