Welcome to week five of my Pinspiration series!  Can you believe we are five weeks into the new year? Wow.
So last week I was pretty underwhelmed with the oven fried chicken recipe.  But Pinterest totally redeemed itself with this winner – Peanut Butter Cupcakes!
This is the recipe that I pinned – http://www.thelittlekitchen.net/2011/05/20/peanut-butter-cup-cupcakes-food-blogger-bake-sale/ – but in her blog, Julie reveals that she adapted her recipe from http://www.mybakingaddiction.com/peanut-butter-cup-cupcakes/.  I'm not sure who I should give credit to for the recipe so I'll just give you both links and let you decide for yourself. 
So I mixed all the cake ingredients together per Julie's instructions (yes, I actually followed the recipe exactly this time!).  The batter came together easily and man (!) it's tasty!!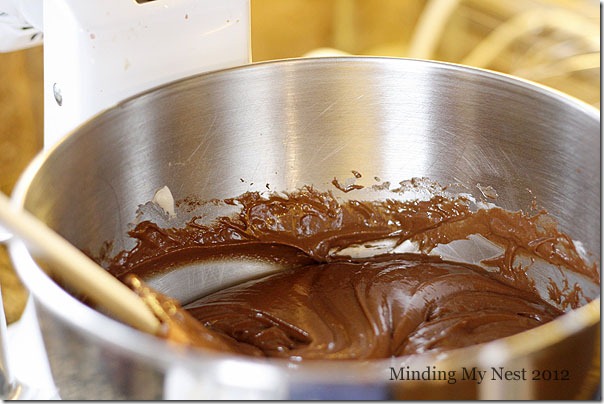 Julie's instructions call for scooping exactly three tablespoons of batter into each cupcake liner.  Well nobody likes measuring more than me, but seriously – no way was I going to do that.  So I measured my various sizes of scoops (don't hate)

and found that my go-to disher for cupcakes was exactly three tablespoons (yes I measured it).  I believe it is a #16 scoop which I also believe is the standard cupcake size.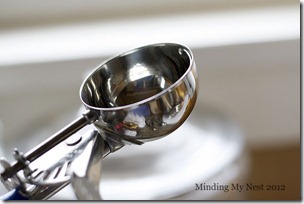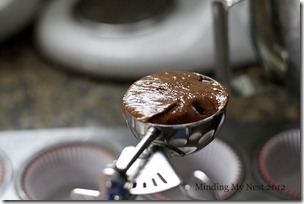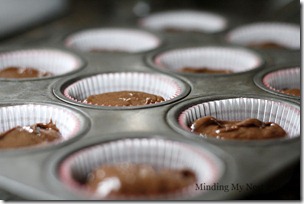 Next, the instructions call for placing a miniature Reese's Peanut Butter Cup in each cupcake.  Seriously, unwrapping all those little pb cups was the most difficult part of this recipe.  Well that and trying not to eat them. 

  Anyway, so like an achiever I pushed mine all the way down and when the cupcakes came out of the oven there was no little indentation like Julie's.
So the next go-round I just barely pushed the Reese's into the batter and when they came out, they had that cute little divot.
Once all the cupcakes were baked, I set them on a wire rack to cool completely.  Now whatever you do, DO NOT place them close to the edge of the counter.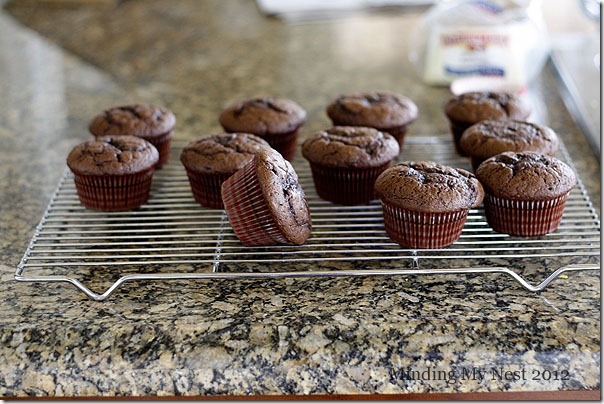 Especially if you have a basset hound hanging around the kitchen.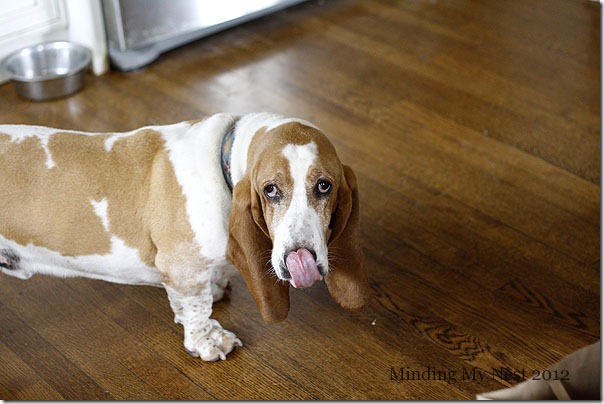 Somebody's gonna have a belly ache tonight.  Lord.
Anyway, so next I whipped up the Peanut Butter Frosting.  I took Julie's advice and made a half batch of frosting.  And oh my, this frosting is so pretty and fluffy.  And delicious!
I made these yummy cupcakes to take with us to visit our delightful daughter in college this weekend.  Our friends, Bryan and Carrie, were coming up from Houston as well (we are all doing a little recon for apartments for our girls next year) so I made a couple of cupcakes without peanut butter cups because Carrie and her son are allergic to peanuts.  And instead of frosting those with the peanut butter frosting, I made a real quick chocolate ganache to frost the tops – 4 ounces of bittersweet chocolate and 2 tablespoons of heavy cream heated over very low heat until just melted.
Julie's recipe called for the uber-miniature Reese's for garnishing the tops, but I didn't read the recipe all the way through and therefore didn't buy any at the store.  So instead I just cut one regular mini into four pieces.  And here is the end result!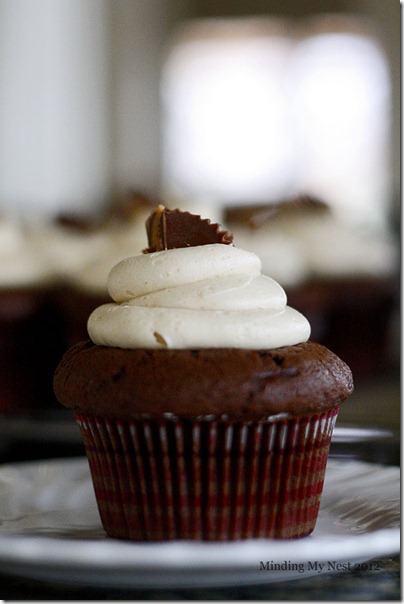 I gonna tell you right now – these little babies are TO DIE FOR!  Oh my gosh – the actual cake part is so incredibly moist and tender.  And the frosting is perfectly sweet and has a great peanut butter flavor.  In the end, it didn't matter one bit whether or not the cupcake had an indentation in the top.  I also think that you could leave out the little pb cup in the middle.  It's cute, but the cake and frosting really stand up all on their own.
Oh and here's one of the non-peanut cupcakes – equally delicious if I do say so myself.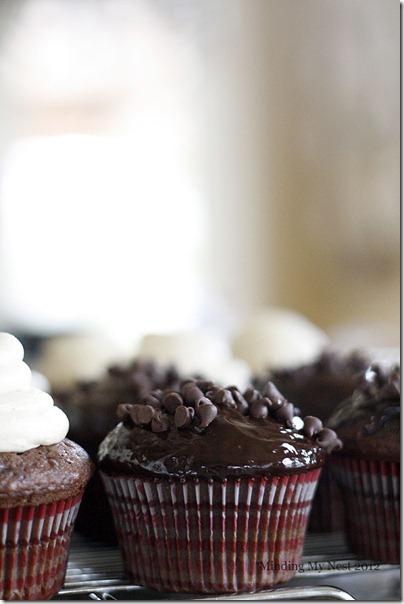 However you decide to make them, I HIGHLY recommend these cupcakes  One of the best Pinterest recipes I tried to date!
And as always, I'd love to hear what you've been making!  Feel free to leave a link to your blog or flicker in the comments.
And by all means make these cupcakes!
Peace, Kelly