How's that for a lame blog title?
Why yes I was listening to the BeeGees on my way to Dallas last weekend…why do you ask?

This week's theme is "shadow" and I decided to do something a little different. Instead of taking a million photos of the same basic thing to get one shot that was perfect, I decided to just have fun with the assignment. Take lots of photos that evoked the concept of shadows and not worry about to much if it was the perfect expression of shadow. I just played around with shadow and light and didn't put any pressure on myself regarding the end result.
And guess what…it was so much fun and I learned a lot. Imagine that.
So the first couple of photos that I took were literal interpretations. I took this first photo when I was out front last week pulling weeds. I liked the angle of the shadow with respect to the tree and thought it made for a nice composition.
This next tree shadow was more or less an imprint of the tree on the fence which was kinda cool. I like this photo, but it 'is what it is' you know…a shadow of a tree. Nothing too exciting here.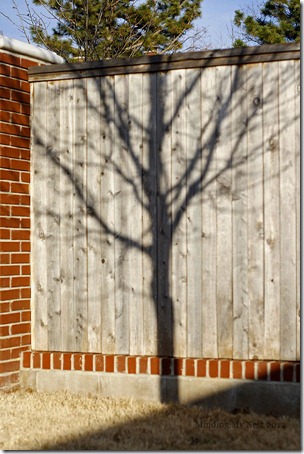 When I started looking around in the backyard and really noticing the shadows and light, I found that they created interesting angles and lines.
I love how the hard lines of light and dark really illuminate the subtle curves of my birdbath.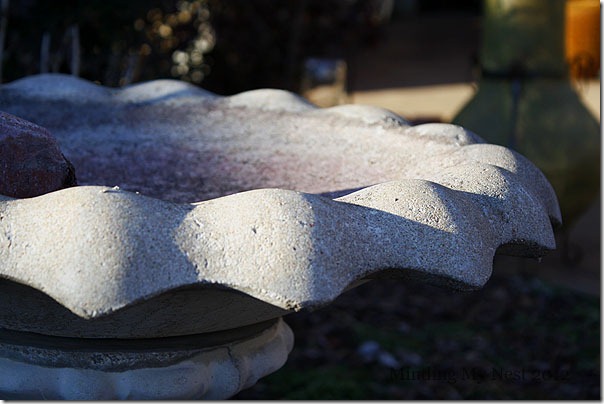 Miss Daisy Duke makes a nice shadow. Go figure…most of the time she runs for the hills when she sees me with the camera, but the minute I sit on the ground and try not to take her picture she wants to be front and center.
While I was sitting there on the patio I noticed the shadow of one of our landscape lights. The sun was just starting to go behind the garage apartment and it made a lovely, long shadow on the ground. And the graceful curve of the lantern made an interesting shape that caught my eye.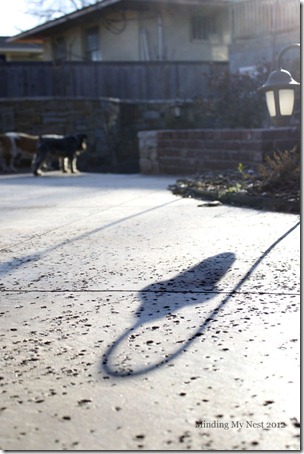 I increased the blacks and played up the contrast in Photoshop to increase the shadow a bit.
This photo is my favorite because, to me, it tells a story of late afternoon sun and curious doggies in the background. And all it took is for me to stop worrying about finding the perfect shadow and to let it find me.
Peace, Kelly