Welcome to the One Little Word February blog hop!  I'm so thrilled to be part of this group of awesome ladies!
Over the holidays my family and I went to see the movie "We Bought a Zoo."
(photo courtesy Wikipedia)
If you haven't seen it, it's a wonderful movie starring Matt Damon and Scarlett Johansson. It's based on the true story of Benjamin Mee, a young father struggling to keep up after the death of his wife. In an effort to bring healing into the lives of his children (and himself I believe), he moves his family out to the country where he has purchased a working, albeit dilapidated and nearly bankrupt, zoo.
Everyone thinks Ben is crazy for buying the run-down property. Even Kelly, the dedicated zookeeper, gives him a laundry list of reasons why buying the zoo is a bad idea.  Then finally in a moment of exasperation Kelly asks him, "Why did you buy this place?" Ben pauses for a moment, then smiles and replies, "Why not."
Ben's reply really spoke to me because, at the time, I was toying with the idea of moving my blog to my own, self-hosted website. I liked the ease of the free WordPress.com platform I had been using, but the problem is that I was limited creatively to how my blog looked and operated. I had read a couple of on-line tutorials and the process seemed pretty straightforward – importing and exporting data is pretty much what I do for a living after all. But like the zookeeper, I had also cultivated a pretty good list of reasons excuses why it was a bad idea…
What if it's too hard?
What if it doesn't work right?
What if maintaining a website takes up too much time?
What if people think it's dumb?
Now I know that you might think buying a zoo and creating a website are two totally different things, but for me, in that moment sitting in the movie theater, it was really all about believing in yourself and living fearlessly.
On the way home from the movie I thought about how all too often I let fear influence my decisions – fear of failure, fear of what others think. And not just in the case of my blog, but my whole life really. At one point in the movie, Ben's son is struggling with fear and Ben says to him, "All you need is 20 seconds of insane courage and I promise you that something great will happen."
When we got home from the movie that night, the first thing I did was go upstairs and print off the instructions I had bookmarked for creating a website. The next day I Go-Daddied, Liquid Web-ed, and c-paneled my brains out.  It was scary at first, but the whole process went mostly without a hitch and I was able to import all of my old content into my new blog.
I know it may seem like such a small thing, but for me, summoning up the courage to create this website was the first step towards manifesting my One Little Word into my life.  And, just like Ben said would happen,  something great came out of it – I felt what it was like to live fearlessly.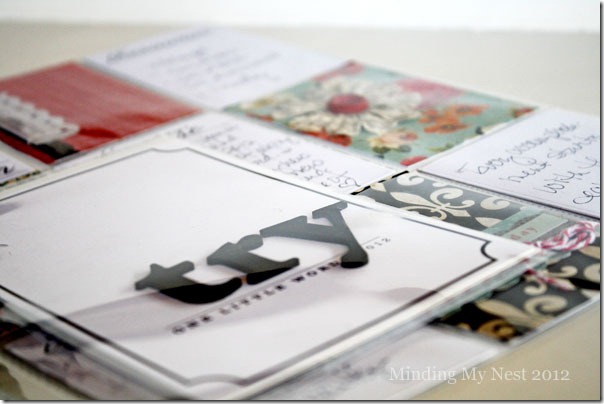 Thank you so very much for visiting my blog.  Next you should be directed to Cheri at http://cheriandrews.blogspot.com.
Peace, Kelly
P.S. The following is a list of all the blogs participating in the blog hop.