Welcome to Week 6 of my 52 Weeks of Pinspiration series!

This week is all about love.  And by love I mean my love for butter, flour, and sugar.  LOL
I made some cute Valentines Day cookies using this cookie and icing recipe – http://thepioneerwoman.com/cooking/2010/12/decorated-christmas-cookies/.  (My delightful daughter and I have been using this technique for making Christmas cookies the past couple of years and they have turned out so pretty.)
Here are the links to Bridget's actual blog posts:
http://bakeat350.blogspot.com/2008/04/taste-of-yellow-yellow-rose-sugar.html
http://bakeat350.blogspot.com/2010/01/royal-icing-102-or-201-or-whatever.html
She gives great instructions on both her website and the Pioneer Woman's website for making and decorating these cookies so I won't go into great detail about those processes.
For the sugar cookies, it's pretty basic ingredients and the dough comes together super easy.
Next I gathered up all my supplies and got ready to roll out the dough.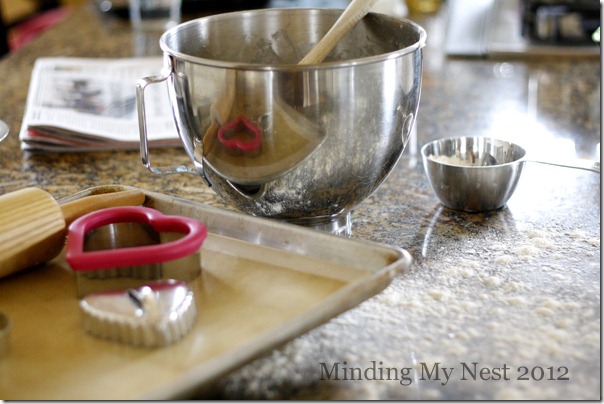 And as she notes in her recipe, the cookie dough is fairly crumbly, but just press the dough firmly into a flattened disk and it will roll out beautifully.
In my experience, these cookies turn out best if you roll the dough to about a quarter of an inch thick.  It makes for a nice, sturdy cookie perfect for decorating.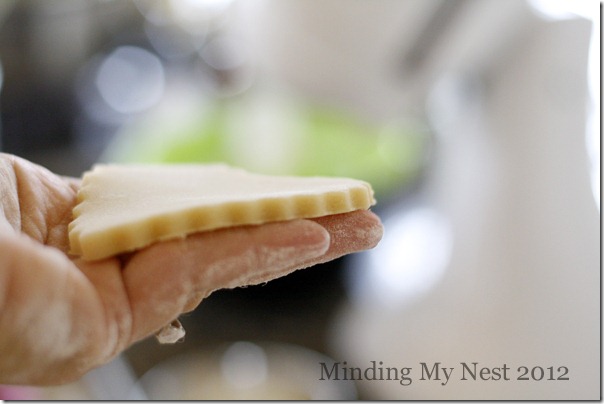 Next what I like to do is to dip my cookie cutter into the flour, cut as many cookies as possible on my rolled out dough, remove the excess dough from around the shapes, and then place them directly on the cookie sheet. I found that it's much easier to transfer the cut out shapes that way. Bridget also recommends freezing the cut out shapes for a few minutes to keep them from spreading out when they bake.
Let the cookies bake as directed (mine took exactly 11 minutes) until they are just barely done.  They won't be golden – they don't really look that much different to be honest – and because I froze them for a few minutes first, they retained their pretty shapes.

So while the cookies are baking, prepare the frosting according to Bridget's easy-to-follow instructions.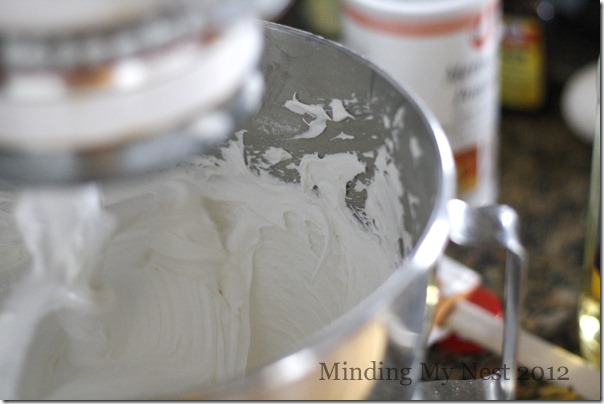 For decorating cookies, I made two types of icing – a thicker royal icing for piping outlines and a thinner icing for filling in. (PW's blog post describes this in great detail).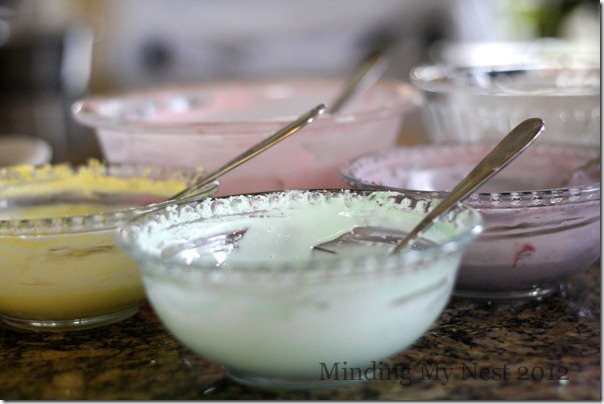 I thought it would be fun to make Valentine's Day care packages to send to my delightful daughter and her adorable roommate.  And since my good friend Ann has both a wonderful son and delightful daughter in college, I invited her over to help decorate cookies for her kids too. 

Here is Ann piping a border and yours truly using a treat stick to fill in a narrow cookie area. You can use a spoon to fill in the larger cookies.
And here are the finished cookies.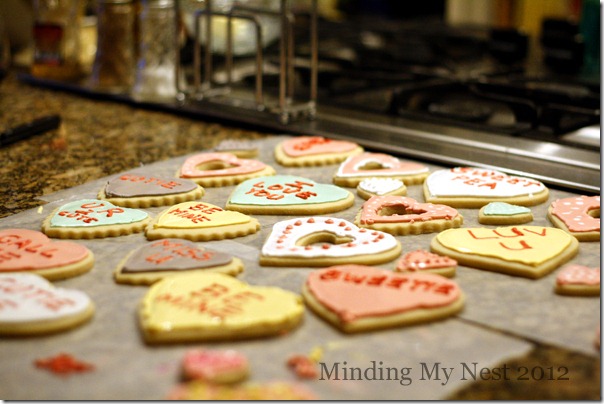 I let the cookies sit out overnight for the icing to set.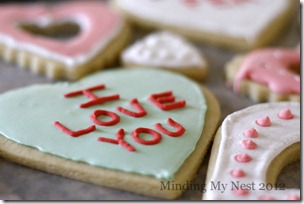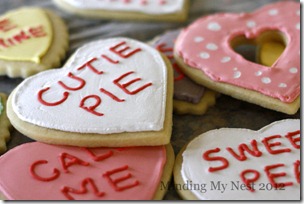 Then I packaged a few in treat bags to send to Kelsey and Cayli.
This was such a fun project, albeit slightly time consuming.  That's why I recommend you share it with a dear friend and a glass of wine. 

I'm having such a blast with my Pinspiration project!  Next week I'll share some photos of Pinterest projects that my friends have tried.  Until then, happy pinning!

Peace, Kelly