Welcome to Week 8 of my 52 Weeks of Pinspiration series!

The title of this blog post could have just as easily been "Thank Heaven for Little Girls" because I just love making cute crafts for little girls. And when I saw these headbands on Pinterest I immediately thought of my adorable little niece, G.
So as usual, before I begin any craft project, I make a trip to Hobby Lobby for supplies. I came home with two pink satin headbands, some super cute grosgrain ribbon, a few little embellishments, and a fourth of a yard of an adorable cotton print fabric.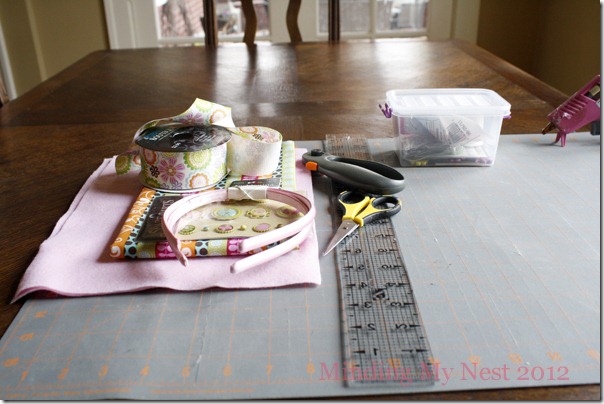 I also grabbed my rotary cutter, cutting mat, and clear ruler (because I'm a dork

) plus my glue gun, some heavy-duty thread, a needle, and scissors.
In her blog post, Ashley used ready made flowers (I think they might be Prima Scrapbooking flowers). But I absolutely LOVE making flowers so I decided to make my own.
I know, big shock right.

My *original* idea was that I'd use the colorful ribbon to make a sweet little flower and attach it to the headband. The flower I made is similar to the other five petal flowers I made before, but this one is so much easier because there is no cutting of individual petals involved!
Here, I'll show you how I did it.

So start by cutting a length of ribbon to 15 inches. Next, fold the ribbon back and forth on itself so that you have five equal length sections of 3 inches. Oh and also while folding the ribbon, run your finger along the fold and really press hard to make a good crease.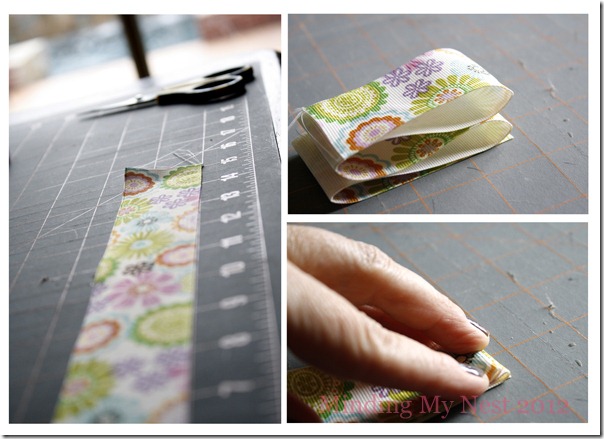 Next, using a double strand of heavy-duty thread, start at one end of the ribbon and run a simple running stitch along the short edge until you get to long edge. Then turn the needle parallel to the long edge and continue the running stitch until you get to the first crease. At the crease, turn the needle parallel to the crease and continue the running stitch along one side of the crease until you get to the other side. The trick here is to end up on the underneath side of the ribbon. Then what you'll do is take the needle back over to the front side and continue the running stitch along the other side of the crease. The key is to be sure you catch that crease edge with a stitch.
Continue this process along the entire length of the ribbon, finishing with a running stitch along the short end. I promise, it's not hard and only takes a minute.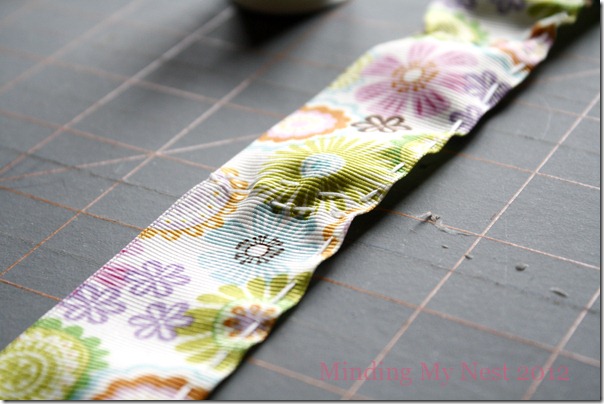 Holding one end of the thread (this is why it's important to use heavy duty thread) pull firmly on the other and the ribbon will start to gather up into petals. Once you've got it pulled tight and into the basic flower shape, make a run a few stitches to connect the two end "petals." Then tie a couple of knots and cut the thread.
See! That wasn't so hard!

Now to finish this cute little flower, turn it to the back side and run a few stitches to close up the center a little. And then the next decision is what to put in the center. You could use a button, or a little bling/gem, but I thought these little brads were too cute and matched perfectly.
How cute is that!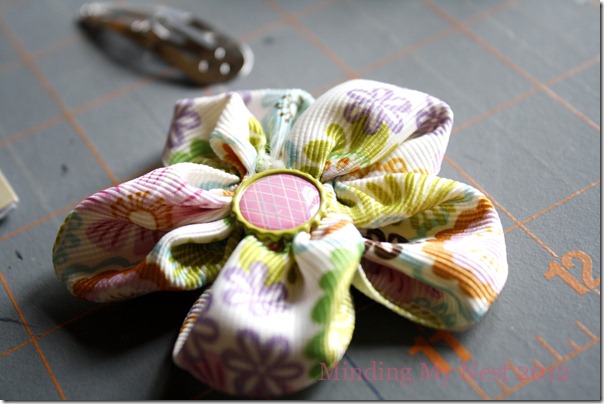 *So, like I said, my original idea was that I would attach this adorable little flower to the headband. But after ALL that, when I put it on the headband, it just seemed too small. So I made a couple more and thought about grouping them together like Ashley did with her headbands. But I didn't really like how it looked, plus it seemed like it might be a little big for G's head.
So I sat there for a minute looking at my supplies, then I got up made myself another cup of coffee, and then decided to do the same thing only with a slightly larger strip of fabric.
My first attempt turned out to be the size of salad plate and utterly ridonculous! (Why yes I do watch Suburgatory, why do you ask? LOL) So I made a couple more attempts and finally got one that was just right – a strip of fabric 17.5 inches long by 3.5 inches wide. Before running the stitches, I folded the fabric in half, lengthwise, to end up with a strip that was 17.5 inches long by 1.75 inches wide. I also ironed it with a little Magic Sizing to give it a little more body. I know – overachiever.

Then I did the exact same stitching as I did on the ribbon. And when I held it up the headband it was perfect! So just like Ashley did, I made a little circle of felt to cover up the back side and just attached it with some hot glue.
Then instead of using one of those cute brads or a gem, I sewed a big, happy button the front. Totally cute!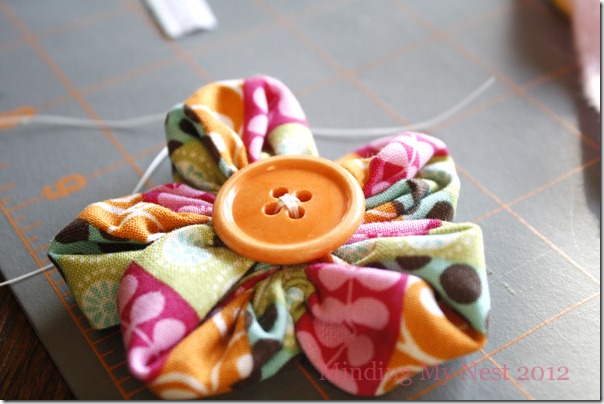 Now just attach it to the headband and be done with it right?
Wrong.
Gah! I just didn't really like the bold color and print of my flower with the pale pink headband. So I got up for another cup of coffee and then decided that I would cover the headband with a little strip of fabric.
(Ok seriously. I know – I could have just totally followed Ashley's delightfully simple instructions and made 47 headbands by now.

)
Anyway, so what I did what cut a length of fabric about 36 inches long and then fold/iron the raw edges to the backside of the fabric. Then starting at one end, I hot-glued the raw edge and then wrapped the strip (keeping it taught) around the headband all the way to the other side. At the end I trimmed the fabric and folded the raw edge underneath and glued it down.
Twelve. Years. Later.
OK. So FINALLY after all that, here is the finished headband.

YAY!
Now, you might think after that ordeal I would have been totally headbanded/hot-glued/crafted out, but on the contrary I was feeling pretty jazzed. Plus I still LOVED that ribbon and wanted to use it. So I made a quick twisted ribbon flower, applied a little felt to the back, and sewed it onto the sweet pink headband. No joke, I bet the whole process took less than five minutes.
So there you have it – the ying and yang of flower headbands.

Anyway, I hope my need to re-invent the wheel doesn't prevent you from making some headbands. I think either way (Ashley's or mine), it would be a fun project to do with the any of the girls in your life.
And as always, I'd love to see what you've been making. Feel free to leave a link to either your blog or flicker account in my comments!
Happy Crafting!

Love, Kelly