Have a told you lately how much I love Project Life??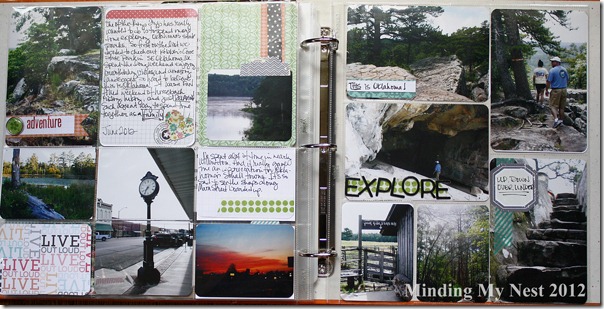 Since I had my epiphany about scrapbooking not too long ago, I've really felt inspired to work on my album. And I know this is going to sound like a paid endorsement (it's not), but Project Life makes scrapbooking so easy!
I thought I'd share with you some of the pages I completed recently. Once again, it's all material that I covered in my blog (our trip to Robber's Cave).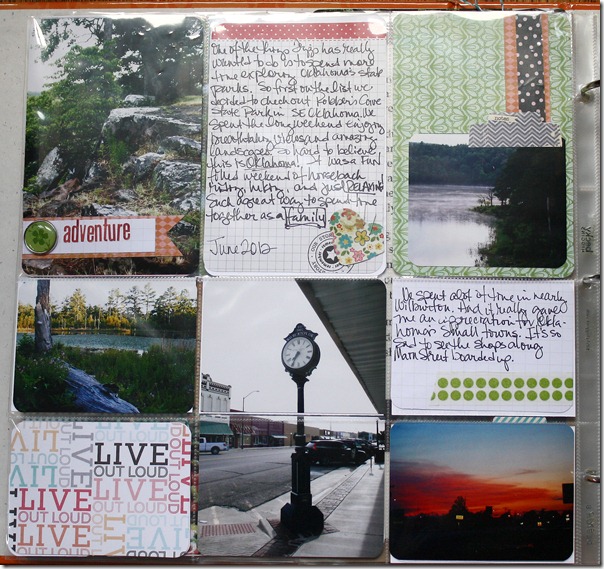 I like using the different sized page protectors. Here's the front side I made using the style G.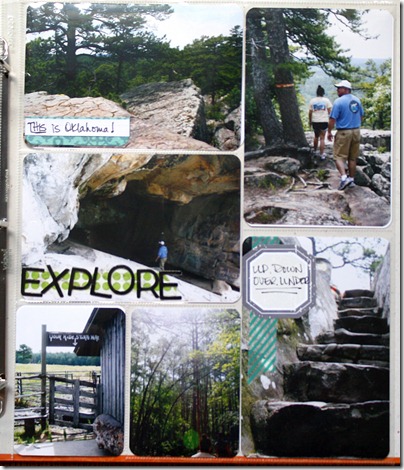 And the back.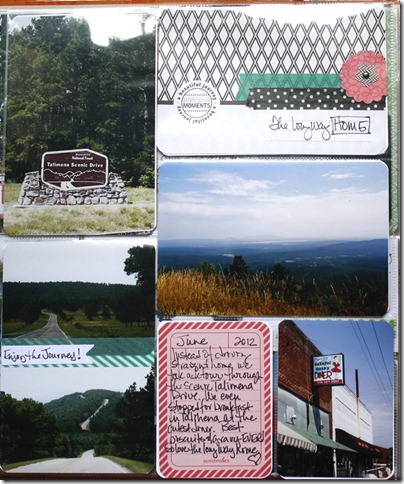 So now that I've been using Project Life for a couple of months, I have a few observations I thought I might share.
For the most part, I've been using the cards that are including in the core kit. My only complaint is that the larger cards really weren't made for use in the portrait orientation – I've had to improvise some journaling/title cards out of some scrap patterned paper. I think I read though where they are working on this and in the next release will include larger cards that can be used either way.
I started my album back in May and now I'm really wishing I had started back in January. As time permits (yeah right) I may try and fill in from the first of the year, but I'm not going to obsess about it. Starting in the here and now is my commitment to living in the present.
The other thing I'm not going to obsess about is doing a weekly style documentation like a lot of people do. I'm also not going to drive myself crazy making sure that every last detail is in chronological order. I want to capture a snapshot (pun intended) of our life right now and I don't think it's going to matter to me 20 years from now whether a photo is from week 26 or 27. Do you hear that linear, perfectionist brain? We are NOT going to obsess!
Keep it simple! It seems to me that alot of "traditional" scrapbooking these days is very product/technique driven. And that is totally OK!! Don't get me wrong, I have basement full of scrapbook supplies – nobody loves new scrapbook paper more than me! It's just that sometimes I don't have the mental or physical creative energy to create a work of art every time I want to preserve a memory. Project Life has been the solution to that problem. That is if I will let it.
So with that friends, I'm going to wrap this up. My delightful daughter and I are going shopping for her college apartment. gulp.
Getting out there and making some memories.

Peace, Kelly