As usual, this month's digital kit by Ali Edwards was perfectly timed and it was perfect for documenting our recent road trip.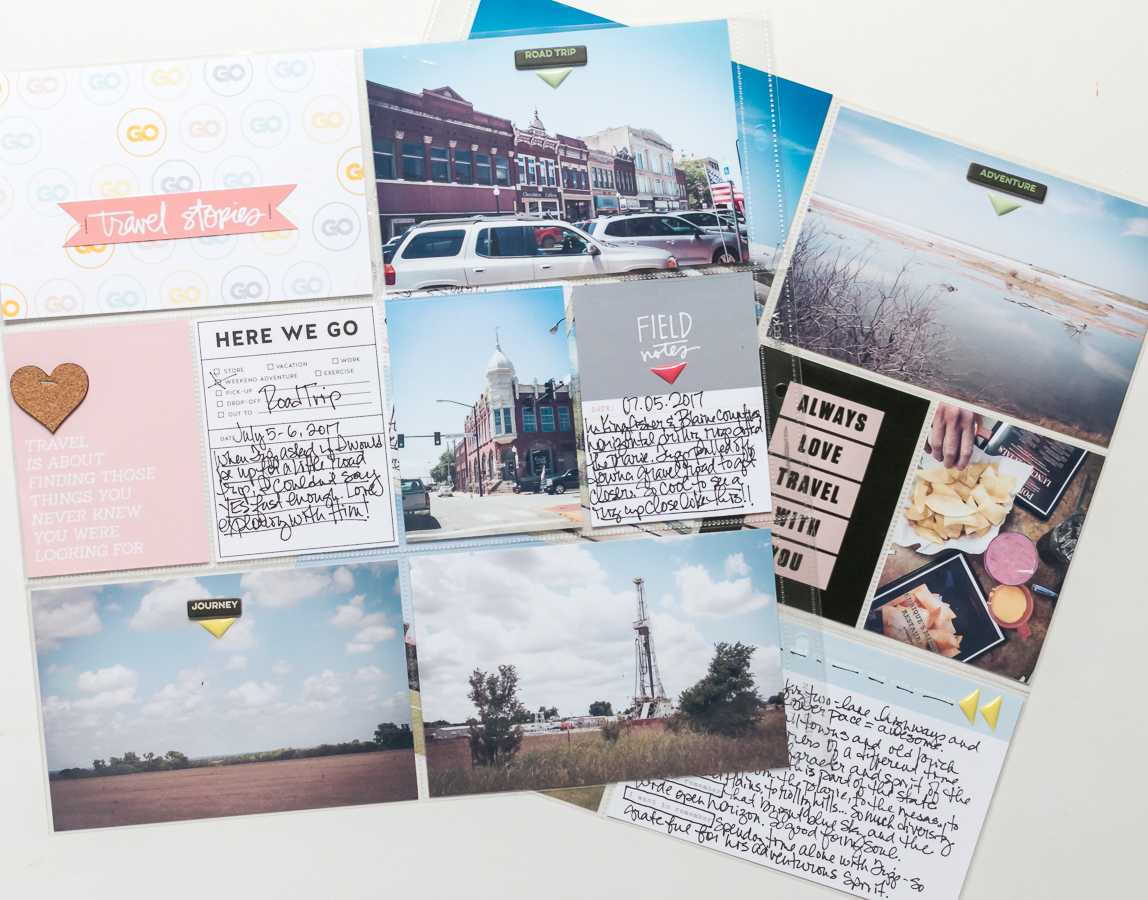 As I was thinking about how I wanted to document this trip, I knew that I wanted to include it in my Project Life album (versus making a mini-album) so that meant I would need to seriously pare down the number of photos that I included. In the end I used two Design A pocket pages, one Design G page, and one 6×12 pocket page.
Since I had already taken the time to write up a blog post about our road trip, I used the 6×12 page and basically just copied and pasted the text into a Word document (I did pare that down a bit too so that it would fit in the space). Also, because I have been bitten by the stamping bug, I used this Ali Edwards alpha stamp at the top of the 6×12 page. And yes, clearly it looks like a 5th grader did it, but I don't care…I love it.  Stamp ALL THE THINGS!
Next, I created a title card by using the GO digital stamp. In Photoshop, I applied the stamp in a grid/pattern to a 4×6 canvas, then I went back and recolored the stamps using colors from the kit.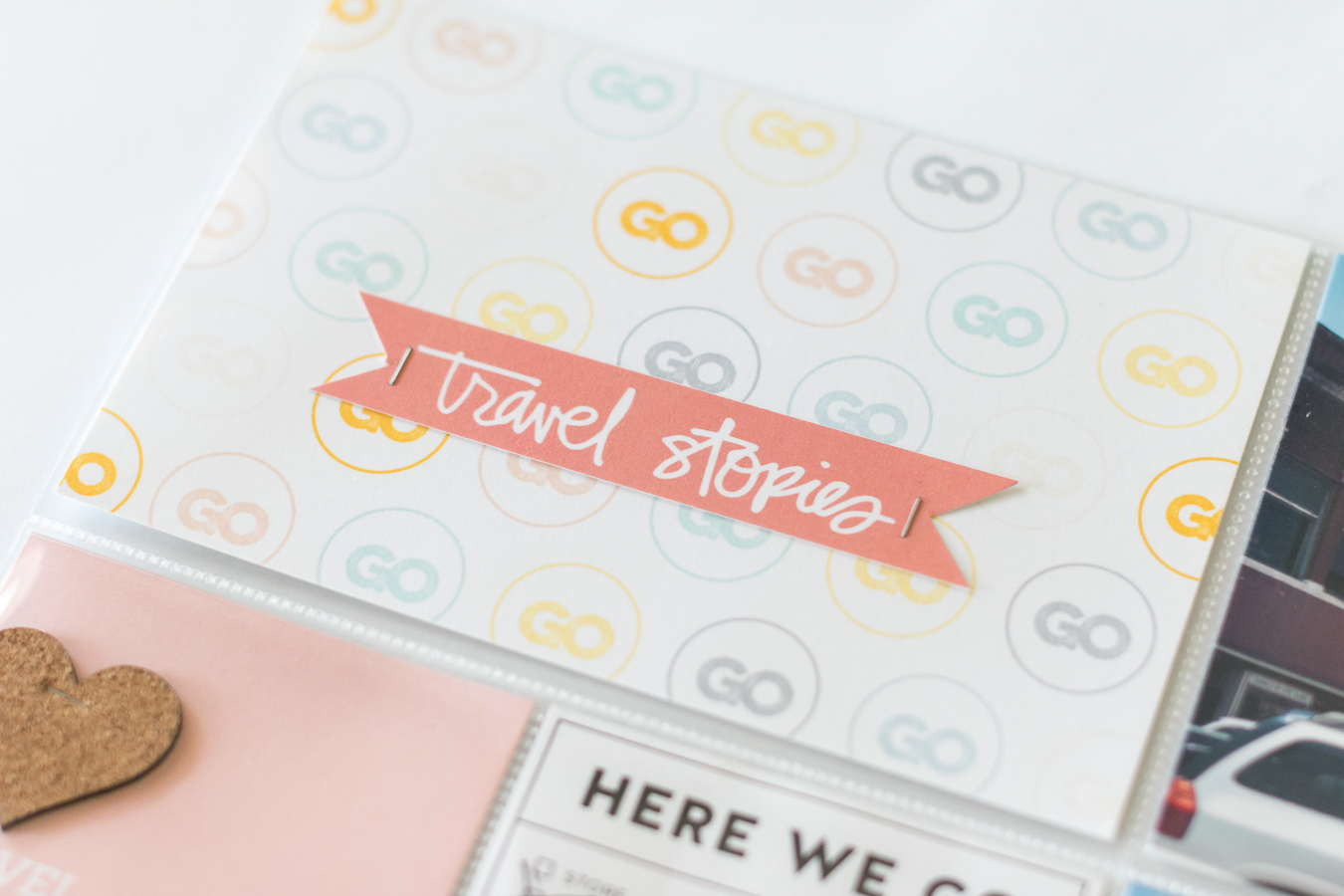 I love how it turned out!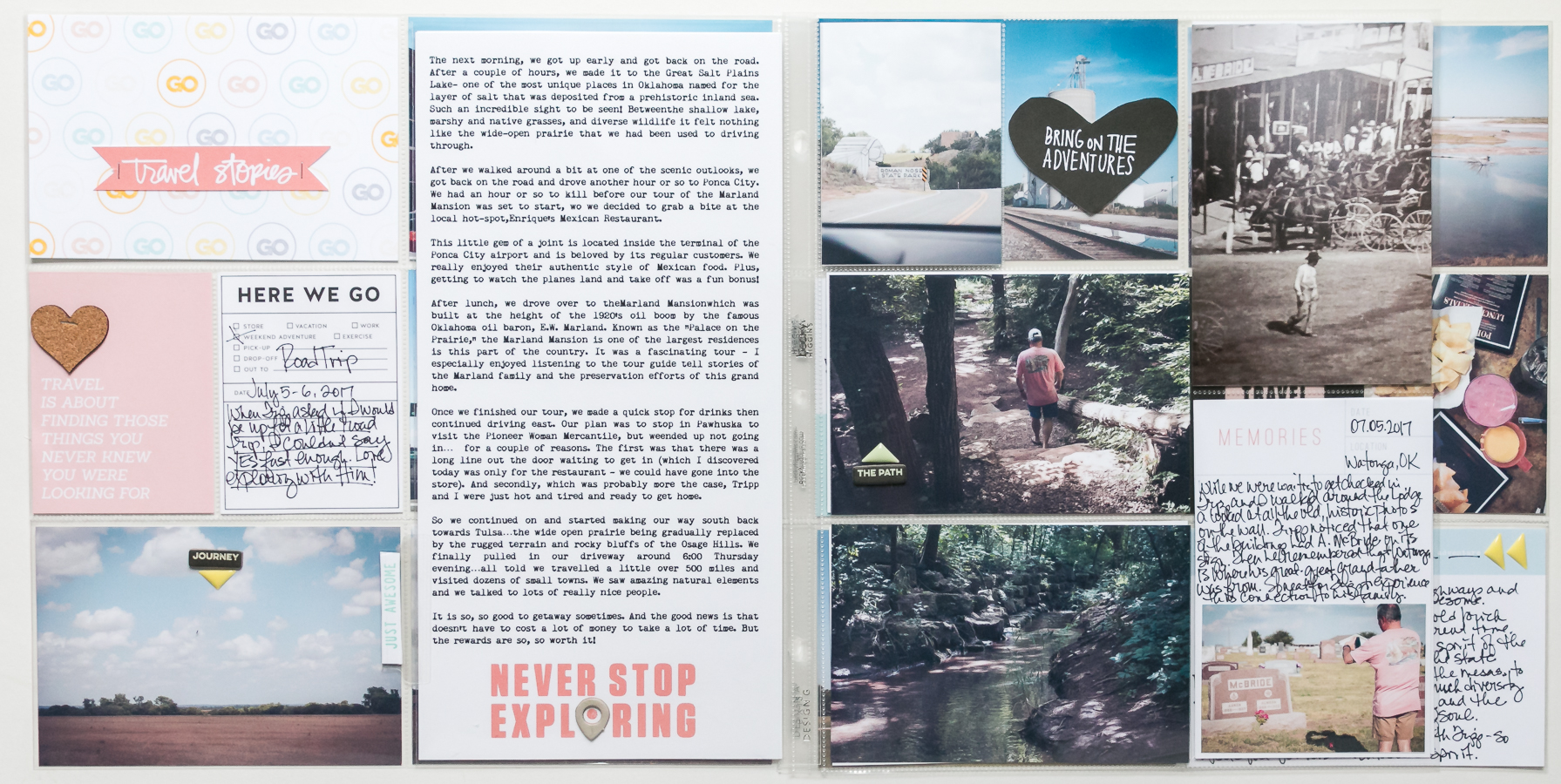 On the right is the Design G page and, in the lower right, I resized one of the journal cards in the kit to include the journaling about Tripp's great-grandparents. I used another one of the digital stamps at the bottom of my typed journaling.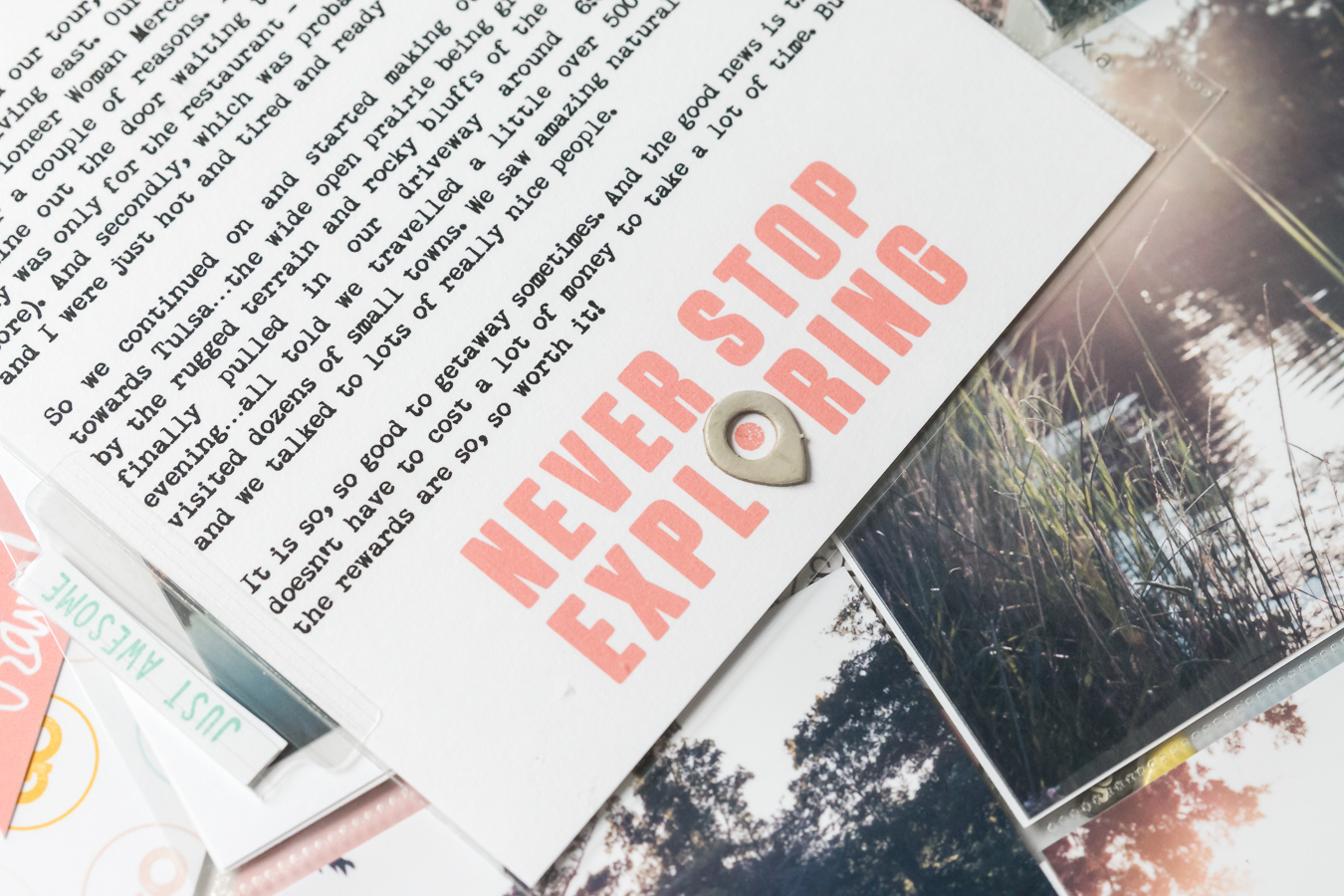 Also in this spread I am using some chipboard pieces from an older Story Kit as well as some puffy arrows from an older Studio Calico kit. I love the cohesive feeling that having a repeated element gives the overall spread.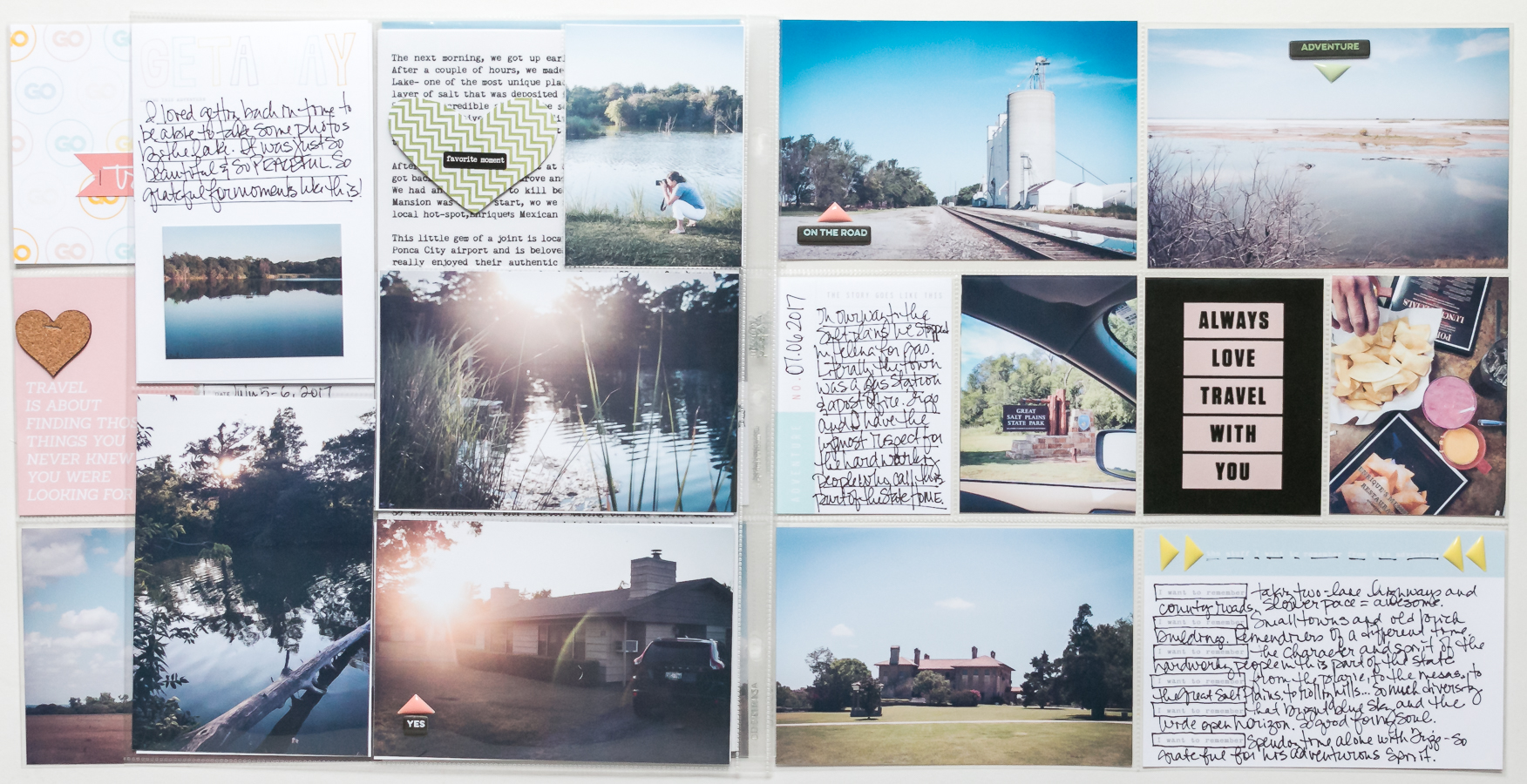 In addition to this Project Life spread, I also created a fun little layout about Tripp and me using a few of my favorite pictures from our trip.
Once again I would just like to point out how few photos I included from our trip. And I am totally OK with that because more than any particular type of project, what I really wanted was a completed project. I picked my favorite photos and my favorite stories, and I feel like these layouts capture the essence of that experience.
Because the thing is, it's just not humanly possible for me to document every single picture I take…not in this season of my life anyway. And if I had just set these photos aside waiting for the time to put together a mini-album or photobook or whatever, most likely they would just sit on my computer untouched. Because life is going to keep going on. I'm going to take more pictures. I'm going to have more stories to tell. So, for me, I would rather have a condensed version of this experience – a tangible record of time spent with my love – than one more unfinished thing on my to-do list.
I think this might be my best advice for memory keeping…just do SOMETHING. Even if it's not the idea of perfection you have in your head. Just print some pictures, slap them in the pockets, and write the stories that touch your heart. Trust me when I tell you that five years from now you're not going to give two shits about what kit you used or what embellishments you used. You will look at your photos and remember these special moments in your life.
So with that I'm going to sign off – I hope you all have a wonderful weekend!
Love, Kelly
SaveSave